As Florida Democrats gather in Orlando this weekend, Nikki Fried has emerged as their Princess Leia.
She is their Leader of their Rebel Alliance.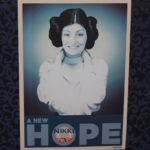 She is, as her promotional posters shameless stole from Star Wars' first movie Friday night, A New Hope.
Fried and most of the members of the Florida Democratic Party gathered at Walt Disney World's Beach and Yacht Club Resort & Convention Center are beginning to see Fried as the new leader of the party.
"I look around this room. The excitement and energy is here. I carry that responsibility very seriously," Fried said when asked if she considered herself the party's new leader.
For the first time in a full generation, there is no Bill Nelson in office. He lost last fall.
Down the hall Friday evening from Fried's party, Andrew Gillum also held a reception. But he lost, too. So Gillum mostly wanted to talk about voter registration, while reporters mostly wanted to ask him about subpoenas and investigations.
Down the hall in the other direction was a reception held by Orlando's dual mayors, Orlando Mayor Buddy Dyer and Orange County Mayor Jerry Demings, two of the strongest stars the Democrats have in local offices. And sprinkled around the convention center were a handful of other Democratic elected officials.
Fried talked about the party's future being built on a younger generation's values, and a woman's leadership. Standing before her, glowing as she gave her welcoming remarks, was Florida Democratic Party Chair Terrie Rizzo.
"I think this generation, my generation — I'm 41 years old — this generation has taken over the state, has taken over the party, and it's bringing excitement," Fried told reporters.
"We are caring about a lot of things that this generation cares about, such as the environment. And so having that as the issues that we talk about changes the conversation about leadership in our state," Fried added.
She also mentioned a couple of other issues she cares about, notably medical marijuana and that she is "a very strong supporter of pro-choice."
She also made it clear that as she deliberates whom she'll endorse in the presidential election — and she said she would endorse someone after the debates this summer — "recognizing that my voice carries water in this state," she'll be seriously considering the women candidates.
"As far as women in leadership, we saw a record number of women running last year, a record number of women that were running and winning. I think women in leadership positions change the conversation," Fried said.
The post Nikki Fried offers herself as a 'new hope' to Florida Democrats appeared first on Florida Politics – Campaigns & Elections. Lobbying & Government..