South Florida will host its 11th Super Bowl next year.
While the big game is sure to bring thousands of fans from around the world to Miami Gardens, it isn't just the marquee event of the sporting world, it's also a magnet for human traffickers — in Atlanta, law enforcement nabbed 160 people on human trafficking charges during the week of Super Bowl LIII.
Florida has long been a human trafficking hot spot, Super Bowls notwithstanding. The feds generally define human trafficking as the "use of force, fraud, or coercion to obtain some type of labor or commercial sex act."
A few years ago, the state was behind only Las Vegas in the number of trafficking cases reported to the police. South Florida is no exception. In 2017, police arrested dozens of human traffickers in Miami Beach.
But Attorney General Ashley Moody has plans to combat the human trafficking spike and she's just landed a powerful ally in that quest: Uber.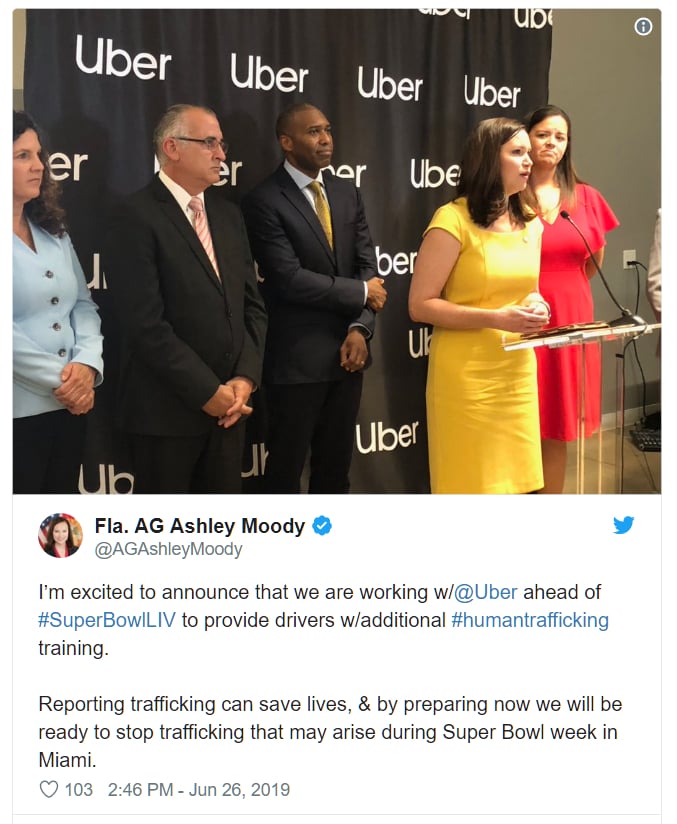 She announced this week ride-hailing company will be teaming up with her office to give more anti-human trafficking training sessions to its 100,000-plus Florida drivers.
"We are starting now, sending a consistent and strong message to anyone who would engage in human trafficking during the Super Bowl, that we will have hundreds of law enforcement officers, transportation drivers and other dedicated citizens trained to spot and report you," Moody said.
"I want to thank Uber's leadership team for their dedication to fighting human trafficking and working to secure a safe environment for fans and families traveling to Florida to watch the championship game."
Uber Chief Legal Officer Tony West said, "We want to do our part in the fight against human trafficking by partnering with leading organizations to provide educational materials to our South Florida driver-partners on how to spot and report signs of potential human trafficking."
"Our driver-partners are the eyes and ears on the road and through partnerships, we hope to provide them with the necessary resources developed by experts, which will help empower them to take action."
—
Program note: Florida Politics founder and publisher Peter Schorsch joins a panel of journalists who cover the Legislature to give a "State Legislative Session Update" on Monday.
Peter will appear at Tiger Bay Club of Central Florida with former Florida Politics reporter Ana Ceballos, now with the News Service of Florida; Matt Dixon, Tallahassee bureau chief of POLITICO Florida; and Jason Garcia of ​Florida Trend magazine.
Doors open at 5:30 p.m., with the program starting at 6 p.m., at the Citrus Club, 255 S. Orange Ave. (18th floor), Orlando.
—
Coming up, the usual assortment of tidbits, leftovers and not-ready-for-prime-time moments by Peter Schorsch, Drew Wilson and the staff of Florida Politics.
But first, the "Takeaway 5" — the Top 5 stories from the week that was:
Take 5
Final bills from 2019 Session go to DeSantis — The last of the 194 bills approved by lawmakers this year landed on the Governor's desk this week. While Gov. Ron DeSantis has acted quickly on most bills, he has until July 11 to sign, veto or let each of the last measures he received become law without his signature. Among the final bills to reach his desk were a proposal to require out-of-state health care providers to pay application and renewal fees to provide telehealth services (HB 7067) and a plan to restrict the formation and continuation of community redevelopment agencies (HB 9). As of Friday, DeSantis had vetoed four bills this year; HB 7067 was one of them.
DeSantis OKs legislative crackdown on human trafficking — DeSantis has signed legislation aiming to curb human trafficking in the state by increasing training of law enforcement and hospitality workers, as well as setting up a database of pimps and individuals who solicit prostitutes. "This law sends a powerful message to traffickers and pimps: The State of Florida is CLOSED for business," said Sen. Lauren Book, who sponsored the Senate version of the legislation (SB 540). "When we curb the demand for the illegal sale and purchase of sex, we also curb the profitability of human trafficking — and take a stand against the enslavement of men, women and children in communities across our state."
State hemp program signed into law — DeSantis signed legislation (SB 1020) authorizing a state hemp program. The new law which creates a state industrial hemp program under the auspices of the Department of Agriculture, cleared the Senate and House by unanimous votes this Session. Sponsored by Senate Appropriations Chair Rob Bradley, the bill allows the Department of Agriculture to administer regulations regarding licensing and cultivation of hemp, the low-THC cousin of cannabis. The 2018 federal Farm Bill allows states to establish hemp programs such as the one contemplated in current legislation, as the federal rule-making process could take years. Agriculture Commissioner Nikki Fried believes hemp could be the boost the state's farm sector and rural areas need.
Front yard vegetable gardens now legal in Florida — The second time — or year — was the charm for a bill that will legalize front yard vegetable gardens in Florida. DeSantis this week signed SB 82 into law. The bill renders "void and unenforceable" local jurisdiction over front yard gardens. "When I learned that the bill was signed I got arti-choked up. Local governments will no longer be able to squash our freedom to grow vegetables on our land," said Bradley, the Senate sponsor, continuing a tradition of puns on this subject. Jokes aside, the bill is serious for Bradley, and Floridians. Its goal: "the development of sustainable cultivation of vegetables and fruits at all levels of production, including for personal consumption."
Statewide needle exchange program signed into law — DeSantis signed into law a measure allowing statewide expansion of a Miami-Dade County needle exchange program. The legislation (SB 366), however, does not mandate the program be expanded. Each county will decide on its own whether to adopt a version of the program similar to the one adopted in Miami-Dade in 2016. Democratic state Sen. Oscar Braynon II filed the bill that was eventually approved by both chambers. Reps. Shevrin Jones, a West Park Democrat, and Rene "Coach P" Plasencia, an Orlando Republican, formed a bipartisan team supporting the measure on the House side. In 2016, the Infectious Disease Elimination Act created the needle exchange program at the University of Miami.
DeSantis visits Habitat
DeSantis this week joined elected officials, community leaders and homeowners for the dedication of the first seven of more than 70 Habitat for Humanity homes in Pompano Beach. The new housing project was dedicated and named A Rick Case Habitat Community.
"Affordable housing is an issue impacting many communities and working families across our state," DeSantis said in a statement. "Providing greater access to affordable and workforce housing for Florida families will continue to be a priority of my administration.
"Today, this nine-acre site will be the largest Habitat for Humanity community ever built in Broward County and will provide affordable homeownership opportunities to families in the community."
The A Rick Case Habitat Community in Pompano Beach will provide affordable homeownership opportunities to 77 families. Construction is expected to be completed in mid-2022. Habitat for Humanity acquired the land in the historic Blanche Ely neighborhood.
The total project is estimated to cost over $18 million — funds that will be raised and leveraged through partnerships with corporations, foundations, government agencies, the faith community and generous individuals.
Mental health money
First Lady Casey DeSantis announced a slew of programs this week that will help those suffering in the wake of Hurricane Michael rebuild their lives, and not just their homes.
"The Governor and I continue our commitment to help the good folks of Northwest Florida get back on their feet. We fully understand there's a lot of work that still needs to be done, and we're here for the long haul," DeSantis said.
"To those still suffering in the wake of Hurricane Michael, you have not been forgotten. This is just as much about rebuilding the physical destruction as it is healing the invisible wounds and trauma caused by the storm."
The programs in the pipeline include the installation of telehealth portals for mental health services in all public schools the hardest hit counties; $2.3 million to expand DCF's Crisis Counseling Program; $1.25 million for Bay County Schools mental health services; a new state Director of Mental Health Response and Recovery; and 100 FEMA trailers secured by the state Division of Emergency Management.
Today's announcements from across our state agencies and federal partners will provide much-needed support as we work to make our communities whole again and come back stronger than ever," she said.
Instagram of the Week
The Week in Appointments
Doug Broxson named chair of Florida Defense Support Task Force — Senate President Bill Galvano made the announcement Friday. The Pensacola Republican was originally appointed to the Task Force by President Joe Negron. Broxson's one-year term as Chair begins Monday. "Sen. Broxson has always been a passionate advocate for Florida's military bases and their critical missions," Galvano said. "Tyndall is critical to the economy of many of our Panhandle communities devastated by Hurricane Michael. As Chair of the Florida Defense Support Task Force, Sen. Broxson will work diligently to make certain Tyndall is fully restored, modernized, and ready for the new role the base will take on in the coming years."
Excitement for hemp
Don't ever be confused that Agriculture Commissioner Fried isn't all in for hemp.
"I'm still projecting this to be a $10 (billion) to $20 billion industry," she told reporters at this week's hemp rule-making workshop in Tallahassee. "If we are just looking at here in the state of Florida, already the marijuana industry is over a billion dollars in sales."
But it's not just about growing hemp for CBD, the cannabis-derived compound touted as a near-wonder drug these days.
"There's also the industrial replacement of plastics and Styrofoam and (for) paper and concrete. I mean, that is an endless opportunity for us here in the state," Fried added.
"You know, we can see that there's probably about 15,000 acres (being grown) across the country," she said. "We're going to probably have about 100,000 to 200,000, just based on the excitement that I'm seeing across the state, the people that have come and talked to me about how many acres that they're ready to rock and roll on.
"So I'm seeing this to be a tremendous impact for our economy, for our environment, for our farmers, and I'm really excited for this opportunity."
Moon landing's 50th
Next month marks the 50th anniversary of Neil Armstrong and Buzz Aldrin's moon landing, and Secretary of State Laurel Lee says that's something worth celebrating.
"Fifty years ago, all eyes were on Florida as the state served as the liftoff point for the nation's expedition to put a man on the moon," she said.
"The success of this mission and Florida's significance in the space industry has become a part of our state's history and culture. The Department of State is excited to offer a variety of space-themed opportunities to commemorate this special anniversary."
Scores of Floridians helped the "Eagle" have a successful touchdown, and events and activities commemorating the historic moment are already underway.
The Museum of Florida History has reading lists as well as artifacts on display; The Division of Cultural Affairs has curated a moon/space-themed exhibit that will be viewable starting July 1 in the lobby the R.A. Gray Building, and The Grove Museum will host a History Happy Hour the evening of July 17.
On July 20 — the date of the landing — Mission San Luis will cover the history of navigation from the pre-Columbian era through modern times before screening a PBS special on the moon landing, "Ready, Jet, Go!"
Book on anti-hazing
An anti-hazing bill sponsored by Democratic Sen. Book is about to be enshrined in Florida statute.
On Tuesday, DeSantis signed SB 1080 which will toughen up penalties for hazing — even for those who don't directly participate — when it goes into effect Oct. 1.
The measure, known as "Andrew's Law," was in response to the 2017 death of Florida State University student Andrew Coffee. Coffee died after being forced to drink a bottle of whiskey during a fraternity hazing.
"Hazing is unacceptable, but no one should ever be afraid to call for help in a dangerous situation," Book said. "I want to thank the Coffey family for lending their voices to support this lifesaving bill, crafted in Andrew's honor, and to Gov. DeSantis for signing this lifesaving legislation into law."
Under the law, consequences for hazing will apply to those who authorize and direct the activities, such as fraternity presidents, whether or not they took part in the hazing.
"The Florida State University family is grateful for the signing of this important bill to strengthen penalties against hazing, and to provide an incentive to call for medical help," FSU President John Thrasher said. "We know Andrew's Law will save lives."
Thurston takes aim
Sen. Perry Thurston is refiling legislation that would take partisanship out of judicial appointments.
The bill would roll back the nominating process to the way it was under former Gov. Rubin Askew 40 years ago — three members of each Judicial Nominating Commission would be picked by the Governor, three by the Board of Governors of the Florida Bar, and three agreed upon by the other six.
Currently, the governor selects five of the nine members of each JNC and also has veto power over the four nominees sent to him by the Florida Bar.
"Our judicial system hinges on an underlying belief that justice is blind," the Ft. Lauderdale Democrat said. "But, as we've recently discovered, that blindfold has been filled with peepholes exploited by the governor, undermining any faith that justice will be rendered impartially or equally."
Thurston filed the same measure (SB 138) in the 2019 Legislative Session, citing Gov. DeSantis' picks for the Florida Supreme Court. Of the 59 applicants, six were African American though none of them got a recommendation from DeSantis.
Thurston's 2019 bill died without a committee hearing.
Alzheimer's in focus
Legislation sponsored by Senate Democratic Leader Audrey Gibson of Jacksonville and Democratic state Rep. Kamia Brown of Orlando, which "promises to improve the health outcomes of African Americans and other ethnic groups disproportionately impacted by Alzheimer's disease and dementia," takes effect this Monday.
HB 1045 unanimously passed both chambers and was recently signed by the Governor. It adds a priority focus area eligible for funding under what's called the "Closing the Gap" grant program to include these illnesses.
"Alzheimer's disease is more prevalent among African Americans than among whites, with estimates ranging from 14 percent to almost 100 percent higher," Gibson said in a statement. "Data studies suggest that high cholesterol and high blood pressure may be significant risk factors. These two factors also have high occurrence in African Americans and people of color."
Brown added: "Over 5 million people in the U.S. are affected by Alzheimer's disease and the cumulative risk of dementia among first-degree relatives of African Americans who have Alzheimer's disease is 43.7 percent.
"This bill will add funding directed to decreasing disparities and mortality rates relating to Alzheimer's disease and dementia. I am honored to have had the support of my colleagues on this bipartisan legislation."
African American burial sites
Gibson and Sen. Janet Cruz, a Tampa Democrat, also said they are drafting legislation to form a statewide task force for the historical preservation of African American burial sites begun during Florida's period of segregation.
The announcement follows news reports that the first African American cemetery recognized by the City of Tampa, along with its nearly 400 graves, had been forgotten as development atop the site proceeded over the decades.
"There are nearly 400 people who were buried at Zion Cemetery and there are no records showing their bodies were moved," Cruz said in a statement. "We must come together to identify these historical burial sites so we can remember all those who were an integral part of Florida's history."
The task force would identify the many cemeteries established under segregation in Florida. In many cases, there are few records to be found fully documenting these locations, and many of those cemeteries have been abandoned.
As grave sites are inventoried, the task force would disseminate the data to counties and local governments with the aim of ensuring compliance with reinterment requirements under state law, the issuance of construction permits, and the erection of historical markers.
 'IDEA' becomes law
DeSantis this week signed the Infectious Disease Elimination Act (IDEA) into law; it's being called a critical step toward helping Florida combat the spread of HIV and other blood-borne diseases.
The law builds upon Miami-Dade's needle exchange program, initiated in 2015 by Democratic state Sen. Braynon of Miami Gardens, and allows hospitals and nonprofits to operate such programs across the state.
House sponsor Jones, a West Park Democrat, partnered with Braynon on the legislation.
"In 2015, Florida cities including Miami and Orlando led the nation in new HIV diagnoses," he said in a statement. "Yet, Miami's incredible needle exchange program helped the city decrease new cases of HIV despite rates of diagnoses increasing elsewhere in the state, reiterating the need for a statewide version of the program.
"As Gov. DeSantis signs this legislation, I am confident that this is a step forward. Rather than putting up barriers for Floridians, elected officials must prioritize expanding access to health services. Health care is an important backbone of Florida's economy, and combating disease will strengthen our state and lead to healthier communities."
FANA hails pill bill
A bill that would require doctors to tell patients about opioid alternatives before writing a script got DeSantis' signature this week, much to the delight of the Florida Association of Nurse Anesthetists.
In addition to the information in the examination room, the bill directs the Department of Health to develop an educational pamphlet on non-opioid pain meds.
For many years, CRNAs/nurse anesthesiologists, have been shining a light on revolutionary alternatives to opioids in anesthesia & post-anesthesia care. Today, we are proud that one of FANA's priority issues — HB 451 has been signed into law by Florida @GovRonDeSantis #WeDidThat pic.twitter.com/3YMK3nT1tc

— FANA (@FLCRNA) June 26, 2019
"Floridians deserve to know that there are many ways to manage both acute and chronic pain conditions that do not involve opioids. We thank Gov. Ron DeSantis for making it easier for patients to obtain this information," the association said.
"Research has shown that many suffering from opioid dependence were first exposed through a legitimate prescription from a health provider who was treating them for pain, an injury, surgery or a dental procedure. patients (now can) make informed decisions about their health care before they are first exposed to opioids."
FANA added that the bill "makes Florida one of only a handful of states in the country to adopt a nonopioid alternatives measure." Longwood Republican Rep. Scott Plakon sponsored the bill. Gainesville Sen. Keith Perry sponsored the Senate companion. It goes into effect July 1.
Top lawmakers recognized
The Florida Police Chiefs Association (FPCA) announced its 2019 Legislator of the Year award recipients at their 67th Annual Summer Training Conference & Exposition this week.
FPCA picked eight lawmakers for the award.
In the House, Democratic Rep. Emily Slosberg, and Republican Reps. Jamie Grant, Jackie Toledo and future House Speakers Chris Sprowls and Paul Renner were the selections.
In the Senate, FPCA settled on Republican Sens. Rob Bradley and Wilton Simpson, who is set to take over as Senate President following the 2020 elections.
"We applaud each of these Senators and Representatives and I'm honored that as one of my last acts as President of the Florida Police Chiefs Association, I get to give our Legislator of the Year awards to this distinguished group of public servants," said David Perry, FPCA's president Florida State University Police Department chief.
The group said Simpson, Slosberg and Toledo for sponsoring the texting while driving ban. The other five lawmakers were recognized for their work on the criminal justice reform package that cleared the Legislature this year.
Grant, Renner, Simpson, Slosberg and Toledo are all first-time recipients, while Bradley and Sprowls netted their third award from the group.
Summer fire safety
State officials this week urged "Florida residents and visitors to practice fire safety as dangerous fire conditions are possible throughout Florida this summer."
All Floridians are encouraged to practice fire safety and to have a plan for their homes and businesses, especially to guard against potentially hazardous wildfires. They also recommend mitigating fire risk in and around one's home. That includes clearing leaves and other debris from gutters, eaves, porches and decks; removing dead vegetation and other items from under decks and porches and within 10 feet of the home.
During the Fourth of July and other holidays, practice fire safety when using fireworks, and gas or charcoal grills by making sure fireworks use is supervised by an adult, that they're directed in the air and not pointed at the ground, trees or other people; and make sure to have a water source or fire extinguisher nearby.
Learn more about how to protect your home and property at firewise.org. To learn more about current wildfire conditions in Florida, visit floridadisaster.org/hazards/wildfire/. To make a disaster plan for wildfires and any disaster, visit FloridaDisaster.org/GetAPlan.
The National Fire Protection Association has produced a video highlighting the risks of wildfires and how to make good choices to reduce those risks. To view the video, click on the image below:
Back to school
College students thinking about pursuing a legal career are attending Florida State University's Donald J. Weidner Summer for Undergraduates Program at the College of Law.
About 60 undergraduate students from across the nation are enrolled in the program — the oldest and largest of its kind in the nation.
Karoline Barkley, an FSU senior who's considering going to law school, said she was inspired by some powerful advice from Leon County Judge Nina Ashenafi Richardson.
The judge "said if you're here to help people, that's a good reason," Barkley said. "That advice makes me feel good because it's why I'm here, and I can see I'm not just a young, naive idealist. She reaffirmed why I want to be here, and that was encouraging."
The monthlong introduction to law school does not charge tuition or fees. The College of Law provides room and board thanks to generous alumni support, course materials, as well as financial stipends. The students attend legal classes; they get insider tips on applying for law school and financing it, and they meet with prominent judges and attorneys.
Florida students ace history
Florida's students know a thing or two about U.S. History.
At National History Day, a nationwide contest hosted by the University of Maryland, Max Mateer of Pensacola High School and Jessica Chang of Pembroke Pines Charter High School took the top two spots in the Senior Individual Performance category.
Those weren't the only awards coming back to the Sunshine State. William An of Hernando County's Frank W. Springstead High School won the Equality in History Special Prize; Baily Palmer, Peter Zeledon, and Alondra Curet of Osceola County School for the Arts split the Outstanding Affiliate Award Senior; and Daniela Guarino took the Outstanding Affiliate Award Junior.
"At the Florida History Day state contest this past May, I was thrilled to meet these young historians, who spent months conducting research and developing their entries," said Secretary Lee. "I'm delighted that their hard work, creativity and dedication has been recognized at the national contest."
National History Day drew in more than 3,000 students from the 50 states, District of Columbia, American Samoa, Guam, Puerto Rico, and international schools in Southeast Asia. Florida's entries were based on the 2019 theme "Triumph and Tragedy in History."
 'Labor of love'
For City of Tallahassee employees, building three homes in the Griffin Heights neighborhood over the past three months has been a labor of love, made possible by a partnership between the City and Big Bend Habitat for Humanity.
Leaders with both organizations officially presented keys to the new homeowners and their deserving families at a special ceremony this week on Connecticut Street.
"Home should be an attainable goal for every resident of Tallahassee," Mayor John Dailey said. "The City's partnership with Big Bend Habitat for Humanity is just one way that we are helping to address the expansion of affordable housing options in our community."
Earlier this year, the City Commission voted to sponsor the construction of three Habitat for Humanity homes, in the form of financial support in the amount of $195,000 and volunteered help from city employees. This marks the third consecutive year the City has partnered with Big Bend Habitat for Humanity.
Building of the three homes officially began on Saturday, March 23. Since then, city employees have volunteered nearly 600 hours of their own time on Fridays and Saturdays to complete the homes' construction.
Capitol Directions

The post Takeaways from Tallahassee — Sex & the Big Game appeared first on Florida Politics – Campaigns & Elections. Lobbying & Government..