Memento with meaning
Sen. Wilton Simpson brought more than government and business insights back to the States when he returned from Israel earlier this month.
For his son, Wilton Jr., Simpson imported a special souvenir: a hat commemorating the historic Florida-Israel trade mission.
The kicker? It's signed by Israel Prime Minister Benjamin Netanyahu, with whom Simpson met while overseas along with Gov. Ron DeSantis and the Florida Cabinet.
Wilton Jr., 20, has added the hat to what's come to be a collection of signed hats from world leaders and artists. He says the hat will hold a special place among his cherished collection.
"The Prime Minister was gracious with his time and kind enough to sign the hat for Wilton Jr.," the senior Simpson said. "Tokens like this are our way of sharing our big adventures."
The Trilby Republican in line to become Senate President beginning 2020 also brought back with him a celebratory coin from the U.S. Ambassador to Israel.
In a post-trip interview with Florida Politics' A.G. Gancarski, the lawmaker described the coordination he observed while abroad between "teachers, civilians, administrators, and law enforcement to ensure there's 'not just one layer of protection … but force multipliers.'"
He also spoke to the cultural aspect of the trip, something he said made it "truly the experience of a lifetime."
While at the historic Western Wall in Jerusalem, Simpson inserted a prayer for his children and grandchildren.
Coming up, the usual assortment of tidbits, leftovers and not-ready-for-prime-time moments by Danny McAuliffe, Drew Wilson, Jim Rosica and Peter Schorsch.
But first, the "Takeaway 5" — the Top 5 stories from the week that was:
Take 5
Aides leave DeSantis — The first significant shake-up at DeSantis' office took place this week. Justin Caporale, the administration's external affairs director, and Amanda Emmons, DeSantis' director of scheduling, along with three other staffers — Jacob O'Kane, Amanda Pinto and Robert Wilson — are no longer working in the Executive Office of the Governor (EOG). O'Kane was an Appointments Analyst, Pinto was deputy director of Scheduling, and Wilson also was an Appointments Analyst. "They have been voluntarily terminated," a DeSantis spokesperson said. U.S. Rep. Matt Gaetz, a Panhandle Republican who played a key role transitioning DeSantis from the campaign to state office, told POLITICO Florida this week that it's "normal" for departures like this to occur after a Governor's first Legislative Session. The annual lawmaking process ended in early May.
Blind trust law repealed — Gov. DeSantis signed into law this week a bill repealing a law that allowed elected officials to funnel investments through a "blind" trust. The original law, created in 2011, was aimed at diminishing conflicts of interest from electeds who had investments. Former Gov. Rick Scott, now a U.S. Senator, used a blind trust for his fortune. But "questions and lawsuits dogged Scott during his eight years as governor about whether he was using his office to profit from his investments in several companies that did business with Florida," reports Mary Ellen Klas for the Times/Herald Tallahassee bureau.
Moody eyes youth vaping — Attorney General Ashley Moody is on a fact-finding mission to find out why e-cigarette use is on the rise in Florida. "As a mother, the skyrocketing use of e-cigarettes among Florida youth deeply troubles me and I want to make sure we are doing everything in our power to protect children," Moody said. A report released in April from the Florida Department of Health noted that 25 percent of high school students in Florida said they had used electronic vaping devices. "It is illegal under Florida law to sell these products to anyone under 18 yet, vaping among our youth is out of control," Moody said. "That is why I am traveling the state to hear from parents, teachers and law enforcement about what they are experiencing and how children are hearing about vaping and acquiring e-cigarettes."
Hill's remarks spark controversy — A slew of Florida Republicans have called for Rep. Mike Hill to apologize after the Pensacola Republican chuckled at the idea that gay people should be executed. Audio of Hill first reported by the Pensacola News Journal captured an exchange between Hill and a likely constituent. "In 1 Corinthians, it says that a man who has an affair with another man will be put to death," one person says. Hill responds, "It says that in the Old Testament too." Another attendee then asked Hill if he could sponsor legislation to enforce that Scripture. After Hill and others are heard laughing, Hill says, "I wonder how that would go over?" House Speaker José Oliva and Gov. DeSantis have asked Hill to apologize and some Democrats have called for his resignation. A House spokesperson told The News Service this week that Oliva cannot "act in [an] official capacity until next session" unless a complaint is filed alleging a violation of law or House rules.
Panel OKs Gillum settlement — The Florida Commission on Ethics this week approved a settlement that absolved former Democratic gubernatorial candidate Andrew Gillum in four of five charges of ethics violations. With that, Gillum is required to pay a $5,000 fine. Gillum's lawyer, Barry Richard, told The News Service that the agreed-to charge regarded a boat ride around the Statue of Liberty. "This was vigorously litigated with the state's lawyers," Richard told The News Service. "The reason that the fine was what it was, is because they didn't feel like their case was that strong and they were not prepared to go to trial on it. That's how settlements happen."
Airbnb back on good terms
DeSantis and the Florida Cabinet this week accepted the State Board of Administration's recommendation to remove Airbnb from Florida's "Scrutinized Companies List," snuffing out a brief but highly-publicized conflict between DeSantis and the vacation-rental giant.
DeSantis lashed out against Airbnb for removing listings in Israeli settlements in Judea and Samaria, also known as the West Bank. The company later reversed course on that decision, which led to DeSantis backtracking.
"As Governor, I have an obligation to oppose policies that unfairly target Israel," DeSantis said in a statement. "Once Airbnb eliminated their discriminatory policy toward Israel, we decided to remove them from the Scrutinized Companies List. I am pleased with this outcome."
Airbnb released the following statement this week: "In 2018, over 8,000 Floridians experienced Israel through Airbnb. We look forward to continuing to invest in Israel, work with the state to further that positive impact and support the more than 20,000 Airbnb listings in Israel."
The company also noted that it delivered $62 million in sales-tax revenue to the state in 2018. Airbnb also said it has cooperated with emergency officials to provide housing after hurricanes.
Fried announces hemp workshops
While the Legislature this past Session passed a bill creating a state hemp program, DeSantis has yet to sign the measure into law.
But that hasn't stopped Agriculture Commissioner Nikki Fried from planning ahead. She announced this week a series of rule-making workshops to take place across the state later this month.
This is an exciting time in Florida – we're on the verge of creating a whole new #hemp economy with billions in economic potential.

Watch our hemp update video to get the latest on what's happening & to keep current on all of our updates, visit https://t.co/2qwzYhAhiN. pic.twitter.com/9eE5yg0OHL

— FL Dept. of Agriculture & Consumer Services (@FDACS) June 7, 2019
A news release from Fried's office said: "DeSantis is expected to sign the state hemp legislation soon." The workshops, it added, "create a space for the public to ask questions and provide valuable input" as rules are developed in accordance with the new statutes.
"Our new state hemp program marks the beginning of an exciting new chapter here in Florida and brings a chance to strengthen our agriculture industry, increase access to safe CBD products, and diversify and fuel our state economy," Fried said. "We're working to build the new state hemp program from the ground up, and we want to hear from the people it's intended to serve. I encourage everyone to join us at these workshops — we're making history, and want Floridians alongside us every step of the way."
Added Cannabis Director Holly Bell: "This is a collaborative process between our Department, a wide range of hemp industry stakeholders — and now, the public. By bringing all of these groups together, we can develop a program that works for Florida's growers, consumers and everyone."
Three workshops are planned: 9 a.m., June 20, at the Performing Cultural Arts Theater at the Broward College South Campus; 9 a.m., June 21, at the Tampa Fairgrounds; and 9 a.m., June 24, at the R.A. Gray Building in Tallahassee.
First Lady, Volunteer Florida team up for new service platform
Volunteer Florida and First Lady Casey DeSantis see this summer as the perfect opportunity to establish a unified volunteer platform for the public to participate in come fall.
The First Lady and Volunteer Florida CEO Clay Ingram this week announced the launch of "Volunteer Connect," which will help promote service opportunities around the state.
The online platform is currently available to nonprofits and government entities in Florida. "Throughout the summer, organizations can register on Volunteer Connect, participate in instructional webinars and training and begin posting future volunteer opportunities," a Volunteer Florida news release said. In the fall, the tool will be made available to the public, "engaging volunteers in education, environmental protection, disaster relief and much more."
"The Governor and I believe that government must constantly strive to improve how we serve taxpayers and Volunteer Connect brings our resources under one umbrella," Casey DeSantis said. "Volunteerism is an essential part of our great civic duty and I encourage all Floridians who are able to consider volunteering locally to do so."
Ingram, a former lawmaker, said the platform would "simplify" the recruiting process for organizations. The final product will be "a centralized hub for sharing volunteer opportunities, monitoring volunteer sign-up and communicating important information to volunteers."
Eventually, the new platform will make volunteer opportunities searchable "by date, location, issue area and age/population served," the news release said. It will also track sign-ups, attendance and hours, and will aid with other scheduling matters.
Instagram of the Week
Deragathon: real estate license fees halved
Florida real estate brokers are about to save a few bucks.
DeSantis and the Department of Business and Professional Regulation announced this week license renewal fees for brokers and real estate sales associates will be cut in half.
Starting July 1, the biennial fee for brokers will ring up at $36, while sales associates will pay $32. The cut will last through the renewal periods for licenses expiring March 31, 2020, Sept. 30, 2020, and March 31, 2021.
"I'm proud that our efforts to deregulate Florida's occupational licensing regime are producing real results for the hardworking men and women of our state," DeSantis said, adding that the state has "stop nickel-and-diming our businesses and professionals."
DBPR head Halsey Beshears said the fee slashing was born out of January's "Deregathon," an event aimed to suss out regulations the state could nix.
Based on licensure and renewal rates from the past two years, the impending cut is expected to save the state's 200,000 licensed real estate professionals $8.8 million.
Cannabis clash heads to 1DCA
A case challenging the cap on medical marijuana companies that can operate in the state will go Tuesday before the 1st District Court of Appeal.
Florigrown, which was denied a license by the state Department of Health, filed the suit last year.
The aspiring pot business says the license limit doesn't jibe with the constitutional amendment approved by Florida voters in 2016.
The suit also challenges the "vertical integration" requirement, which requires each company with a license to handle pot from seed to store.
Circuit Judge Charles Dodson agreed with the Tampa-based business and ordered DOH to add them — and other cannabis companies — to the list.
Florigrown's challenge is one of many that the law implementing the amendment has faced since it was put on the books two years ago.
Another suit questioned the Legislature's ban on smokable pot. Lawmakers nixed that rule earlier this year after DeSantis said the state would drop the appeal.
Conservation funding battle gets court date
The 1st District Court of Appeal will host the next chapter of the conservation funding saga on June 16.
At issue is whether state lawmakers have followed the land and water conservation rules put in place by a constitutional amendment approved by 75 percent of voters in 2014.
The amendment requires the state use revenues brought in by a certain real estate tax to fund the conservation program, but environmental groups have said that money has been funneled away to other projects that don't fit the amendment's requirements.
Last June, Circuit Judge Dodson agreed with the environmental groups, saying lawmakers diverted conservation cash for improper expenses such as staffing.
The House and Senate contend Dodson's ruling would encroach on their authority set budgetary priorities.
Trumbull wants to speed up future disaster spending
Panama City Republican Rep. Jay Trumbull is grateful that the "long impasse in Congress over disaster aid has been broken" and wants to reform the way disaster spending is handled in the future.
Trumbull, following Congress' final approval of a $19.1 billion spending plan this week, issued a statement thanking nearby U.S. Rep. Neal Dunn and "President [Donald] Trump's commitment to sign the bill and to rebuilding Tyndall Air Force Base, which is so important to our economy and to our nation's defense."
But he also said it's "inexcusable" that the disaster spending bill took so long. The Category 5 Hurricane Michael hit Trumbull's district hard in October.
"Not only have we been suffering in the eight months since Michael hit, other hard-hit areas have also been waiting for much-needed aid for far too long," Trumbull said. "I am working with other leaders at every level to enact reforms that will ensure that this kind of delay never happens again, in the Panhandle or anywhere else."
Trumbull, who played a key role in writing the tourism, transportation and economic development silo of the budget during the 2019 Session, had been among many voices in the state Legislature that criticized Congress for failing to corral around disaster relief.
Rommel tapped for international affairs role
Rep. Bob Rommel this week announced he'd been named to the Florida Advisory Committee of the United States Global Leadership Coalition (USGLC).
USGLC is an organization that, among other things, advocates in the nation's capital for more international affairs resources. It prioritizes development and diplomacy to promote a greater economy and stronger national security.
Rommel, a Naples Republican, will work with the state advisory panel "to educate community leaders and members of Congress on the positive impact that U.S. international affairs programs have on local, state and national levels," a news release said.
"I am fully behind President Trump's bold agenda for revitalizing American foreign policy, and USGLC's mission of bringing together a cross-section of leaders to promote our interests abroad supports the President's priorities beautifully," Rommel said. "I'm looking forward to this opportunity to put America First by working alongside the distinguished Floridians on the committee as well as individuals from across the country."
JMI chalk wins from Session
The James Madison Institute (JMI), a free-market-minded think tank, scored a few big victories during the 2019 Legislative Session.
JMI recently highlighted legislative successes in the areas of health care, school choice and criminal justice policy.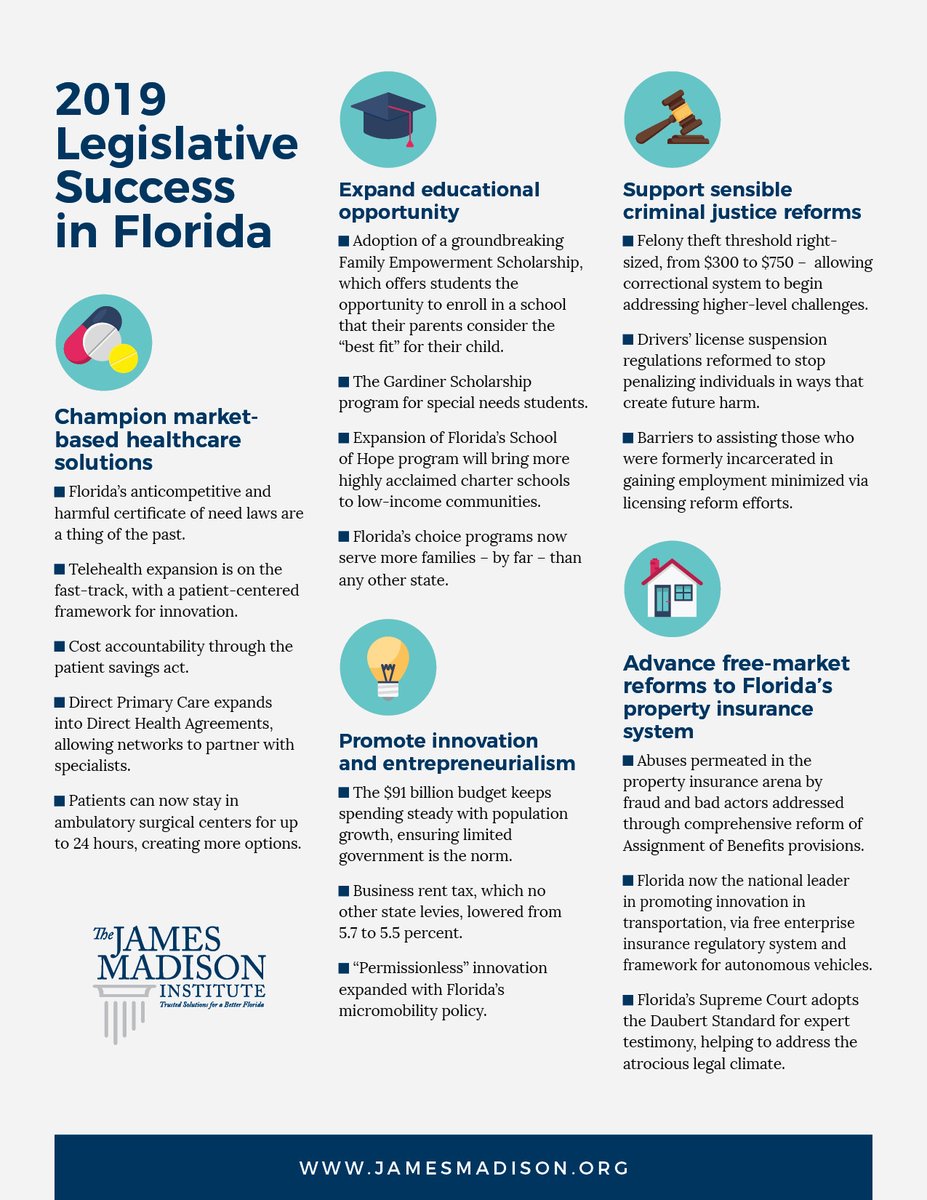 Lawmakers passed and DeSantis signed into law this year expansions to the Gardiner Scholarship and Schools of Hope program. They also created a new school voucher, the Family Empowerment Scholarship, to offer more school choice opportunities to low-income families.
"JMI has long supported efforts to give Florida families access to choice, so that every student can attend the school that best fits their unique needs and interests," said William Mattox, Director of JMI's J. Stanley Marshall Center for Educational Options. "Accordingly, we commend the Florida Legislature for passing historic school choice legislation. Thousands of families and students will benefit from their bold, innovative initiatives."
With respect to health care, JMI supported legislation sought by House Speaker Oliva, including the elimination of the "certificate of need" requirements for hospitals and the expansion of telehealth, which allows for doctors and patients to coordinate remotely.
JMI also backed some of the criminal justice reforms ushered through The Process this year, such as the increase to the felony-theft threshold.
"Legislators and a new governor made bold strides cementing Florida as a beacon for conservative principles," said JMI Vice President of Policy Sal Nuzzo. "Our team at JMI worked overtime in Tallahassee and beyond in ways that will be felt for generations."
TaxWatch productivity awards get Cabinet recognition
June is for Budget Turkeys for Florida TaxWatch, and July is for efficiency.
A Cabinet resolution approved this week designated July 2019 as "TaxWatch Productivity Awards Recognition Month." That happened shortly before the taxpayer watchdog organization released its annual list of "Budget Turkeys," which highlight member projects that made it into the legislative spending plan with questionable vetting.
The TaxWatch Productivity Awards, on the other hand, honor state employees who make the taxpayer dollar go further. That's something the Cabinet can and did get behind this year, thanks to a resolution sponsored by Chief Financial Officer Jimmy Patronis.
Now in its 30th year, the TaxWatch Productivity Awards program is presented by Kyra Solutions, Inc. TaxWatch estimates that over the past three decades "productive" state employees have resulted in more than $10 billion in added value to the taxpayer.
"The TaxWatch Productivity Awards program has been instrumental in significantly and measurably increasing productivity in the state of Florida," said former U.S. Sen. George LeMieux, Florida TaxWatch Chairman-Elect. "I'm proud of Florida TaxWatch for maintaining the longevity of this unique program and I'm grateful that the Governor and the Cabinet recognize this program's significant return on investment."
Education group gives lawmakers high marks
The Foundation for Florida's Future has finished grading lawmakers' performance in the 2019 Legislative Session, and a slew of electeds earned an "A."
The Foundation for Florida's Future graded lawmakers on several education policies, including an increase in funding for public school students, more school choice options, more robust career education initiatives and teacher bonuses.
"Thanks to the leadership, commitment and courage of Florida's lawmakers, more students will have the opportunity to gain the necessary skills for success in college and career, and families will have the resources to choose the best educational fit for their children," said Patricia Levesque, Foundation for Florida's Future Executive Director.
"The work of the 2019 Florida Legislature builds upon the state's two-decade-long tradition of continually strengthening policies that promote equity, improve educational quality and expand choice for Florida students."
Overall, 86 representatives and 23 senators aced the group's test. An even more exclusive set — nine Senators and 20 Representatives — made the group's "honor roll" for the term by earning an A+.
Included in that crowd: House Speaker Oliva and Senate President Bill Galvano, as well as Republican Rep. Chris Sprowls, who is set to become House Speaker after the 2020 elections.
Long-term care centers scoop up awards
Long term care centers from Plantation to Palm Bay are improving at a rapid clip, and national groups are starting to take notice.
The American Health Care Association and National Center for Assisted Living doled out their "2019 Bronze Commitment to Quality Awards" this week and of the 590 centers nationwide that made the grade, 37 of them were members of the Florida Health Care Association.
"Florida continues to be a national leader in delivering high-quality care," said FHCA Executive Director Emmett Reed.
"The Bronze Award achievement by our member centers exemplifies the commitment of the thousands of caregivers who are dedicated to ensuring Florida's frail elders receive exceptional care every day, and we're proud to honor them."
Those Bronze Awards don't mean third place, either, since all providers begin the quality improvement process at the bronze level.
The 37 honorees could join some others in the coming months as AHCA/NCAL unveils its picks for the Silver Awards and Gold Awards.
Report: Hot yoga shooter part of national hatred movement
The shooter who took two lives at a Tallahassee yoga studio in November is a symptom of a nuanced and growing hatred movement.
Steve Hendrix writes for The Washington Post: "[Scott] Beierle was an avowed hater of women, a man who repeatedly grabbed women in real life and fantasized about raping and killing them in the horrific collection of lyrics, poetry and novels he began writing as a teenager. His interactions with the opposite sex had gotten him fired from teaching jobs, booted from the Army and hauled before the principal of his high school."
Beierle, Hendrix notes, isn't alone. A few months before he murdered two women and took his own life, the Southern Poverty Law Center began tracking a new hate movement: "male supremacy."
Beierle fell into the involuntary celibate or "incel" category, coined for men who blame women for their inability to find relationships. At least three other shooters since 2014 had documented their scorn for the opposite sex before acting.
Hendrix details harrowing aspects of Beierle's life, including his writing of a 70,000-word novel in which the middle-school protagonist kills women who rejected him.
After Beierle acted, internet misogynists rejoiced, dubbing him "St. Yogacel."
Capitol Directions
The post Takeaways from Tallahassee — Memento with meaning appeared first on Florida Politics – Campaigns & Elections. Lobbying & Government..