Last Call — A prime-time read of what's going down in Florida politics.
First Shot
John Morgan's on-again, off-again relationship with the "Regulate Marijuana" recreational pot amendment seems to be off for good.
On Monday, Morgan — an Orlando mega-attorney and medical marijuana advocate — posted on Facebook, "I support #homegrow 100%. But Regulate Florida has ZERO chance in 2020.
"If recreational passes, what cop is ever going to be looking for homegrown? Would you rather have recreational #cannabis or not? It's easy. Let's not fight, let's unite."
He signed off with his favored nickname of late: "#PotDaddy."
His announcement comes days after another state constitutional amendment for adult-use marijuana was filed with the Division of Elections.
It's from the new Make It Legal Florida political committee, backed by heavy hitters in the state's GOP establishment and by medical marijuana providers.
One big difference between the two proposals: The Regulate Marijuana amendment would allow people to grow their own, up to six plants; the Make It Legal measure does not address "home grow," saying pot can be bought from existing marijuana providers.
Morgan, of course, supported and bankrolled the constitutional amendment on medicinal cannabis that was approved by 71 percent of Florida voters in 2016.
Michael Minardi, who chairs the committee behind the Regulate Marijuana amendment, has long courted Morgan's support. Minardi did not respond to a request for comment by late Monday afternoon.
That amendment, which has 86,928 valid signatures so far, ultimately needs 766,200 to get on the 2020 ballot.
"We have the people on the streets and the team together to make sure we get the petitions needed to get this done — we just need funding," Minardi said in June. "All the money donated will go directly to continue to gather signatures."
___
News from the greyhound racing world: Longwood City Manager J.D. Cox recently announced that the Sanford Orlando Kennel Club, a Central Florida dog track, had been sold to Atlanta-based Wood Partners "for a mixed-use development to go there."
"We're thrilled that that's occurring," Cox said.
The news was announced at the end of last week's City Commission meeting. (Florida Politics on Monday requested a recording of the meeting.) Mayor Matt Morgan called the track "a very important property."
The sale should come as no surprise: Amendment 13, passed by voters last year, bans dog racing by the beginning of 2021. Besides greyhounds, Sanford Orlando does not have a card room or slots.
Evening Reads
—"South Florida importers brace for new Donald Trump tariffs as Chinese trade war escalates" via Martin Vassolo of the Miami Herald
—"Jeanette Núñez attends economic roundtable hosted by pro-Donald Trump group" via Ryan Nicol of Florida Politics
—"After audit, Richard Corcoran demands shake-up of organization that helps disabled people" via Ana Ceballos of the News Service of Florida
—"Battle lines form over biggest Florida highway expansion in decades" via John Kennedy of the GateHouse Capital Bureau
—"First public meeting on proposal for three new toll roads Tuesday in Tampa" via the News Service of Florida and Steve Newborn of WUSF
—"Florida GOP hires Peter O'Rourke as Executive Director" via Jacob Ogles of Florida Politics
—"Court backs ex-Supervisor on voting rolls" via Jim Saunders of the News Service of Florida
—"Nursing home employees surrender in patient deaths" via Kelli Kennedy and Terry Spencer of The Associated Press
—"Did grudge push gunman in Jacksonville Landing mass shooting?" via Steve Patterson of the Florida Times-Union
—"Equifax breach victims in Florida could get burned again" via John Hielscher of the Sarasota Herald-Tribune
—"Universal Orlando, OUC shield records after electrical shocking of Volcano Bay visitors, staff in June" via Gabrielle Rouson of the Orlando Sentinel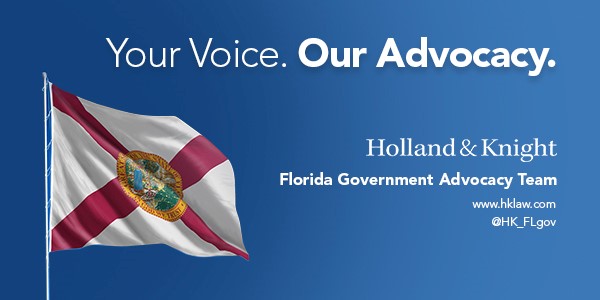 Quote of the Day
"All of my appointees, I want them to be reformers who are not going to tolerate incompetence or failure in government — that is what we will see." — Gov. Ron DeSantis, after news that The Able Trust, a state-created nonprofit that helps Floridians with disabilities, potentially misused millions of dollars.
Bill Day's Latest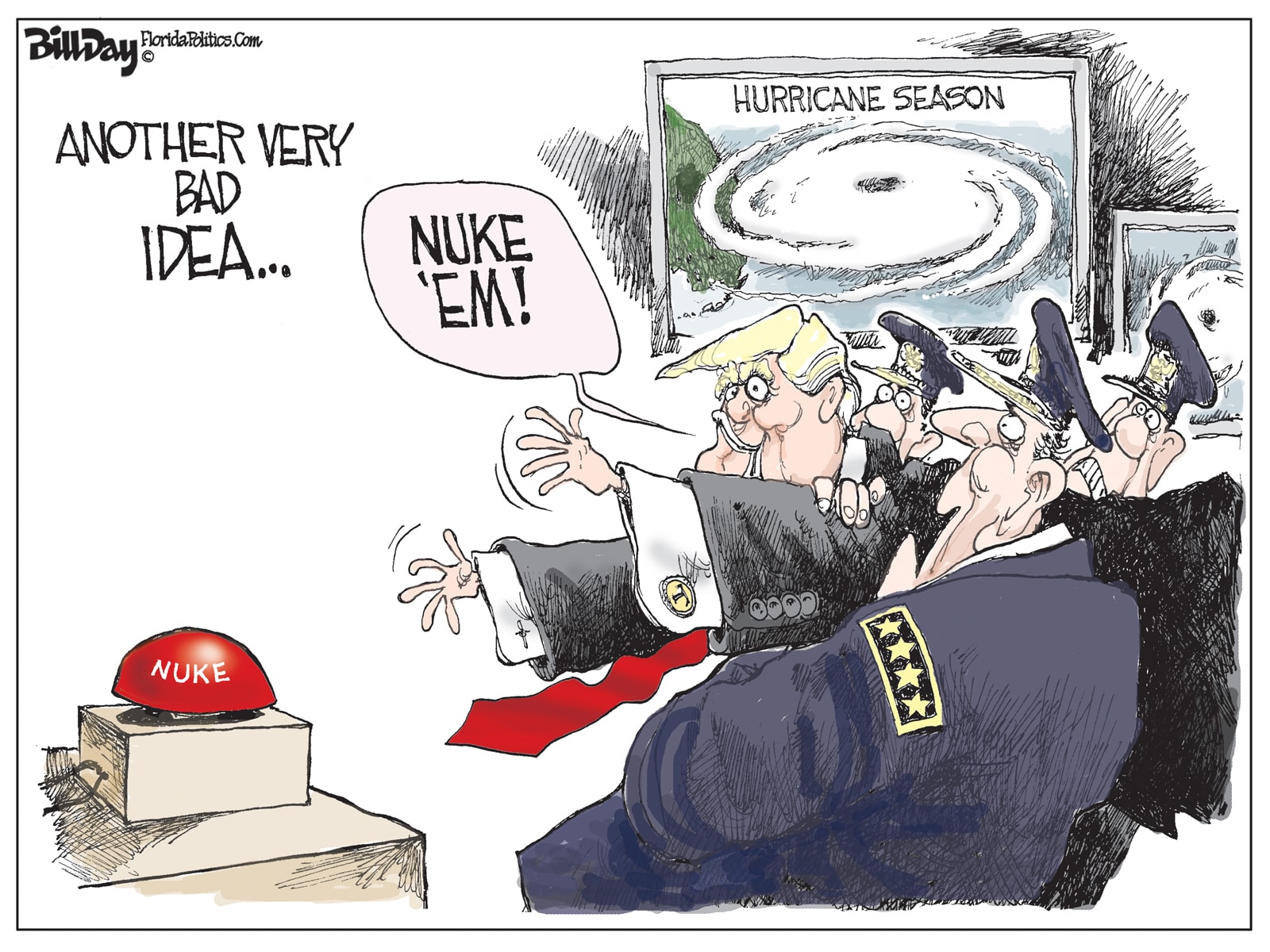 Breakthrough Insights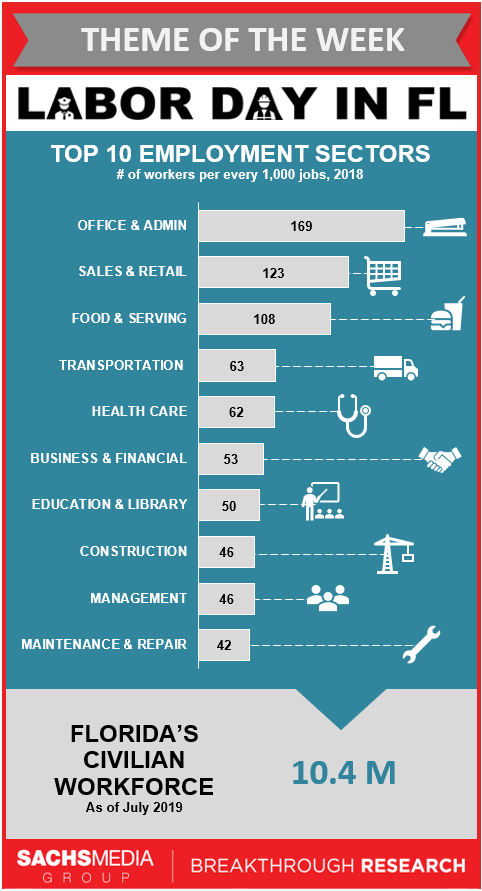 Wake Up Early?
The Florida Department of Transportation will hold a kickoff event for the Multi-use Corridors of Regional Economic Significance, or M-CORES, program, as the state moves forward with a new law designed to lead to three major toll-road projects. That's at 8 a.m., Tampa Convention Center, 333 South Franklin St., Tampa.
Carolyn Johnson, the Florida Chamber of Commerce's director of business, economic development and innovation policy, is slated to speak during a Florida Economic Development Council board meeting. That's at 8:30 a.m., Omni Jacksonville Hotel, 245 Water St., Jacksonville.
The Florida Supreme Court will hear arguments on three issues, including two death-penalty cases from Duval County. That's at 9 a.m., Florida Supreme Court, 500 South Duval St., Tallahassee.
The Broward County legislative delegation will hold a local-bill workshop at 10 a.m., Broward County Governmental Center, 115 South Andrews Ave., Fort Lauderdale.
The Florida Department of State's Division of Elections will hold a rule-development workshop about minimum security procedures for voting systems. That's at 11 a.m., R.A. Gray Building, 500 South Bronough St., Tallahassee. Call-in number: 1-888-585-9008. Code: 659459077.
Committees of Enterprise Florida, the state's business-recruitment arm, will meet in advance of a board of directors meeting on Wednesday. Committee meetings start at 11 a.m., Omni Jacksonville Hotel, 245 Water St., Jacksonville.
Manuel Medina, managing partner at Medina Capital and CEO of Cyxtera Technologies, will discuss cybersecurity during a meeting of the Economic Club of Florida. That's at 11:15 a.m., FSU Alumni Center, 1030 West Tennessee St., Tallahassee.
Florida seaport officials will open three days of meetings with a luncheon that is slated to include GOP U.S. Rep. John Rutherford and seaport security directors. That's at 11:30 a.m., Hyatt Regency Jacksonville Riverfront, 225 East Coastline Dr., Jacksonville.
GOP U.S. Rep. Neal Dunn will speak to the Network of Entrepreneurs and Business Advocates in Leon County. That's at noon, Capital City Country Club, 1601 Golf Terrace Dr., Tallahassee.
Republican Adam Botana, who is running in Lee County's House District 76, is scheduled to hold a campaign kickoff event. The District 76 seat will be open next year because state Rep. Ray Rodrigues, an Estero Republican, faces term limits and is running for the Senate. That's at 5:30 p.m., Coconut Jack's Waterfront Grille, 5370 Bonita Beach Road, Bonita Springs.
Rodrigues also is slated to speak to the Cape Coral Republican Club. That's at 7 p.m., Personal Touch Catering, 1530 Santa Barbara Blvd., Cape Coral.
The post Last Call for 8.26.19 — A prime-time read of what's going down in Florida politics appeared first on Florida Politics – Campaigns & Elections. Lobbying & Government..