Last Call — A prime-time read of what's going down in Florida politics.
First Shot
Oh, how the mighty have fallen.
A starting linebacker on Florida State University's national championship team for the 1993 season has been sentenced to 4 ½ years in federal prison.
Kenneth Alexander pleaded guilty to federal charges of preparing false tax returns, theft of government funds, and aggravated identity theft.
That's according to a representative for Lawrence Keefe, the U.S. Attorney for the Northern District of Florida.
Alexander, 46, of Tallahassee, also was ordered to pay over $1 million in restitution to the Internal Revenue Service.
According to a news release, "Alexander — the sole shareholder of Wizard Business Center tax preparation business in Tallahassee — prepared and filed false tax returns with the Internal Revenue Service for various individuals between 2012 and 2016."
Specifically, "Alexander falsely represented the taxpayers' itemized deductions, losses and marital status," the news release said.
"The integrity of our system of taxation lies at the heart of what we do as a nation, and those who try to defraud the system will pay the price," Keefe said in a statement.
"The trust of the American people relies on [the] fair administration of our tax laws, and this defendant violated that trust and will now face the consequences."
Alexander was captain of the FSU team that defeated Nebraska 18-16 in the Jan. 1, 1994, Orange Bowl, resulting in the Seminoles' first national title.
___
Ed. Note — The email version of the Aug. 20 "First Shot" about a lawsuit by Florida Carry against FDLE confused the fees for firearm-purchase background checks for concealed-carry license background checks. The online version has been corrected. We regret the error.
Evening Reads
"Environmental groups sue Trump administration over Endangered Species Act changes" via Miranda Green of The Hill
"Is Joe Biden the Democrats' most electable candidate?" via Noah Pransky of Florida Politics
"Abolishing the filibuster is unavoidable for Democrats" via Ronald Brownstein of The Atlantic
"22 remain after Jay Inslee ends his presidential campaign" via Dan Sweeney of the South Florida Sun-Sentinel
"Former Lee Sheriff asks Ron DeSantis to investigate Carmine Marceno's credentials" via Jacob Ogles of Florida Politics
"The Legislature inserted groups tied to right-wing donors into Florida's new law on civics education" via Diane Rado of the Florida Phoenix
"Florida Legislature special Session on gun reform: Here's how your lawmakers are voting" via Langston Taylor of the Tampa Bay Times
"New petition to legalize recreational pot in Florida goes public" via Samantha J. Gross of the Miami Herald
"5 questions on getting a recreational pot amendment on 2020 ballot" via Peter Schorsch of Florida Politics
"If recreational marijuana is likely to become legal in Florida, should the Governor fight it, go neutral or move to control it?" via Adam Goodman for the Tampa Bay Times
"Citing medical issue, Anna Hochkammer ends SD 39 campaign" via Drew Wilson of Florida Politics
"Joshua Rydell picks up 25 fresh endorsements for Broward State Attorney bid" via Jacob Ogles of Florida Politics
"Richard Swann, 'godfather of Democratic fundraising in Florida,' dies at 79" via Steven Lemongello of the Orlando Sentinel
"Orlando Sentinel ombudsman: Paper was correct to cover anchor Matha Sugalski's divorce, but not to send out a news alert about it." via John Cutter of the Orlando Sentinel
"Universal to get state money to build road to new Epic Universe park" via Jason Garcia of the Orlando Sentinel
"Transfer quarterbacks are all the rage, but do they deliver at their new schools?" via Jake Lourim of FiveThirtyEight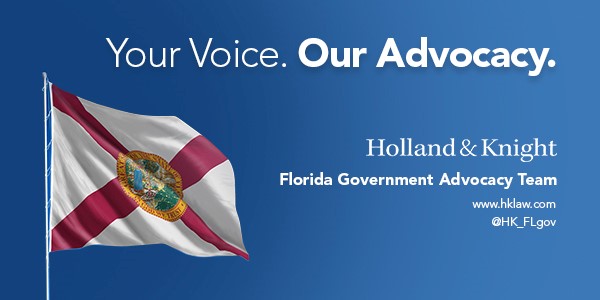 Quote of the Day
"The moment you start linking all Republicans with symbols of hate is the moment you lose credibility." — state Sen. and Florida GOP chair Joe Gruters on digital ads targeting him for his stance on immigration.
Bill Day's Latest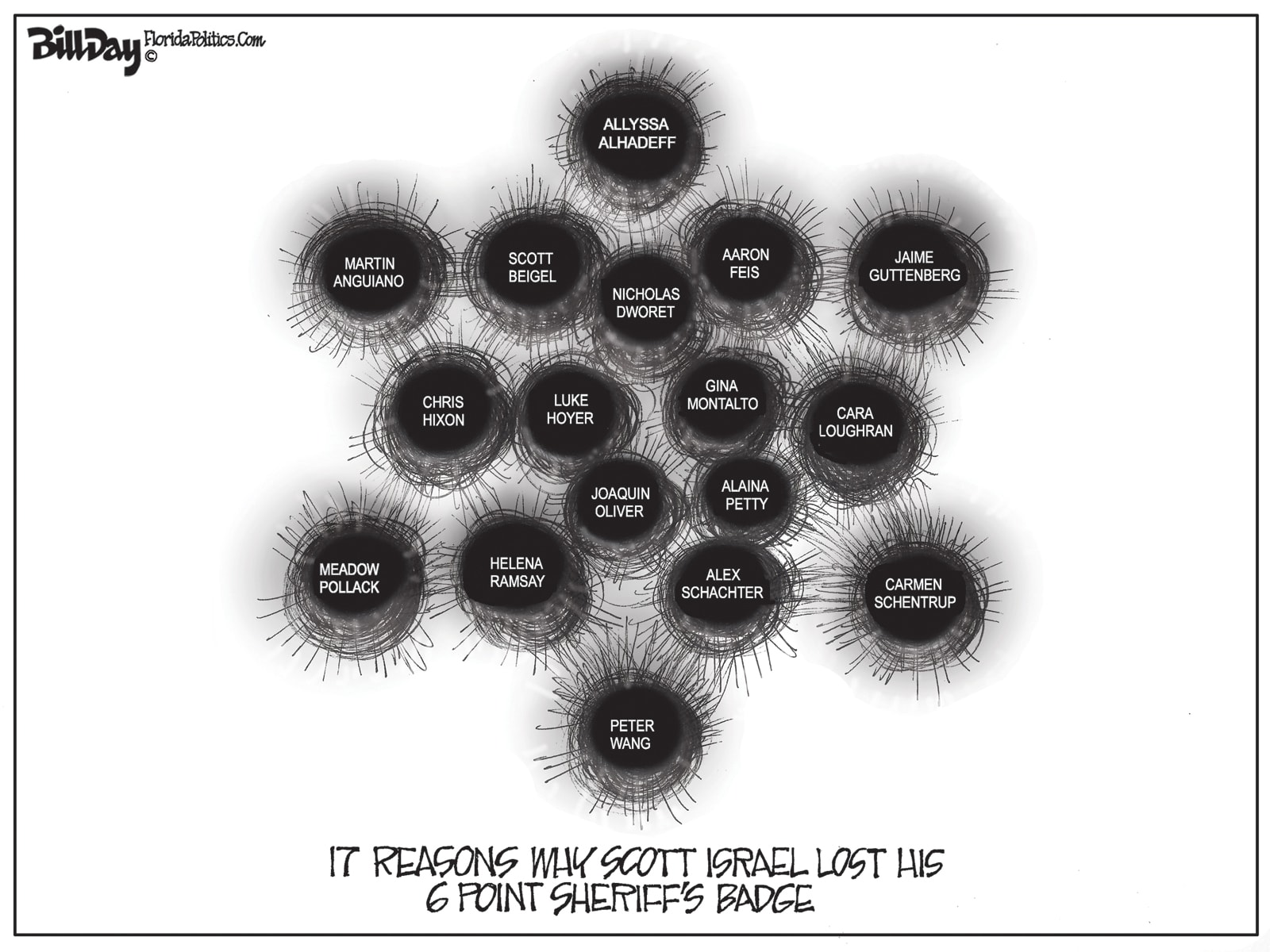 Breakthrough Insights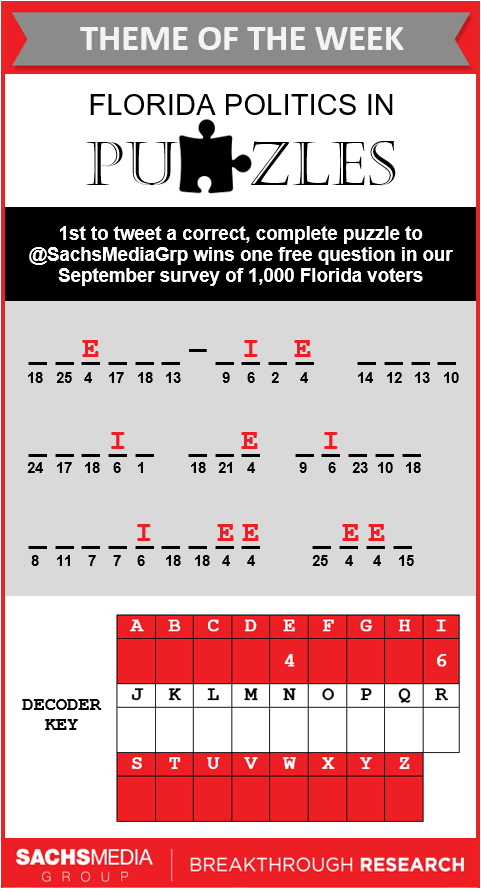 Wake Up Early?
The Financial Impact Estimating Conference will discuss the potential financial impacts of a proposed constitutional amendment about the citizenship of voters. That's at 8:30 a.m., 117 Knott Building.
The VISIT FLORIDA Executive Committee will review the agenda for a Sept. 4 Board of Directors meeting. That's at 10 a.m. Call-in number: (888) 475-4499. Code: 2780245814.
The Financial Impact Estimating Conference will discuss potential financial impacts of a proposed constitutional amendment that would revamp state primary elections. That's at 1:30 p.m., 117 Knott Building.
Rep. Tommy Gregory, a Sarasota Republican, will hold one in a series of town hall meetings to discuss issues with constituents. That's at 6 p.m., Parrish YMCA, 12214 U.S. 301, Parrish.
Looking Ahead
Rep. Randy Fine, a Palm Bay Republican, and Farm Share will hold a free food-distribution event in Brevard County. That's 10 a.m.-noon, Fine's office, 2539 Palm Bay Road N.E., Palm Bay.
The post Last Call for 8.22.19 — A prime-time read of what's going down in Florida politics appeared first on Florida Politics – Campaigns & Elections. Lobbying & Government..