Last Call — A prime-time read of what's going down in Florida politics.
First Shot
The 2020 Legislative Session is still five months away, but a booze bill is back.
And it's got the usual assortment of old favorites that haven't yet made it into the statute books.
The bill (SB 138) was filed Thursday by Sen. Travis Hutson, a St. Augustine Republican vying to become Senate President for 2022-24.
Among the bill's seven pages:
— A repeal of the law restricting the sizes of wine bottles that can be sold. Now, wine can't be sold in containers bigger than a gallon.
— A repeal of a similar cap on hard cider containers.
— A repeal of a provision requiring restaurant-goers to order and consume a full meal before they can take home an opened bottle of wine. That would extend the "merlot to go" legacy of the late Senate President Jim King's 2005 measure that first legalized carryout wine.
— Allowing craft distilleries to make up to 200,000 gallons a year of spirits, up from 75,000 gallons now.
— Allowing craft distilleries to direct ship their booze to out-of-state customers.
— Increasing the amount of liquor that craft distillers can sell at their on-site "souvenir gift shops."
The first committee week for the 2020 Session starts Sept. 16.
___
On a related note, state alcoholic-beverage regulators have told a Louisiana-based bar chain that it can't sell its frozen specialty drinks to go in Florida.
Fat Tuesday, which operates elsewhere as New Orleans Original Daiquiris, has four locations in the Sunshine State: Universal Citywalk at Universal Studios Orlando, on Fort Lauderdale Beach Boulevard in Fort Lauderdale, Ocean Drive in Miami Beach, and Biscayne Boulevard in Miami.
In a decision released Thursday, the Division of Alcoholic Beverages and Tobacco told the company it can't sell drinks like frozen rum runners, "Banana Banshees" and "190 Octanes" to take out under existing state law.
The issue: Liquor must be in "sealed containers," and sealed by a "manufacturer," not a "vendor."
The division shot down each of Fat Tuesday's proposals to sell booze, including in containers with a heat-sealed plastic top, and in "plastic bags" that would have to be "cut or punctured."
Evening Reads
"She once called Donald Trump a 'con man'. Now Jeanette Nunez is a big fan" via David Smiley of the Miami Herald
"Voters care about Joe Biden's age — not about his gaffes" via Nate Silver of FiveThirtyEight
"Disney World offers Florida politicians a sneak peek at Star Wars attraction, spawning ethics questions" via the Orlando Sentinel
"Amid misconduct inquiry, NRA lobbyist Marion Hammer says she's not a lobbyist" via Dan Christensen of the Florida Bulldog
"Dueling gun bills filed in Florida Legislature" via James Call of the Tallahassee Democrat
"Duval Democrats call for corruption investigation into Lenny Curry" via A.G. Gancarski of Florida Politics
"Back to school: What Richard Corcoran wants your kids to read" via the News Service of Florida
"National Dems get into Margaret Good-Vern Buchanan grudge match" via Dara Kam of the News Service of Florida
"Senate presidents headlining Jennifer Bradley campaign kickoff" via A.G. Gancarski of Florida Politics
"Jim Boyd files to succeed Bill Galvano in Florida Senate" via Jacob Ogles of Florida Politics
"Jeffrey Epstein traveled to Cuba at Castro's invitation, former Colombian president says" via Nora Gámez Torres and Ben Wieder of the Miami Herald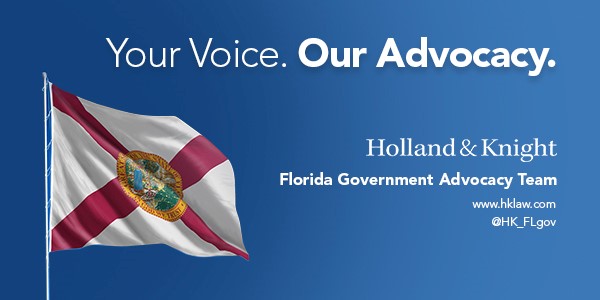 Quote of the Day
"If it should turn out that the Florida constitutional provision, Amendment 4, also provides that a plaintiff cannot vote unless the plaintiff satisfies all the financial obligations, then the question becomes, what happens if (the amendment itself is) unconstitutional?" — Senior U.S. District Judge Robert Hinkle, during a conference call on an Amendment 4-related lawsuit.
Bill Day's Latest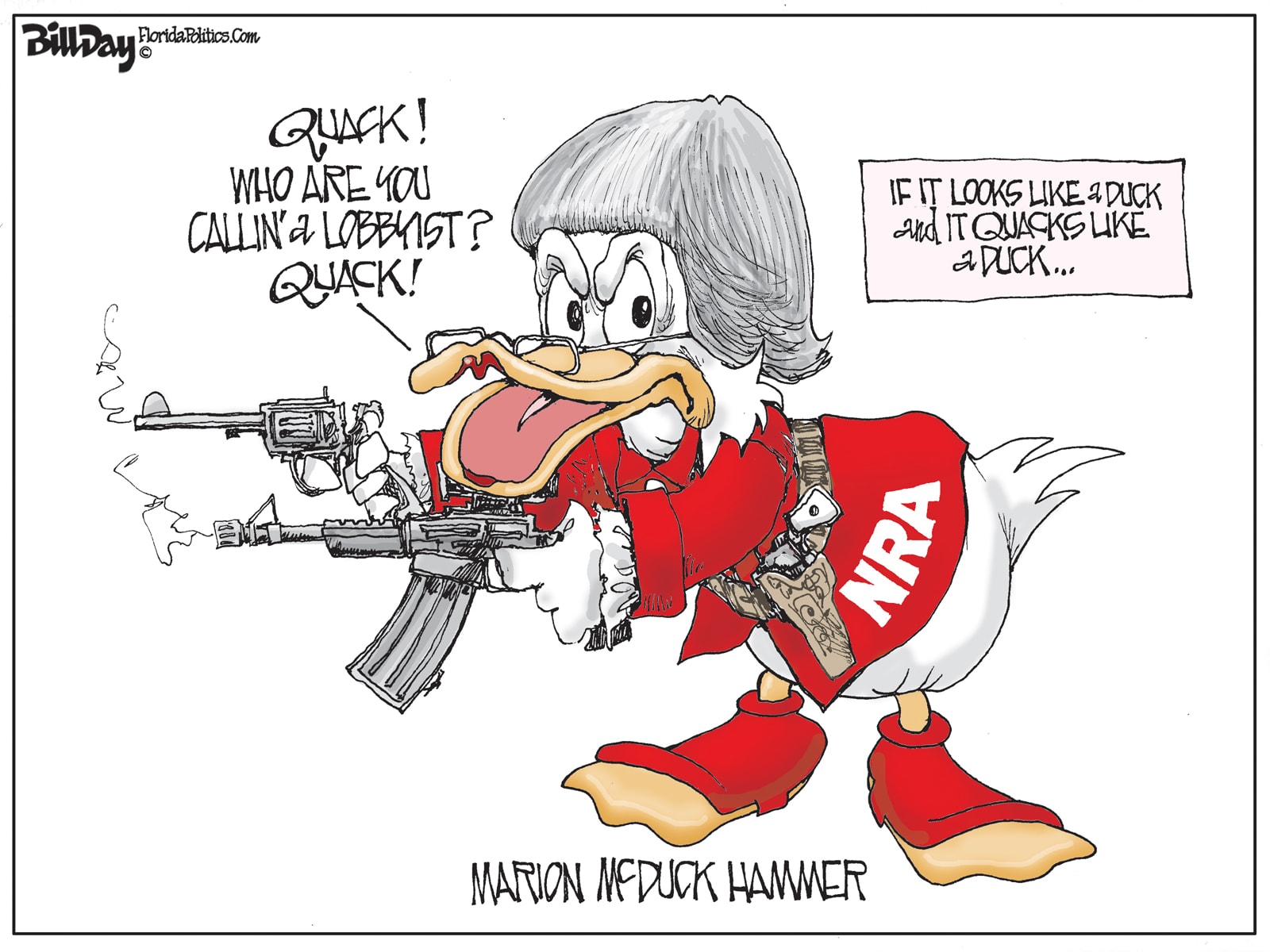 Breakthrough Insights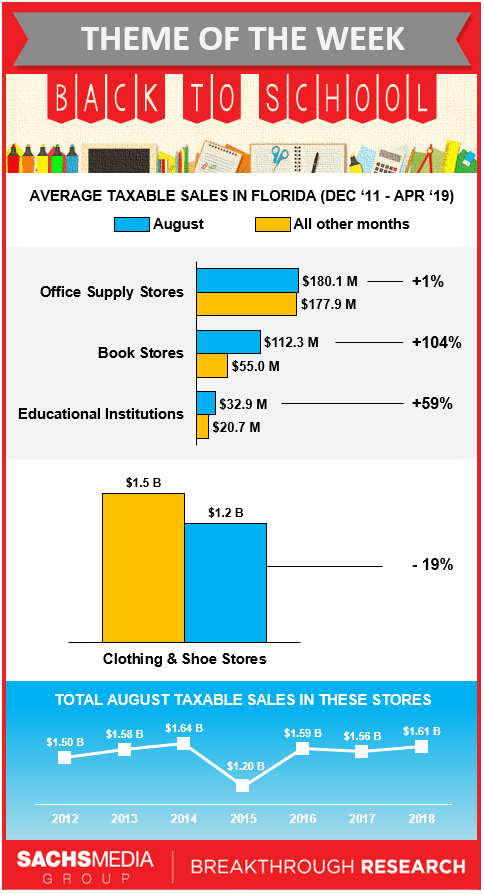 Wake Up Early?
Eric Silagy, president and CEO of Florida Power & Light, is scheduled to speak during a St. Johns County Chamber of Commerce Economic Development Council breakfast. That's at 8 a.m., World Golf Hall of Fame, Shell Hall, 1 World Golf Place, St. Augustine.
The Financial Impact Estimating Conference will hold a workshop on potential financial impacts of a proposed constitutional amendment that would ban possession of assault-style weapons in Florida. That's at 8:30 a.m., 117 Knott Building.
The Florida Department of Economic Opportunity will release July unemployment numbers at 10 a.m.
The Triumph Gulf Coast Board of Directors, which helps administer money from a settlement with BP after the Deepwater Horizon disaster, will meet. That's at 10:30 a.m. Central time, Walton County Commission Chamber, Freeport Business Park, 842 Highway 20 East, Unit 118, Freeport.
Education Commissioner Richard Corcoran will speak to the Panhandle Tiger Bay Club at 11:30 a.m., Skopelos at New World Landing, 600 South Palafox St., Pensacola.
The Republican Party of Florida will start a two-day quarterly meeting at 3 p.m., Sandestin Beach & Golf Resort, 9300 Emerald Coast Parkway, Miramar Beach.
Looking Ahead
Jacksonville Councilwoman Ju'Coby Pittman will host a "Blue Day of Service" with Terrie Rizzo, chair of the Florida Democratic Party, helping local Democrats serve meals to the needy. That's Saturday at 8:30 a.m., Clara White Mission, 613 W. Ashley St., Jacksonville.
Democratic state Rep. Dianne Hart of Tampa will hold an event to discuss the state appropriations process and how to apply for state funding. That's Saturday at 11 a.m., Dr. Carter G. Woodson PK-8 Leadership Academy, 8715 North 22nd St., Tampa.
GOP U.S. Rep. Gus Bilirakis will be honored during a Statesman of the Year Dinner hosted by Young Floridians for Opportunity and the Pinellas County Young Republicans. That's Saturday at 6 p.m., Feather Sound Country Club, 2201 Feather Sound Dr., Clearwater.
The post Last Call for 8.15.19 — A prime-time read of what's going down in Florida politics appeared first on Florida Politics – Campaigns & Elections. Lobbying & Government..