Last Call — A prime-time read of what's going down in Florida politics.
First Shot
With the 2019 Legislative Session in the history books, state agencies now are getting down to writing rules for many of the laws approved this year.
They posted several notices of the proposed rule-making on Tuesday.
The Division of Elections, for example, plans new rules for HB 5, which critics say will make it "harder for groups and citizens to put proposed constitutional amendments on the ballot."
"The bill places new restrictions on the petition-gathering process, which plays a critical role in getting initiatives on the ballot," the News Service of Florida has explained.
"Among other things, the bill makes it illegal to pay petition gatherers based on the number of petitions they collect, a change that is expected to drive up costs for amendment backers."
Also, the state's Division of Alcoholic Beverages and Tobacco (ABT) will "amend the rule language to reflect the change" to state law on branded glassware.
A new law, known as the "beer glass bill," now allows distributors "to provide branded glassware at no cost to vendors," the notice says.
ABT also needs to craft rules for bars and restaurants to follow now that the state has added a constitutional amendment banning indoor vaping.
The same proviso applies to all: "If requested in writing and not deemed unnecessary by the agency head, a rule development workshop will be noticed."
Evening Reads
"Ross Perot, brash Texas billionaire who ran for president, dies at 89" via Robert D. McFadden of The New York Times
"Perot, Donald Trump and the appeal of the outsider: One Florida voter's story" via Steve Contorno of the Tampa Bay Times
"Why we're not treating Tom Steyer as a 'major' candidate (yet)" via Nathaniel Rakich of FiveThirtyEight
"Steyer taps Kevin Cate to run media for presidential campaign" via Florida Politics
"Where a citizenship question could cause the census to miss millions of Hispanics" via Ted Mellnik and Kate Rabinowitz of The Washington Post
"Senate Democrats: Legal opinion green-lights limited campaign coordination" via Matt Dixon of POLITICO Florida
"A tiny provision slipped into a new election law could block early voting sites on campuses" via Mitch Perry of the Florida Phoenix
"As ACA court challenge resumes, Florida Dems blast Trump health care stance" via Ryan Nicol of Florida Politics
"Zombie campaign coming back to life? Mark Foley tells FEC he's ready for comeback" via Noah Pransky for Florida Politics
"Despite possible tropical system in Gulf, hurricane season seems to be starting a little late this year. Here's one reason why." via Roger Simmons of the Orlando Sentinel
"Arizona marijuana money finds Travis Cummings committee" via A.G. Gancarski of Florida Politics
"Thousands of palm trees are dying from a new disease. Tampa is 'ground zero.'" via Elizabeth Djinis of the Tampa Bay Times
"Florida State 2019: ESPN FPI's game-by-game predictions" via Sam Hellman of 247 Sports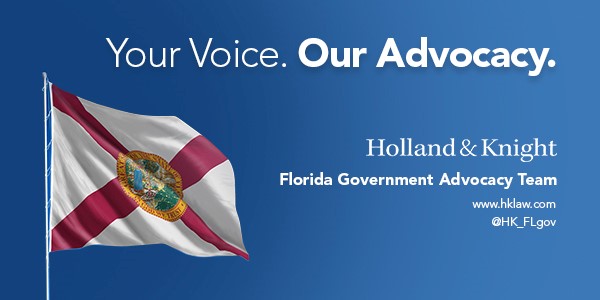 Quote of the Day
"Stay tuned. You're going to see a lot." — Gov. Ron DeSantis, answering a question about his pending replacements of people whose political appointments, made by former Gov. Rick Scott, he had later rescinded.
Bill Day's Latest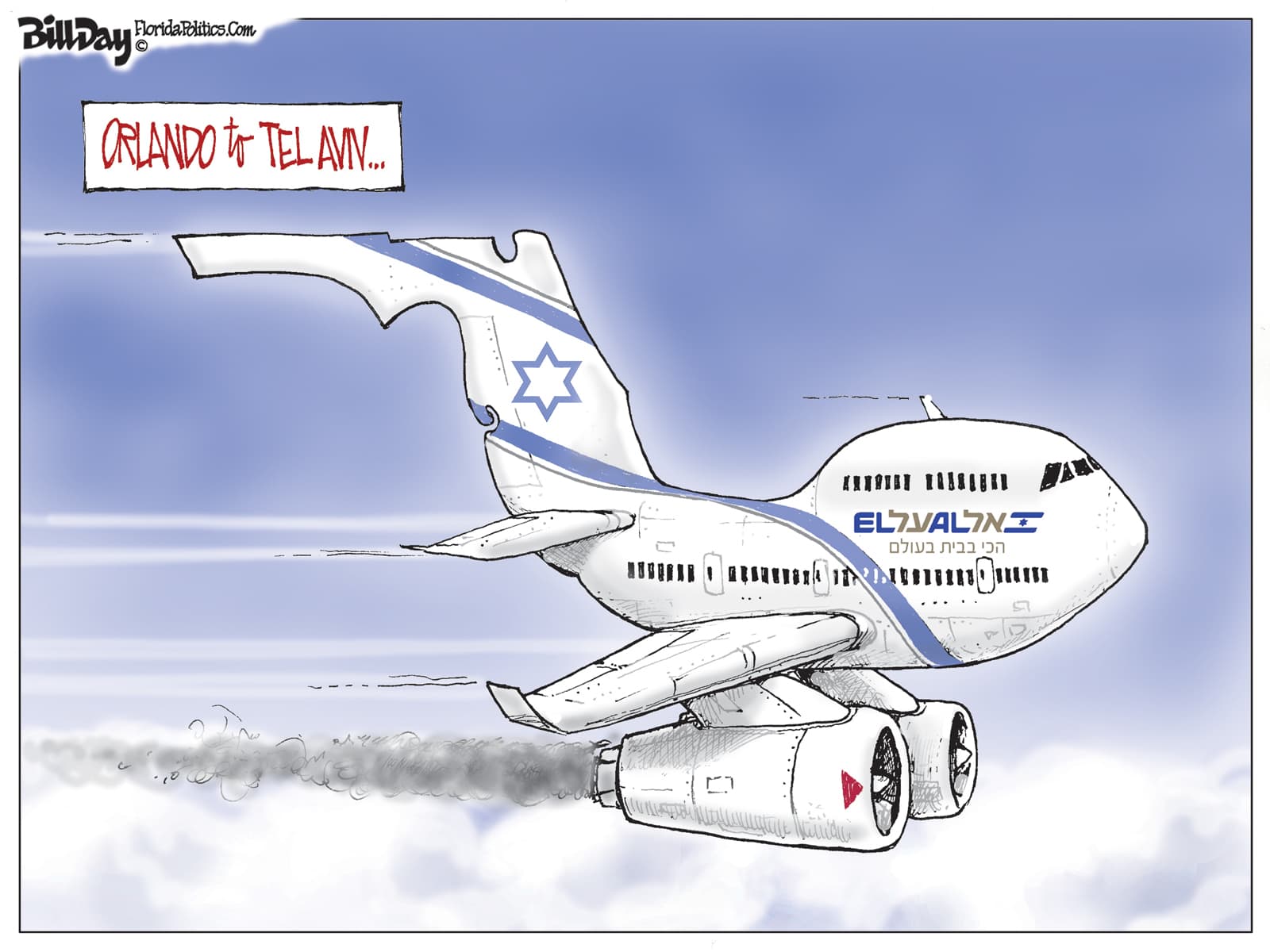 Breakthrough Insights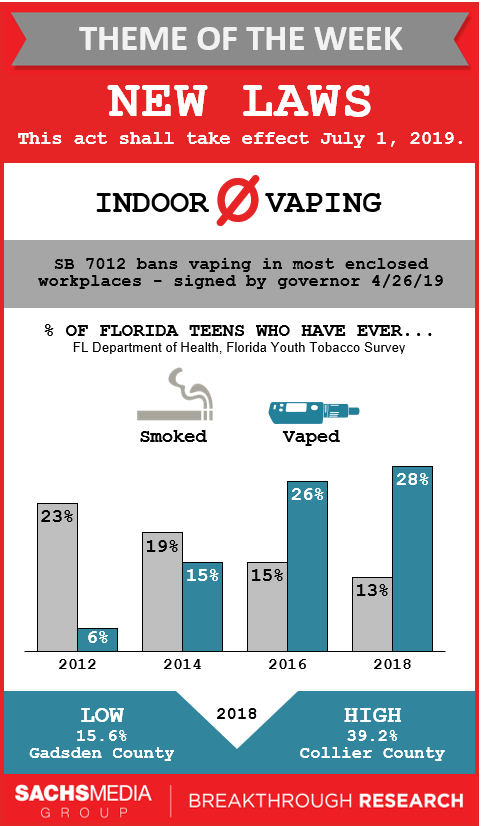 Wake Up Early?
The state Economic Estimating Conference will discuss issues related to the national economy. That's at 9 a.m., 117 Knott Building.
Florida TaxWatch will be joined by city and county elected leaders, including Tallahassee Mayor John Dailey, to announce efforts encouraging all Floridians to participate in the 2020 Census. That's at 10 a.m., TaxWatch headquarters, 106 N. Bronough St., Tallahassee.
The 1st District Court of Appeal Judicial Nominating Commission will hold a public meeting to address one current and one upcoming vacancy on the court. That's at 10 a.m., offices of Ausley McMullen, 123 South Calhoun St., Tallahassee. The call-in number for the public is (877) 868-6863, use participant code 889632#.
Attorney General Ashley Moody's office will continue a series of roundtable discussions about mental-health and criminal-justice issues. That's at 11 a.m. Central time, Bay County Sheriff's Office, 3421 North Highway 77, Panama City.
The South Florida Water Management District Governing Board will hold a workshop that will include discussion of water-quality conditions in the St. Lucie and Caloosahatchee estuaries and watersheds. That's at 1 p.m., district headquarters, 3301 Gun Club Road, West Palm Beach.
The Jacksonville Area Refugee Task Force will meet at 1:30 p.m., Jacksonville Baptist Association, 2700 University Blvd. South, Jacksonville.
The Economic Club of Florida will honor former Tallahassee Democrat publisher Carrol Dadisman, the recipient of the club's Stan Tait Memorial Award. Also taking part in the event will be Patrick Dorsey, another former Democrat publisher, and currently publisher of the Austin American-Statesman and regional vice president of GateHouse Media. That's at 6 p.m., FSU Alumni Center, 1030 West Tennessee St., Tallahassee.
State political candidates, committees and parties face a Wednesday deadline for filing reports showing campaign-finance activity through June 30.
The post Last Call for 7.9.19 — A prime-time read of what's going down in Florida politics appeared first on Florida Politics – Campaigns & Elections. Lobbying & Government..