Last Call — A prime-time read of what's going down in Florida politics.
First Shot
This just in from cannabis maven Jeff Sharkey: "The Florida Department of Agriculture and Consumer Services has approved the first hemp planting permit for Florida A&M University and its private sector partner, Sunshine Hemp."
It allows them "to cultivate, test and produce certified hemp seeds acclimated to Florida's climate and soils in an effort to pioneer the possibility of making industrial hemp available as a viable new crop for Florida's small and large scale farmers," he said.
Why you should care: "This is the first research permit to a public-private partnership where the private partner will grow the hemp and develop the certified seeds for farmers for next year's crop."
The permit was authorized under the state's Industrial Hemp Research Pilot Program legislation that allowed FAMU and the University of Florida to pursue public-private partnerships for hemp research.
"Sunshine Hemp is a Florida-based business led by one of the most experienced hemp producing teams in the U.S.: CEO Mike Kelley, a founder of GenCanna Global hemp company in Kentucky; award-winning hemp cultivator Greg Clark; and Dr. John Pearce, a clinical research scientist specializing in hemp plant genomics. Justin Costello, a partner in the venture, is CEO of GRN Funds, a private equity and hedge fund investor."
Sunshine Hemp plans to develop an industrial hemp growing, research and testing facility on a 10-acre agricultural site in St. Cloud. They anticipate having certified seeds available for Florida farmers by early next spring, Sharkey said.
Evening Reads
"Secret donors and Donald Trump allies: Inside the operation to push noncitizen voting laws" via The Washington Post
"A peek inside Trump's digital-first strategy" via Florida Politics
"How 13 rejected states would have changed the Electoral College" via FiveThirtyEight
"U.S. consulates 'abusing their discretion' to stop legal immigration, lawyers say" via the Miami Herald
"It's official: Margaret Good is running for Congress" via Florida Politics
"Former U.S. Rep. Cliff Stearns fined by feds over 'zombie' campaign spending" via Florida Politics
"Financial services sector bolsters Florida's economic growth in June" via the Tampa Bay Times
"Florida grand jury on school safety says 'numerous' districts not following post-Parkland laws" via the Tampa Bay Times
"Beyond 'Florida Man:' Top state officials focus on helping those with mental health problems" via the Florida Phoenix
"There's a tropical wave crossing the Bahamas. Florida will feel it this week" via the Miami Herald
"For former Jacksonville City Councilman, the trial must go on" via Florida Politics
"She was first Pakistani to visit the North and South poles. Now she'll be the first in space" via the Orlando Sentinel
"Amid box office woes, momentum grows for variable pricing at movie theaters" via The Hollywood Reporter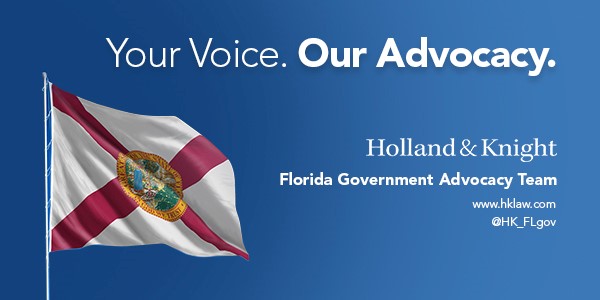 Quote of the Day
Rep. Geraldine Thompson "plans to press for relocation of the monument or placement of a plaque explaining Florida's secession from the Union and treason against the United States." — A statement from her spokesperson regarding a Confederate memorial that still stands outside the Capitol in Tallahassee.
Bill Day's Latest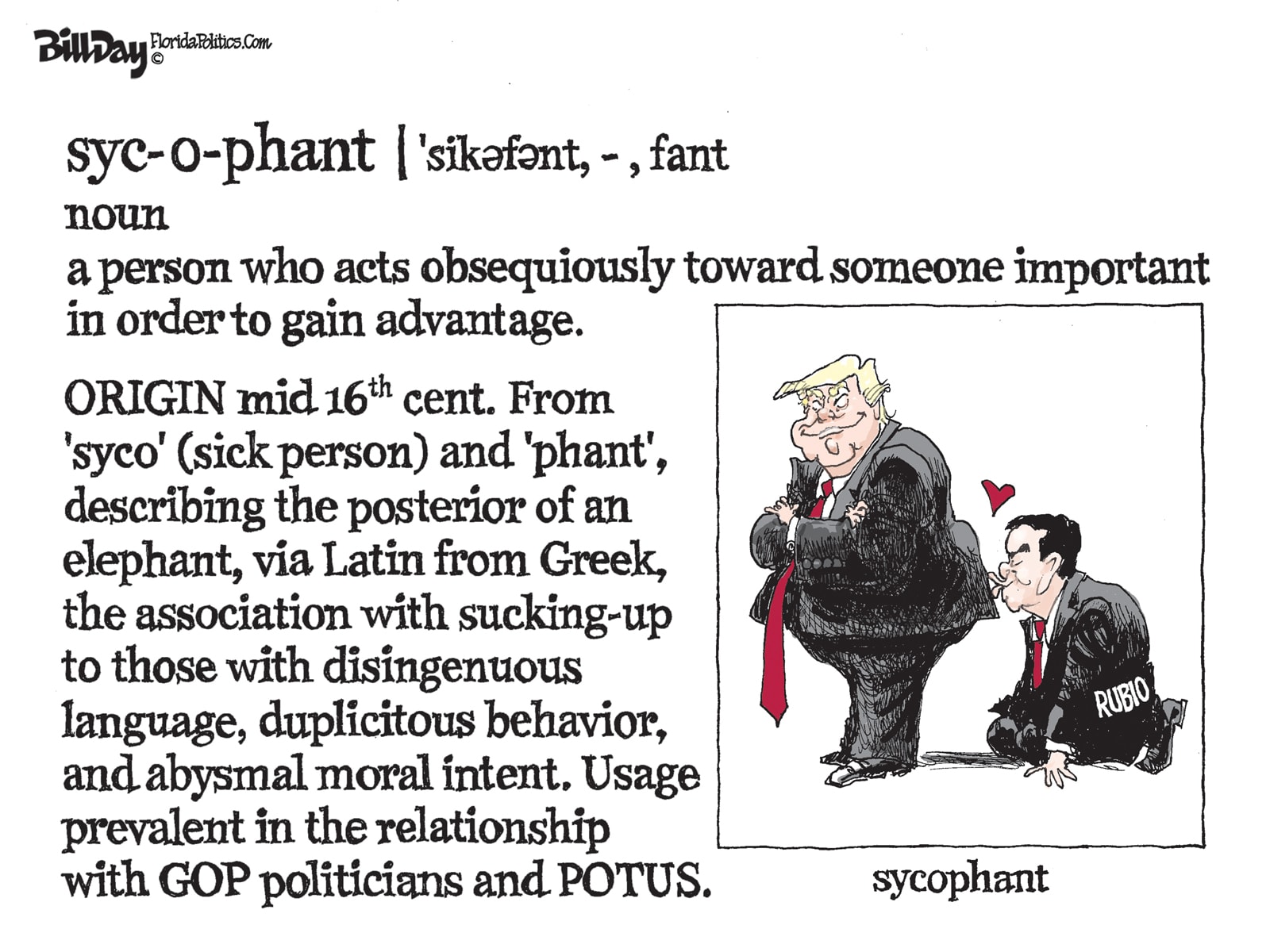 Breakthrough Insights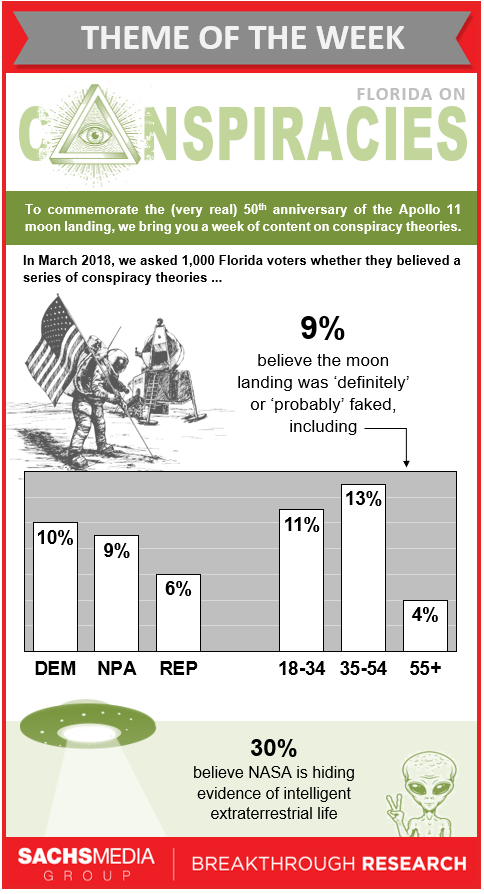 Wake Up Early?
The Florida Department of Law Enforcement will hold a meeting in which a negotiation team will make a recommendation for acquiring an airplane for Gov. Ron DeSantis. Former Gov. Rick Scott, the wealthiest governor in state history, used his own plane to travel the state. That's at 8:30 a.m., Florida Department of Law Enforcement headquarters, 2331 Phillips Road, Tallahassee.
The Criminal Justice Estimating Conference will analyze issues in the criminal justice system at 9 a.m., 117 Knott Building.
The Florida Advisory Committee to the U.S. Commission on Civil Rights will hold a public hearing in Broward County on voter suppression and disenfranchisement in Florida. The committee is reviewing the implementation of a voter-approved constitutional amendment designed to restore the voting rights of felons who have completed their sentences. It also is looking at issues such as impediments to voting. That's at 10 a.m., Broward County Main Library, 100 South Andrews Ave., Fort Lauderdale.
Democratic state Sen. Janet Cruz of Tampa is slated to host an annual job fair in Hillsborough County. That's at 10 a.m., Hillsborough Community College, Dale Mabry Campus gymnasium, 4001 West Tampa Bay Blvd., Tampa.
The progressive group Priorities USA will hold a media conference call to release new ads targeting President Donald Trump and to discuss results of a Florida poll. That's at 2:15 p.m. (Reporters may contact Priorities USA for call-in information here: bit.ly/2ObiqAi.)
Rep. Shevrin Jones, a West Park Democrat, is scheduled to hold one in a series of town hall meetings. That's at 7 p.m., Miramar Tropical HOA, Miramar United Methodist Church, 2507 Utopia Dr., Miramar.
The post Last Call for 7.22.19 — A prime-time read of what's going down in Florida politics appeared first on Florida Politics – Campaigns & Elections. Lobbying & Government..