Last Call — A prime-time read of what's going down in Florida politics.
First Shot
Derby Lane, the dog-racing track in St. Petersburg, has applied for a break for people who work there and need occupational licenses to do so.
The facility recently filed its request with the state's Division of Pari-mutuel Wagering.
Amendment 13, approved by 69 percent of voters statewide last year as an addition to the state's constitution, outlaws placing bets on greyhound and other dog races as of the beginning of 2021.
To be sure, many tracks already have stopped racing in the meantime; the measure allows other gambling, such as card games, to continue even after dog racing ends.
But Derby Lane explained that it intends to offer live greyhound racing through June 2020 and be licensed through the end of the year.
The track says, however, workers and others still need to be individually licensed; many need to renew and the license fee is for three years.
"Any individual or business seeking renewal … is, thus, needlessly paying for a three-year license, when at the most they will need an occupational license for a year or year-and-a-half," says its petition, drafted by Tallahassee attorney Gary Rutledge.
And since Derby Lane "routinely reimburses" licensing fees for a good many people who work there, it's an "unnecessary economic hardship" to the track as well, the petition adds.
It asks for 12-month licenses to issue, with an accompanying break on the licensing renewal fees, which run from $15 to $80. The state has yet to rule on the request.
Evening Reads
"Alex Acosta: 2008 prosecution of Jeffrey Epstein was 'viewed as a role of the dice'" via David Smiley and Alex Daugherty of the Miami Herald
"Lanes are starting to emerge in the 2020 Democratic primary" via Nathaniel Rakich of FiveThirtyEight
"Why Tom Steyer changed his mind on running for President" via Edward-Isaac Dovere of The Atlantic
"Wait, you're not going to drink that, are you? (Or swim in it or even touch it?)" via Diane Roberts of the Florida Phoenix
"The great race to rule streaming TV" via Jonah Weiner of The New York Times
"The messy reality of personalized learning" via E. Tammy Kim of The New Yorker
"Florida medical marijuana law is too restrictive, not what voters wanted, court rules" via Dara Kam of News Service of Florida
"FDOT to break from troubled SunPass contractor Conduent" via Noah Pransky for Florida Politics
"Tropical Storm Barry will become Hurricane Barry by Friday, forecasters say" via Steven Ruiz and Joe Mario Pedersen of the Orlando Sentinel
"South Miami to challenge 'sanctuary cities' ban" via Jim Turner of News Service of Florida
"Palm Beach County principal denies Holocaust-denying email" via Scott Powers of Florida Politics
"Once reluctant, Hillsborough sheriff now moving forward on body cameras for deputies" via Tony Marrero of the Tampa Bay Times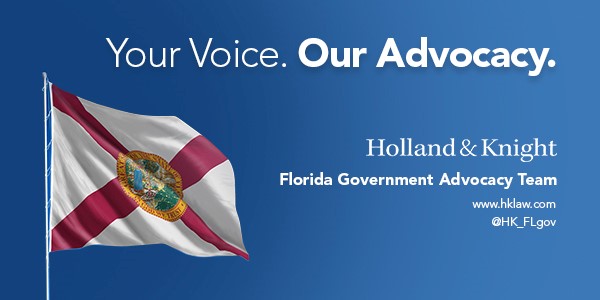 Quote of the Day
"He raped me, forcefully raped me. I was terrified, and I was telling him to stop … 'Please stop.' " — Jennifer Araoz, now 32, who says she was recruited by a woman outside a New York City high school at the age of 14 to give massages to Palm Beach billionaire financier Jeffrey Epstein, now under indictment for sex trafficking.
Bill Day's Latest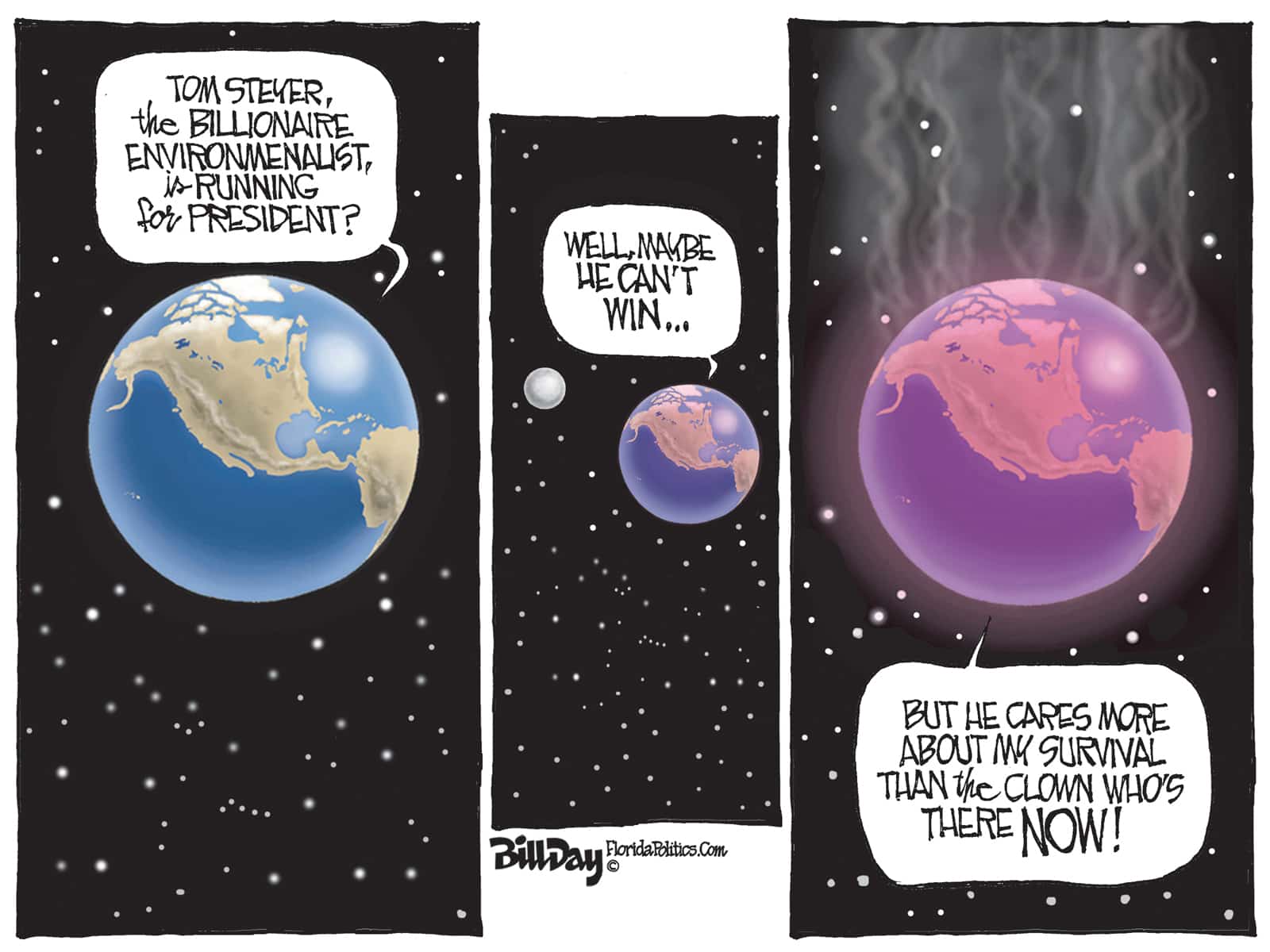 Breakthrough Insights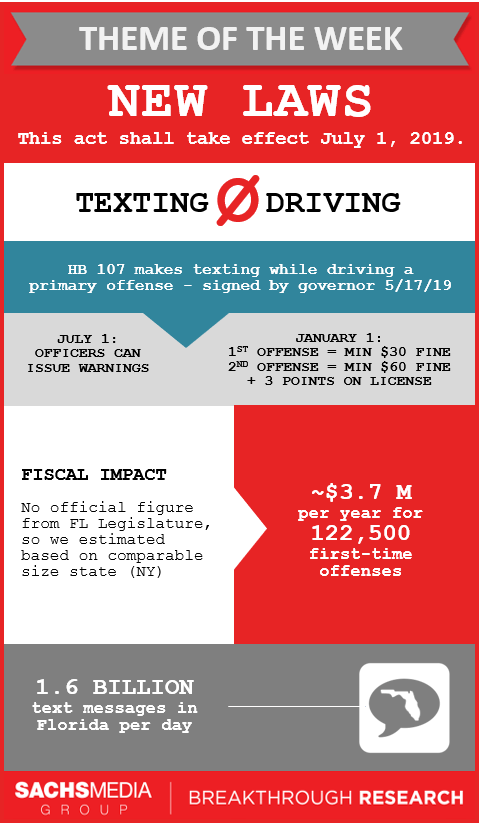 Wake Up Early?
The South Florida Water Management District Governing Board will meet and discuss issues such as a proposed tentative 2019-2020 budget. That's at 9 a.m., district headquarters, 3301 Gun Club Road, West Palm Beach.
The Investment Committee of Space Florida will hold a conference call at 9 a.m., Call-in number: 1-866-528-2256. Code: 4875556.
The Association of Florida Colleges will start a two-day symposium on campus safety. Topics are expected to include lessons learned from Hurricane Michael and Broward College's response to last year's mass shooting at Marjory Stoneman Douglas High School in Parkland. That's at 9:30 a.m., Palm Beach State College, Palm Beach Gardens Campus, 3160 PGA Blvd., Palm Beach Gardens.
The Florida Supreme Court is scheduled to release its weekly opinions at 11 a.m. This will be the final regular opinion release before the court takes its annual summer break.
Sen. Kelli Stargel, a Lakeland Republican, is slated to speak about the 2019 legislative session during a meeting of the Tiger Bay Club of Polk County. That's at 11:30 a.m., Bartow Civic Center, 2250 South Floral Ave., Bartow.
The final citrus forecast for Florida's 2018-2019 growing season will be announced by the U.S. Department of Agriculture at noon.
Rep. Byron Donalds, a Naples Republican, is slated to host a town-hall meeting at 5 p.m., Collier County Library, 2385 Orange Blossom Dr., Naples.
The post Last Call for 7.10.19 — A prime-time read of what's going down in Florida politics appeared first on Florida Politics – Campaigns & Elections. Lobbying & Government..