We don't need Russian hacks to tell us President Donald Trump considers Florida vital to his reelection campaign.
Even with the 2020 election about 17 months away, it doesn't take great political insight to know a second term is highly unlikely if he doesn't carry our state.
So, get ready everyone to see a lot of the Tweeter-in-Chief, starting Tuesday, sources confirm, with the official campaign kickoff in Orlando. OK, so the source was the news release from Trump's campaign. It will be quite the spectacle, as over-the-top gaudy, showy, and loud as you will expect from the man who once said, "I alone can fix it."
Something called "45 Fest" will commence outside the Amway Center seven hours before arena doors open for the rally. There will be food, music, merriment, and Trump-sized video screens to carry his speech, scheduled to start at 8 p.m.
Guaranteed: Trump will send multiple tweets about the size of the crowd. Expect "BIGGEST EVER" to be the theme.
And the gang's all there, too. The President will be joined there by First Lady Melania Trump, Vice President Mike Pence, and Second Lady Karen Pence.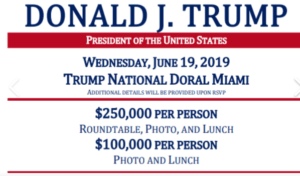 Then he's off to the Trump National Doral in Miami on Wednesday for a fundraiser. For $100,000, you get lunch and a photo with the big fella. For $250,000, you get that plus access to a roundtable. Details available upon RSVP.
Did I mention that Trump needs to win Florida?
Polls have shown him losing to top-tier Democrats, particularly Joe Biden, in Pennsylvania, Michigan, and Wisconsin. That makes for a conversation starter, but not much else at this point. We all remember what happened in 2016.
But whether you believe the polls are accurate or fake, the importance of Florida for Trump doesn't change. He won here over Hillary Clinton by just 113,000 votes, and recent statewide elections in Florida have been close. Trump has a lot of cards to play here, though.
Both Florida U.S. Senators are Republicans. Gov. Ron DeSantis is popular and a Trump acolyte. By kicking off his campaign in Orlando, Trump underscores the importance of the I-4 corridor. You can bet he will be a frequent visitor there and Tampa between now and November 2020.
As he defends his Florida turf, though, Trump also has to defend his record in office. He will tell you it's great and his supporters wholeheartedly agree. The President will tell supporters that critical news accounts are fake, and they will agree.
But it won't take much of a swing the other way to turn Florida blue, and therein lies the X-factor over which Trump has no control. How will the seething contempt by opponents play out on Election Day?
In 2016, Democrats ran a campaign that, loosely translated, had the premise that no one would be stupid enough to vote for this rogue candidate. They won't make the same mistake twice, will they?
No matter what course they take or who they nominate, Democrats have to hope people are listening. A single Trump tweet can dominate the news cycle for days, potentially drowning their message.
We have lots of time to talk about that, though. For now, it's time to get this party started with Tuesday's announcement. If you miss it though, don't worry.
He'll be back.
The post Joe Henderson: Path for Donald Trump to keep White House runs through Florida appeared first on Florida Politics – Campaigns & Elections. Lobbying & Government..