I received a text message the other night from a Florida reporter wanting to know about the immigration listening tour I recently postponed in the wake of the tragedies in El Paso and Dayton.
I thought it was a little odd considering the decision to delay was made two weeks ago, and I had moved on to other items on my legislative agenda.
But that's where I was wrong.
You see, sometimes a political narrative is too juicy — too intoxicating — that those on the liberal left just cannot let it go.
They couldn't stand the fact that my decision to postpone the tour was widely lauded.  There had to be a way to politicize the tragedies further and keep a storyline alive, they mused.
So they do what they so often do:  go too far and, in the process, lose all credibility.
This week, as the aforementioned reporter would reveal in our text chain, Florida Democrats began running digital ads across the state calling on me to cancel the immigration listening tour altogether.  But not just any ads.
These ads, with the World War III headline "STOP THE GOP HATE TOUR," featured me side-by-side with the white supremacists and neo-Nazis who marched on Charlottesville in 2017.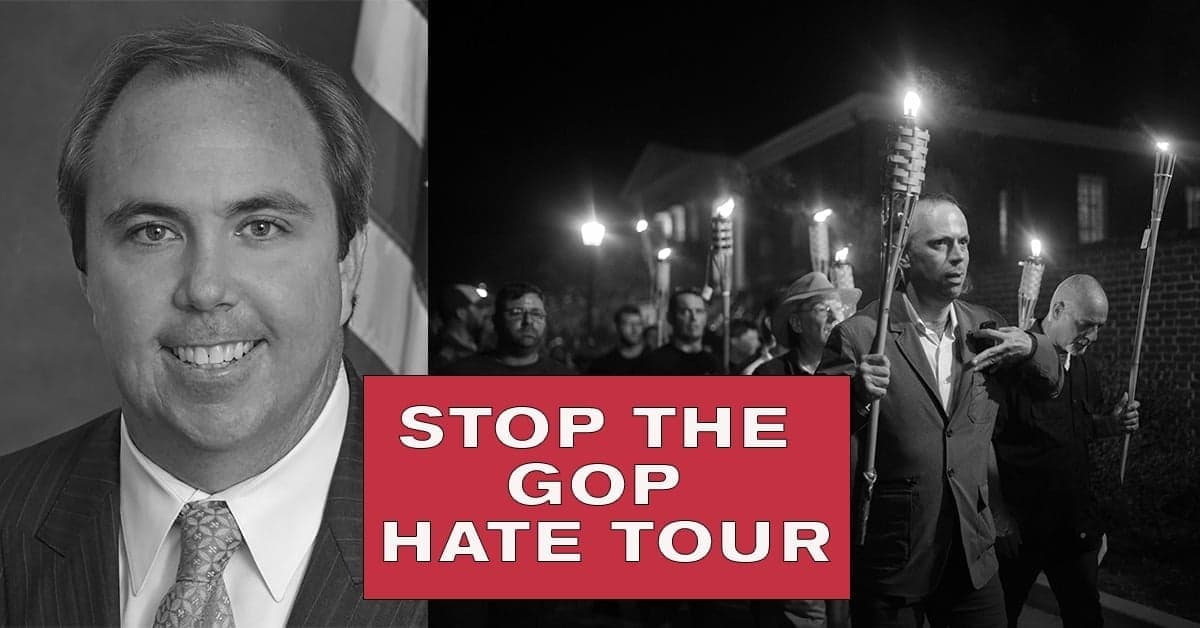 The advertisements are being paid for by a pro-illegal immigration group in Florida managed by the sister of a Democratic lawmaker.  Notably, that lawmaker has remained completely silent and hasn't commented on whether she approves of the ads.
I understand that there is not a more hot button issue in America than that of immigration.  I also understand that as the author of the bill to ban sanctuary cities in Florida, I will be attracting fire from those who do not believe that immigration reform should be a top priority.  I get that.  It comes with the job.
But the moment you start linking all Republicans with symbols of hate is the moment you lose instant credibility and are actually doing more to fan the flames of division in this country.
A recent poll conducted by St. Pete Polls revealed that a majority of Floridians supported my legislation to ban sanctuary cities across our state.  Does their support means they adhere to a racist and hate-filled ideology?  Or does their support mean that they too believe that we should never compromise when it comes to public safety and enacting common-sense policies that uphold the law of the land?
It will be interesting to see if Democrats continue to run these hate-filled ads across our beautiful state.  Part of me hopes they do because it just further shines a spotlight on their political motivations and absurdity.
But for the sake of a healthier dialogue, maybe, just maybe, they'll do what's right.
___
State Sen. Joe Gruters also serves as chairman of the Republican Party of Florida.
The post Joe Gruters: How the left loses all credibility — Exhibit A appeared first on Florida Politics – Campaigns & Elections. Lobbying & Government..