Republican Brevard Commissioner Bryan Lober went after a member of the Brevard Democrats on Facebook Thursday, saying she should turn to abortion in lieu of having any kids, arguing they would be a "scourge on humanity."
Lober made the comment on a now-deleted thread in a Facebook page called "The Political Voice of Brevard County." The comments were directed at Stacey Patel, who serves as the Chair of the Brevard Democratic Executive Committee.
"I'm not typically a big abortion proponent," Lober began, "but in Patel's case, I might just be willing to look the other way as I can only imagine what a scourge on humanity (and on our economy) her offspring would prove to be given that her litter would likely be raised with an entitlement mentality, zero work ethic, and taught the hypocritically racist and sexist position that the white man is evil.
"Unfortunately those least capable of properly raising children typically procreate without a second thought and society is left dealing with the repercussions."
When contacted for comment, Lober's office said he was out of the state. But Lober reached out to Florida Politics via email in response to questions about those comments and had this to say in reply"
"First and foremost, my comments on Facebook are made in my individual capacity, not in my capacity as an elected official," Lober said, arguing the comments were meant to be in jest.
"As to Patel, she has continually engaged in objectively dishonest and hypocritical attacks against me — many pertaining to my level of respect for the first amendment. As a direct result, I made it a point to criticize the blatant double standards and bigotry, including racism and sexism, repeatedly employed by Patel.
"It is telling that Patel continues to act as though elected officials have no first amendment protections. Her behavior is an attempt to create unnecessary division between the political parties and to cast an us versus them situation in which she can gain relevance and perpetuate a philosophy of victimhood."
But Patel rejected that framing of the back-and-forth, saying she's "saddened" Lober lobbed those attacks her way.
"It is entirely inappropriate to dehumanize one's political adversary," Patel said.
"To refer to my potential children as a 'litter' and a 'scourge on humanity' is truly beyond the pale. I'm saddened that our national politics has normalized such discourse, and I truly hope that our neighbors, regardless of party, won't stand silent while such poison seeps into our community.
"If Commissioner Lober believed he could prevail on the issues, he wouldn't stoop to cruel, unprovoked personal attacks. Perhaps he's too scared of a powerful woman to fight fair."
Lober and Patel have sparred in the past over Lober's use of social media. According to Florida Today, Patel appeared at a March meeting of the Brevard County Commission to request Lober be censured for allegedly threatening a constituent who had criticized him.
In response to that constituent's criticism, Lober wrote, "Does your employer, whose name you post on your Facebook page, know you denigrate public officials while displaying their name? I'll make sure they know."
The Commission did not vote on any type of censure resolution.
Lober also recently jumped into a back-and-forth over President Donald Trump's upcoming June 18 rally on Orlando. Lober and other conservatives on "The Political Voice of Brevard County." criticized Patel for allegedly trying to raise funds to protest of that event.
That led to a joking discussion about running over protesters.
"Word of wisdom to the protesters Beware of the Dodge Chargers!" wrote one member of the group.
"If you hit one back up and go again.(just kidding)," responded another.
That's when Lober chimed in. "I wouldn't recommend using a snow plow. It might look intentional," he joked.
Lober added to Florida Politics that neither comment was meant to be serious.
"It would be a mischaracterization to claim that either post was intended to be anything but facetious as should be evident by both the content and from the context in which they were written," Lober said.
"As to the snow plow, my reference was to the Falmouth, MA incident which took place several months ago. If you are able to find a snow plow in Brevard County, please let me know as it would be a shock to me."
Lober is referencing this incident, where anti-Trump protesters accused a snow plow driver of intentionally spraying them with slush. Lober posted a link to that story on his Facebook page Friday.
Patel argues Lober is crossing a line with his comments on protesters and other Brevard constituents, and called out the Commission for failing to push back against Lober's social media commentary.
"It's also deeply troubling that our community has elected a county commissioner who believes it's appropriate to joke about the murder of those exercising their First Amendment rights," Patel said.
"I have previously asked the Commission to censure Mr. Lober for his incivility toward local residents, whom he has called 'stupid,' 'rodents,' 'trash,' 'ants' and 'evil.'  After months with no response, their inaction makes them complicit in his abuse."
You can see screenshots of the posts in question below.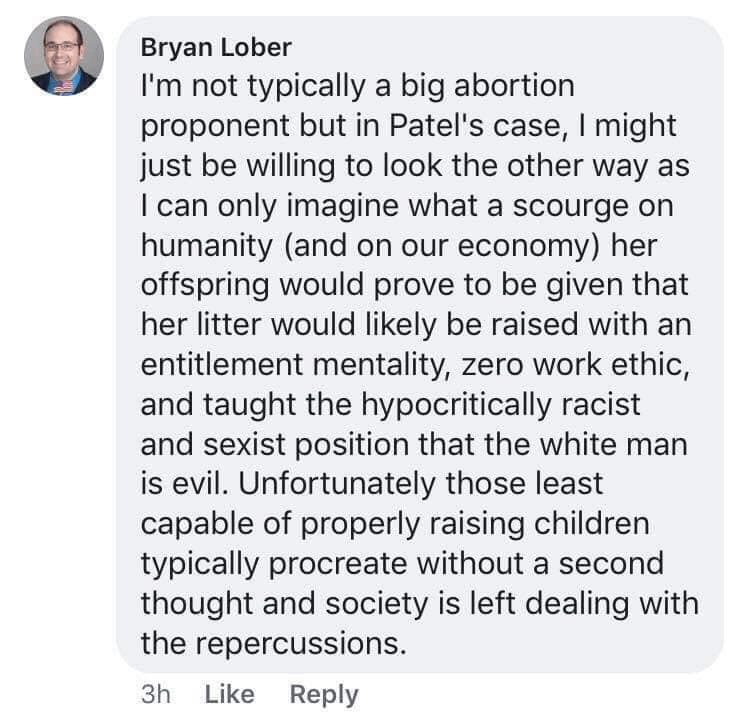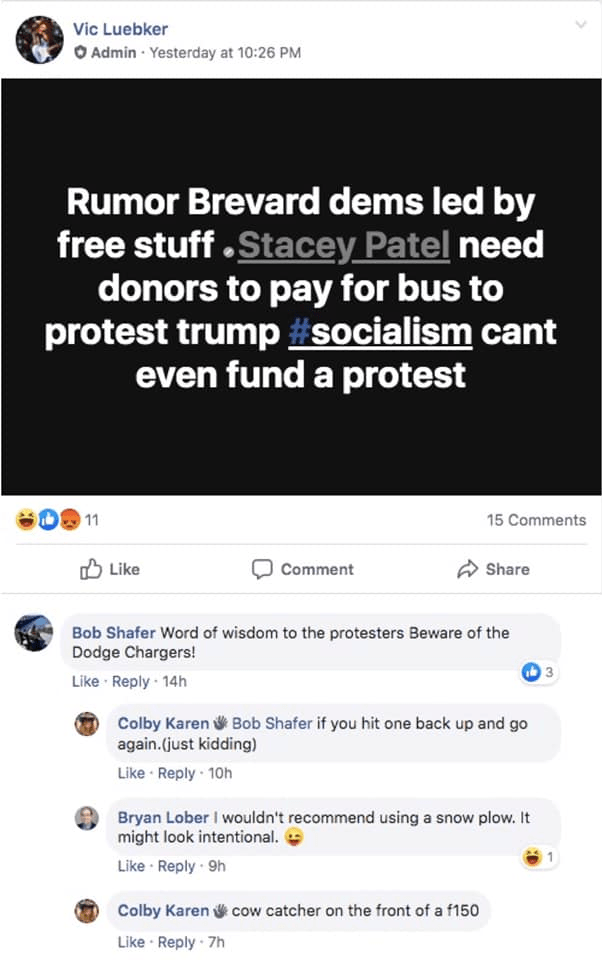 The post GOP Brevard Commissioner jokes Democratic leader should seek abortion, kids would be 'scourge on humanity' appeared first on Florida Politics – Campaigns & Elections. Lobbying & Government..