A Florida Bar review panel told U.S. Representative and lawyer Matt Gaetz he was "unprofessional, reckless, insensitive, and demonstrated poor judgment" in directing a taunting tweet at President Donald Trump's former attorney Michael Cohen.
One of two Bar grievance committees for the state's 1st Judicial Circuit, where Gaetz resides, informed him in a letter released Friday it was dismissing a complaint against him for the since-deleted tweet. Gaetz also later apologized to Cohen.
"The grievance committee wants to make it clear, however, that this finding does not indicate that the committee condones your conduct," wrote the panel's chair, attorney Lacey DeCori Corona.
"While your conduct in this instance did not warrant formal discipline, the committee believes it was not consistent with the high standards of our profession."
In February, Cohen testified before the U.S. House Oversight Committee, saying he lied and otherwise covered up a wide range of misdeeds for his former client, including arranging a payoff for adult film star Stormy Daniels, who said she had an affair with the married Trump in 2006.
Gaetz, a steadfast ally of the president's, had tweeted the night before the hearing: "Hey @MichaelCohen212 – Do your wife & father-in-law know about your girlfriends? Maybe tonight would be a good time for that chat. I wonder if she'll remain faithful when you're in prison. She's about to learn a lot …"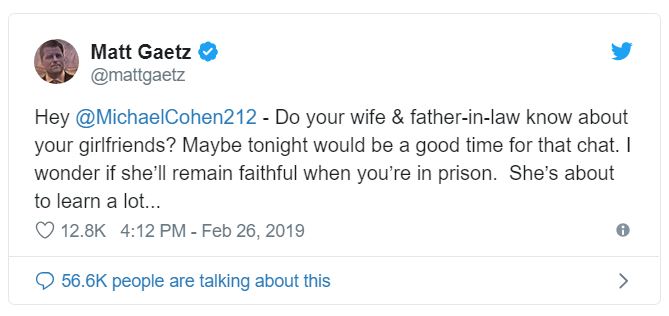 The Panhandle Republican is a licensed Florida attorney, and a complaint lodged with the Bar questioned whether the tweet violated the Rules of Professional Conduct governing the state's lawyers. The complainant's identity is still confidential.
"As a member of The Florida Bar, you are governed by the Rules Regulating The Florida Bar, not only when you are engaged in legal representation of a client, but also in all your personal and business affairs outside the practice of law," Corona wrote. "You should always be mindful that your actions are subject to The Bar's Rules … at all times."
The original tweet "was posted on the eve of Mr. Cohen's public testimony," the letter continued. "The grievance committee believes your original tweet was unprofessional, reckless, insensitive, and demonstrated poor judgment."
Ironically, Gaetz this week thanked the panel in a tweet when he learned he had been cleared, saying he "thank(ed) the Bar committee members for their sound judgment."
Corona said she and her colleagues on the panel "considered … your prompt withdrawal of the tweet, as well as your public and personal apologies to Mr. Cohen, his attorney, and the Speaker of the House," referring to Nancy Pelosi. "The committee also considered Mr. Cohen's reply to your apology and his willingness to assist you as a mitigating factor."
But the panel also noted he "deleted (the) original tweet late that night after Speaker Pelosi posted a tweet inferring that it could harm the House Oversight Committee's ability to 'obtain the truthful and complete information necessary to fulfill their duties.' "
Cohen has since reported to a federal prison in Otisville, New York, where he is serving a three-year sentence after pleading guilty to several charges, in part connected to hush money payments he said he made or orchestrated on behalf of the President.
Gaetz previously worked for what was then the Keefe, Anchors & Gordon law firm in Fort Walton Beach, now called AnchorsGordon. Former name partner Lawrence Keefe is now the U.S. Attorney for the Northern District of Florida, having been nominated by Trump.
The Bar letter also shows that Gaetz had retained the services of Jacksonville attorney Hank Coxe, a former Florida Bar president, to represent him throughout the Bar's review process. Coxe also was a member of the 2017-18 Constitution Revision Commission.
The full letter from the grievance committee is below.
The post Florida Bar panel calls Matt Gaetz 'unprofessional, reckless, insensitive' appeared first on Florida Politics – Campaigns & Elections. Lobbying & Government..