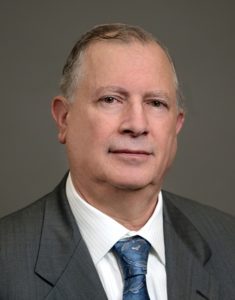 Dr. Ronald F. Giffler was named the President of the Florida Medical Association (FMA) on Sunday. 
His installment took place during the 2019 FMA Annual Meeting at the Hilton Orlando Bonnet Creek. He is the latest in a succession of 142 presidents before him.
He is a Medical Doctor (MD) and holds a Juris Doctorate (JD), as well as a Master's in Business Administration (MBA) and is a Fellow of the College of American Pathologists (FCAP) among his credentials.
According to a news release, "Board-certified in anatomic and clinical pathology, Dr. Giffler is President and CEO of FirstPath

, a physician-operated lab based in Pompano Beach. He is also Medical Director of Laboratory Services for Broward Health, one of the nation's largest public health systems."
Dr. Giffler attended the Medical College of Virginia, where he received his medical degree and completed a residency in anatomic and clinical pathology. 
He then undertook a fellowship at the University of Texas M.D. Anderson Cancer Hospital in Houston, where he gained experience in oncologic surgical pathology. 
Dedicated to learning, Dr. Giffler earned his JD from the University of Miami. He attended Nova Southeastern University where he received an MBA. 
Dr. Giffler was also in the U.S. Army Reserve, where he served in the Medical Corps. He retired as a Colonel and currently resides in Pompano Beach.
"Dr. Giffler has been deeply involved in the FMA's efforts to improve Florida's medical practice environment for many years," said FMA CEO Timothy J. Stapleton. 
"His wealth of experience as a clinician, healthcare leader and physician advocate will be invaluable as we continue addressing the increasingly complex issues our members face in caring for Florida's patients."
Dr. Giffler will be joining an impressive group of FMA members in 2019-2020, including:
— President-Elect Michael L. Patete, MD — Otolaryngology, Venice
— Vice President Douglas R. Murphy — Obstetrics/Gynecology, Ocala
— Secretary Lisa A. Cosgrove, MD — Pediatrics, Merritt Island
— Treasurer Jason M. Goldman, MD — Internal Medicine, Pompano Beach
— Speaker Joshua D. Lenchus, DO — Internal Medicine, Fort Lauderdale
— Vice Speaker Ashley Booth Norse, MD — Emergency Medicine, Jacksonville
— Immediate Past President Corey L. Howard, MD — Internal Medicine, Naples
— Parliamentarian Alan B. Pillersdorf, MD — Plastic Surgery, Palm Beach Gardens
The post Dr. Ronald F. Giffler named President of the Florida Medical Association appeared first on Florida Politics – Campaigns & Elections. Lobbying & Government..