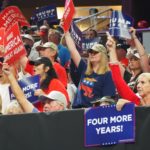 In kicking off his "Keep America Great" campaign for reelection, President Donald Trump told 20,000 rapturous supporters in Orlando's Amway Arena Tuesday that it's basically them against the world, but that Trump, Republicans, and their supporters will prevail.
Trump, in his 75-minute speech, pressed many of his drain-the-swamp themes, arguing that in his first term it has seen not just the Democrats but the Washington-as-usual crowd and the media out to stop their movement.
"Just imagine what this angry left-wing mob would do if they were in charge of this country. Imagine if we had a Democratic President and a Democratic Congress in 2020," Trump said.
Trump maintained that Democrats and an "unelected cabinet" would seek to "undermine our Democracy and undermine you" and that he stood in their way.
"They'll always be trying to shield themselves. They would strip Americans of their Constitutional rights, while filling the country with illegal aliens," he warned.
The president's speech, one of many he's given on the campaign trail since taking office, but the one declared to be his reelection campaign kickoff, pressed fears of Democrats pushing socialism and open borders, to attack the 2nd Amendment, to appoint liberal judges; and to allow late-term abortions.
He also pressed his own accomplishments, notably a booming economy with 3.8 percent national unemployment and record low unemployment for African-Americans, Hispanics, and women; the Republican tax cut package; the highest spending on the military since the administration of President Ronald Reagan; the expansion of American fossil fuel energy; criminal justice reform; the battlefor tougher border security and the elimination of sanctuary cities; the relocation of the American embassy in Israel to Jerusalem; and the reworking of trade relationships around the globe.
Trump also made promises to be pursued, to improve health care while preserving preexisting conditions; to create the Space Force military branch; to build infrastructure; and to bring down drug prices.
The president also brought up a few old hits from his 2016 campaign, including attacking Great pie; his pledges to build the wall along the southwest border and to force other countries to respect American power; attacking the media as wanting Democrats to win; and that "Washington insiders" are always trying to rig the system.
Trump held nothing back in congratulating himself, saying he had accomplished more in two and a half years than any President; that his 2016 campaign may have been the greatest in history; that he has been tougher on Russia than anyone; and that the current economic boom is the greatest in the country's history.
But much of Trump's speech was dedicated to warning the crowd of the prospects of his not winning reelection. On occasion, he called for more cooperation from Democrats. But he doubted it would happen, and, as if to encourage that outcome, he showed no mercy in attacking them and their values.
The Democrats, with help from the media and the swamp, he told the crowd, perpetrated the greatest hoax in American history by accusing him of collusion with Russia and obstruction of the Russia probe. Democrats, he said, want to "shred the Constitution." They want to make America socialist, he repeatedly warned. They want to "destroy our country as we know it."
"That is not going to happen," Trump vowed.
At one point he called the Democratic Party "more dangerous and more unhinged than at any point in modern history."
"No matter what label they use, a vote for any Democrat in 2020 is a vote for radical socialism and the destruction of the American dream," Trump said.
He also laid out his own vision for the future, which he said was the only positive vision for America.
"Together we will continue to release the power of American enterprise, so that every American can know the dignity of work and the paycheck," he said.
"We will strengthen our country, support our values ,and defend our way of life," Trump said.
His vision includes more products stamped with "made in the U.S.A."; school choice; cheaper heath care; protection of free speech, religious liberty, and the right to keep and bear arms; the groundwork for a mission to Mars; and the sanctity of life.
"We are one people, one family, and one glorious nation under God,' the President concluded. "Together we will make America wealthy again. We will make America strong again. We will make America safe again. And we will make America great again."
The post Donald Trump kicks off his 'Keep America Great' campaign appeared first on Florida Politics – Campaigns & Elections. Lobbying & Government..