Dealing with more tragedy
A few days have passed since the weekend mass killings in El Paso and Dayton. This all-too-common occurrence brings out the all-too-common reactions from elected officials around the country.
"Prayers for the victims of these evil acts & their families," said one member of the Florida delegation. "Thank you to law enforcement & first responders for their bravery & service.
Another House member put it this way.
"It is truly sad and pathetic that again and again, there have been calls to reform our lax gun control laws, and yet, such efforts have been blocked by those who have decided that the needs of the gun lobby are far more important than innocent lives."
It does not take a genius to know which message came from a Republican and which came from a Democrat. The first was the reaction from Gainesville Republican Ted Yoho while the latter was from Delray Beach Democrat Alcee Hastings.
Americans are growing accustomed to the reactions of these types of tragedies, if not the acts themselves. However, these two events seem different as the rhetoric has escalated to demands for more gun control on to assigning culpability to President Donald Trump.
Orlando Democrat Val Demings seemingly threw down the gauntlet via Twitter:
The rhetoric is going beyond gun control. The act carried out by the El Paso shooter is described as a white nationalist and domestic terrorist carrying who sought to single out Mexicans or Hispanics.
Trump is getting a share of the blame from several Democrats, especially those running for President. While those Democrats pointed to some culpability for Trump, former Democratic Rep. Beto O'Rourke answered "Yes, I do" when asked if he thought Trump was a white nationalist.
In a 10-minute address to the nation, Trump called on the nation to condemn white supremacy and backed mental illness legislation, such as "red flag" laws but did not call for more gun control. These laws would permit the government to confiscate guns from those deemed to be a threat for violence.
Democrats were not impressed.
Weston Democrat Debbie Wasserman Schultz tweeted:
The incident at a Trump Panama City rally earlier this year, when someone yelled "shoot them," as a solution to illegal immigration, is being discussed in the media. His use of the term "invasion" to describe the multiple caravans marching to the U.S. border is also resurfacing.
Trump also called on the Department of Justice to work with social media providers to help identify mass shooters.
Sen. Marco Rubio and former Sen. Bill Nelson offered a red flag bill last year, but it failed to advance. Republican Sen. Lindsey Graham of South Carolina is reportedly teaming up with Democratic Sen. Richard Blumenthal of Connecticut to offer new legislation.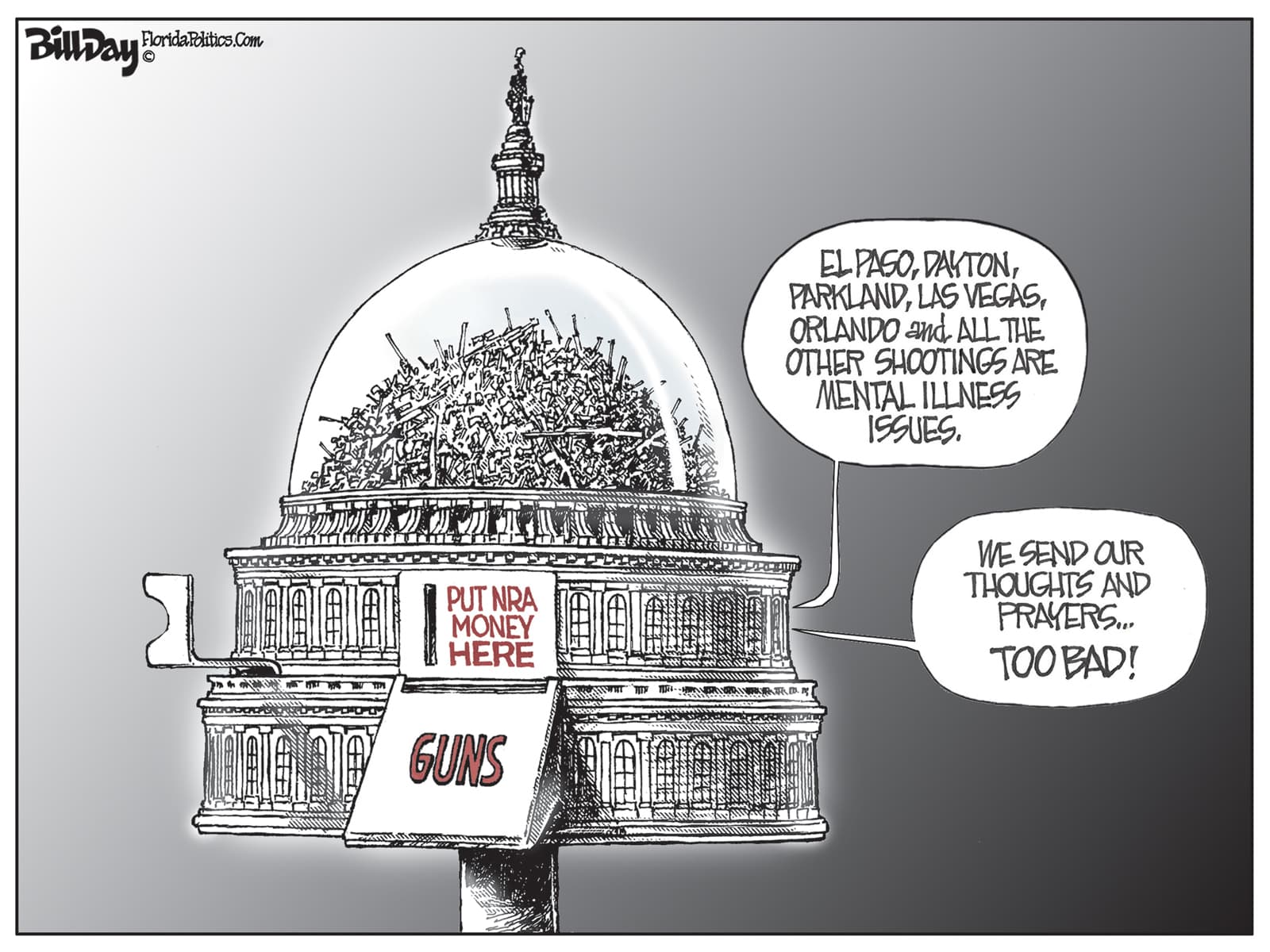 Tackling prescription drug prices
In April, Trump asked Scott to take the lead on health care policy in Congress. Since then, the first-term Republican and former health care executive has filed four bills on health care and drug costs.
Last week he joined with Maryland Democratic Sen. Chris Van Hollen to sponsor the We Protect American Investment in Drugs (PAID) Act of 2019, a bill aimed at prescription drugs developed with the help of federal grants. In those cases, Scott and Van Hollen want the federal government to flex some ownership rights, including some say in pricing.
Van Hollen tweeted:
The new bill would establish an independent Drug Affordability and Access Committee to determine a reasonable price for each applicable drug based on the results of the National Academy of Medicine study.
It also would require drug manufacturers to enter into licensing agreements for technology patented by the U.S. government or by an entity that developed the technology using federal funding through the National Institutes of Health or other federal agencies to agree to several stipulations.
Canadian drug plan panned
While the Scott/Van Hollen bill would provide another tool to reduce drug prices through domestic solutions, a popular idea calls for importing drugs from Canada, where they are cheaper. A recent trip to Canada by the Bernie Sanders presidential campaign sought to provide pictures to go along with the proposal.
It's not just a Democratic idea. This year, the Republican-dominated Florida Legislature passed a bill setting up a Canadian drug importation system.
Rubio, among others, feels that approach is destined for failure. America's northern neighbor only has so many drugs, he reasons.
"Canada can prohibit the exportation because it could cause a shortage for them," Rubio said in a statement. "They've already said they're going to if we did this.
"So I'm a little bit concerned that we're all getting excited about something that Canada's not going to allow," he added. "They have to cooperate."
Trump has also asked his administration to layout an importation plan, which came as news to the Canadians. While their price controls make importation appealing in the U.S., it poses significant challenges.
"I don't want to rain on anyone's parade," Rubio added. "We have to be a little careful here."
Dunn touts recovery zones
There are many still suffering the effects of natural disasters in Florida. To help aid those rebuilding communities, Panama City Republican Neal Dunn has introduced the Residential Recovery Zone Act.
The bill looks to focus on the lack of housing by creating "Residential Recovery Zones" to encourage both residential development and homeownership in disaster areas. Homeowners in these designated areas would qualify for a refundable homebuyer tax credit of up to $8,000 if they purchase a home within a three-year time period after designation.
"The Panhandle faced unprecedented losses after Hurricane Michael destroyed or damaged a large percentage of the houses and businesses in its path," Dunn said in a news release. "While we are working hard to rebuild, many Hurricane Michael victims are facing a housing crisis. These people are having to make tough decisions, and some have even moved away because of a lack of affordable housing."
The bill also allows banks to earn the Community Reinvestment Act (CRA) credits for loans to individuals who are purchasing a home in a residential recovery zone.
In addition, the state is given authority to designate certain federally-declared disaster areas to be deemed "opportunity zones." These were established to provide direct tax incentives to investors to rebuild distressed areas in exchange for a deferral of capital gains taxes.
Soto criticizes China tariffs
As the trade war between the U.S. and China, Trump is threatening to add tariffs to all remaining Chinese products coming into the U.S. While this is causing alarm among some members of Congress, Kissimmee Democrat Darren Soto says those tariffs in place are already hurting Floridians.
Soto joined with Florida Commissioner of Agriculture Nikki Fried to argue that the conflict between the two economic superpowers is having an adverse effect on the state's vital citrus crop. Coming after a devastating hurricane that decimated the citrus crop in 2017, the tariffs might cause further damage from which some growers may not recover.
"We're already seeing our citrus community recover from Hurricane Irma and from citrus greening that we're still working on and this just kicks them while they're down," said Soto.
Soto also pointed to increases in the price of beef, something that will continue to affect the livelihoods of cattle ranchers. The Trump administration is providing $16 billion in temporary relief for farmers around the country as trade negotiations continue.
Tariffs are generally unpopular, but there is bipartisan support — and opposition — in Congress to confront China. Republicans and Democrats in farm states are more likely to criticize them, but others cheer them on. Senate Minority Leader Chuck Schumer said recently, "We have to be tough with China."
Webster returns federal funding
When it comes to big spending bills in Congress, Clermont Republican Daniel Webster is a consistent "no." While he is well-known as a fiscal conservative on non-discretionary spending, he touts his frugality when it comes to spending within his own Congressional office.
Last week, Webster announced he has now returned more than $3 million to his Congressional office since his election to Congress. He brought along a blowup check totaling $3,300,699.58 for remarks to the Citrus County Realtors Association.
"Washington operates on the principle that if money is appropriated, it should be spent," said Webster. "If every area of the federal government began intentionally cutting waste, we could get a lot closer to balancing our budget and trimming the massive burden of debt that will be inherited by our children and grandchildren."
In another symbolic gesture, Webster delivered a personal check to the Bureau of Fiscal Service at the Department of Treasury to roll back his salary to the 2008 amount.
While acknowledging this may appear to be a small action given the trillions of dollars the federal government spends, Webster responds that if all federal government spending was rolled back to the 2008 amounts, the federal government would no longer have a budget deficit.
Assignment Editors: On Wednesday. Democratic Rep. Charlie Crist will commemorate the unveiling of the new Purple Heart Memorial. The unveiling takes place at War Veterans Memorial Park at Bay Pines, 900 Bay Pines Blvd., Bay Pines, FL 33708. The event begins at 10 a.m. Those interested in attending should contact Chloe Kessock at chloe.kessock@mail.house.gov.
Better vision care sought
At least two members of Congress believe Medicare does not provide sufficient coverage for low vision devices. Palm Harbor Republican Gus Bilirakis and New York Democrat Carolyn Maloney have introduced the Medicare Demonstration of Coverage for Low Vision Devices Act.
The bill looks to have the U.S. Department of Health and Human Services (HHS) create a national demonstration project that evaluates the "economic impact of allowing reimbursement for low vision devices under the Social Security Act, which are currently excluded from Medicare coverage."
"As a visually-impaired American, I have firsthand knowledge of the difficulties that accompany this condition," Bilirakis said. "Simple tasks can be a significant challenge, and low-vision assistive devices are often required for essential life function."
Bilirakis went on to list additional benefits that this bill looks to give such as helping seniors stay healthy, active, and self-sufficient for longer periods of time, improved quality of life, and reduced overall financial cost to the Medicare system.
"Medicare coverage of low vision devices would be life-changing for seniors with vision impairments," Maloney said. "It would give them the ability to partake in everyday activities, whether it be reading a book, watching television or safely crossing the street."
Raising funds off The Squad
A House resolution opposing the controversial BDS movement passed in the House with bipartisan support, but the fact 16 Democrats voted in favor of the resolution prompted a fundraising opening for Rep. Greg Steube. The Sarasota Republican issued an email blast to supporters denouncing the vote.
"Last week, 16 Democrats, including those that have made anti-Semitic comments, voted to approve a total boycott of Israel in an attempt to delegitimize the Jewish state. They failed," reads the email.
He referenced legislation that closely mirrors a measure being pushed in the Senate by Rubio. "By denying the Jewish claim to a homeland, the BDS Movement is fundamentally incompatible with a two-state solution and pushes the cause of peace for both Israel and the Palestinians further out of reach," the resolution reads.
A total of 17 representatives voted against the bill in the House, including one Republican, Thomas Massie of Kentucky. The mention of anti-Semitic comments seemed a direct reference to several members of the so-called "Squad," Democrats Alexandria Ocasio-Cortez, Ilhan Omar and Rashida Tlaib.
Notably, the BDS movement is based largely on sympathies for the Palestinian people living in Israel, and Tlaib is a Palestinian-American elected in November. Omar, the only other Muslim woman ever elected to Congress, was also voted in the same day. But both have come under fire for statements about Israel, and comments by Omar prompted a resolution earlier this year condemning anti-Semitism. Steube voted against that measure when it was broadened to include all forms of religious intolerance.
Rooney targets union work
Federal employees currently have the right to use paid time off to conduct union activities. Naples Republican Francis Rooney has filed the Do Your Job Act to prohibit the practice.
Between fiscal years 2014 and 2016, the reported use of official time spent working for unions jumped by 7.55 percent. That means in 2016, an estimated $174.8 million was spent paying federal employees actually doing union work.
"This is a clear abuse of taxpayer dollars, and it does nothing to advance the interests of the American people who end up paying for it," Rooney said in a news release. "There's no reason for federal workers to be paid a government salary to perform union work."
The bill would limit the amount of official time granted to a federal employee to the time that the employee is on a non-duty, or unpaid status. It also removes the current requirement that federal agencies grant official time under the Federal Labor-Management Relations Act (FLMRA).
"It is time spent to improve agency operations and the workplace for the benefit of employees, their managers and the taxpayers they all serve," responded Tony Reardon, national president of the National Treasury Employees Union.
"I introduced this bill to stop this unfair practice and to ensure that federal employees are working for all taxpayers, not for unions," Rooney added."
TPS extension sought
With the status of the bill granting Venezuelans Temporary Protected Status (TPS) still in limbo, Hastings seeks to help another group with an uncertain future. The Delray Beach Democrat filed legislation last week that would extend the protections for Haitians currently in the U.S.
The Hastings bill is in response to the decision by the Trump administration to end the protection for more than 50,000 Haitians who fled the country before and after the devastating earthquake in 2010.
"This decision was void of any fair consideration of the tremendously difficult conditions the country continues to face as it works to rebuild from the 2010 earthquake, a Cholera outbreak, and the devastation wrought by Hurricane Matthew," Hastings said in a news release. "Instead, the Trump Administration's decision to end TPS was based in xenophobia and racial animus."
Joining Hastings to co-sponsor the bill were Democrats Demings, Soto, Crist, Ted Deutch, Al Lawson, Wasserman Schultz, Debbie Mucarsel-Powell, Donna Shalala, Lois Frankel and Kathy Castor.
"What the Trump Administration has done over the past year is inhumane and un-American," Hastings added. "I urge my colleagues in Congress to join me in support of this measure and continue the fight for friends in Haiti, who now reside in the United States under TPS."
Frankel gets outspoken opponent
Frankel has a new 2020 challenger in Florida's 21st Congressional District, as Laura Loomer announced last week she would seek the seat.
Loomer has used social media to call Islam a "cancer on humanity" and accuse Omar of "pushing for another 9/11," among other outrageous posts. She was among a wave of inflammatory accounts banned by Twitter in 2018. Facebook and Instagram have also barred her from using those platforms.
Loomer has raised her profile as a right-wing activist by launching confrontational protests at various events, such as the Women's March and a Jim Comey book event. Loomer was even kicked out of CPAC, an annual conservative gathering, after heckling CNN reporters who were covering the event.
CD 21 covers parts of Palm Beach County, including Trump's resort in Mar-a-Lago. And Loomer isn't the only Republican looking to challenge Frankel in 2020. She joins a field that includes Christian Acosta, Michael Bluemling, Jr. and Victor Garcia da Rosa.
None of them stand much of a chance against Frankel, however. The incumbent won her 2016 reelection bid by more than 25 percentage points. She didn't even court a challenger in 2018.
Rough start for Salazar
In 2018, Maria Elvira Salazar ran a relatively good campaign for the District 27 Congressional seat against a well-known Democrat, former University of Miami President Shalala. She lost by six points and last week announced she wanted to give it another try in 2020.
Despite running in a Democratic-leaning district Hillary Clinton won by 20 points in 2016, the former Telemundo journalist raised competitive funds and stayed close. As late as mid-September, Democrats thought Shalala was running a poor campaign.
The rematch is off to an entirely different start, with Salazar not even getting a day's worth of positive coverage thanks to two visible gaffes, which the Democratic Congressional Campaign Committee (DCCC) was only too happy to exploit.
Her campaign launch video included transposed letters in the website address, which now sends visitors to Shalala's webpage. In addition, filing papers listed district 26, represented by Democrat Debbie Mucarsel-Powell, instead of district 27.
The errors were quickly corrected, but the DCCC had the chance for some fun at the expense of the fledgling Salazar campaign.
"Considering her campaign misspelled her own name and then filed to run in the wrong district, you should quote us as yawning," DCCC spokesperson Avery Jaffe said. "Is she going to vote for Trump next year?"
Homestead detention center closed
For months, South Florida Democrats Wasserman Schultz, Mucarsel-Powell and Shalala have publicly battled with the U.S. Department of Health and Human Services (HHS) over the youth detention center at Homestead. Two months ago, they called for the Trump administration to close the facility.
While the doors have not been shuttered, all children have been removed from the facility, and "will not return." According to HHS, no new migrant children have come to the facility for more than a month.
"Today we are announcing that all (unaccompanied children) sheltered in the Homestead facility have either been reunified with an appropriate sponsor or transferred to a state-licensed facility within the ORR [Office of Refugee Resettlement] network of care providers as of August 3, 2019," HHS said in a statement.
In a tweet, Shalala said:
If they are not in Homestead, Wasserman Schultz wants to know where they are.
"I will seek a full accounting of where these hundreds of children who were reportedly relocated from the Homestead detention center ended up," she said in a statement. "While this is being portrayed as a safety measure, given this Administration's abysmal and cruel track record, I fear it's an attempt to skirt scrutiny and accountability."
About 400 employees were laid off at the time of the announcement. According to the Miami Herald, another 4,000 are expected to lose their jobs.
On this day
August 6, 1999 — Before heading out for their August recess, the Republican-led Congress passed a $792 billion tax cut package. Despite a veto threat from President Bill Clinton, Republicans believe he will sign it in the end because the federal budget is now showing surpluses.
"(Clinton) would like to have a good tax cut and some reforms," said Pensacola Republican Joe Scarborough. "I don't know how to say it without sounding cliché: He's playing for history."
August 6, 2009 — The U.S. Senate confirmed the nation's first Hispanic Supreme Court Justice. Judge Sonia Sotomayor earned the Senate's approval by a 68-31 vote with both Democratic Sen. Bill Nelson voted for confirmation while Republican Sen. Mel Martinez was one of only nine GOP Senators to vote for the nominee.
"With this historic vote, the Senate has affirmed that Judge Sotomayor has the intellect, the temperament, the history, the integrity, and the independence of mind to ably serve on our nation's highest court," said President Barack Obama.
The post Delegation for 8.6.19: More tragedy — prescription drugs — recovery zones — vision care — Squad fundraising appeared first on Florida Politics – Campaigns & Elections. Lobbying & Government..