Chinese relations in jeopardy
The United States is currently engaged with China on multiple fronts from tariffs, to sanctioning Chinese firms, to Hong Kong and now, selling fighter jets to Taiwan. In 70 years of dealing with the People's Republic of China, it is difficult to imagine a time when so many conflicts been in play at one time.
The tariffs began with President Donald Trump seeking to level a trade deficit with China that reached $419 billion in 2018. It was no secret China was also stealing American trade secrets.
Tariffs began earlier this year as negotiators for both countries talked about a deal. As those negotiations drug on, some began to question the wisdom of engaging the Chinese in this fashion as markets for farmers began to dry up.
"We're already seeing our citrus community recover from hurricane Irma and from citrus greening that we're still working on and this just kicks them while they're down," Kissimmee Democrat Darren Soto said three weeks ago.
Democrats, as well as Republicans, are not in lockstep with their party's leadership. Farm state Republicans question the strategy, while Senate Majority Leader Chuck Schumer urged Trump to "hang tough" with China.
On another front, The Trump administration had the finance chief of communications giant Huawei, which is deemed a national security threat by intelligence officials, arrested in Canada. Strong sanctions were subsequently placed on the company, but leaked information reported an easing of those sanctions as part of a bigger trade deal with China.
Sen. Marco Rubio tweeted in late June:
If President Trump has in fact bargained away the recent restrictions on #Huawei, then we will have to get those restrictions put back in place through legislation.

And it will pass with a large veto proof majority.

— Marco Rubio (@marcorubio) June 29, 2019
A ban on allowing Huawei to do business in the U.S. is the goal of Rubio and bipartisan members of the House and Senate, but that is unlikely to happen this year. This week, Commerce Secretary Wilbur Ross announced a 90-day reprieve so that American companies in rural areas can "wean themselves off."
In the Eastern Hemisphere, as the Hong Kong protesters grow in number, China is massing troops near the border. American officials have urged China to "respect Hong Kong's freedoms," while others say the U.S. and countries of the world must hurt China economically if they invade.
"The United States, and all the freedom-loving nations around the world, must stand ready to swiftly move to defend freedom if China escalates the conflict in Hong Kong," said Sen. Rick Scott."
Finally, In a move certain to rankle the Chinese, the U.S. has agreed to sell $8 billion worth of F-16 fighter jets to Taiwan. Rubio's message to those who fear the sale will affect ongoing trade negotiations is they should look at the long-term benefits.
"We can't allow that to dictate our foreign policy or dictate our policy toward Taiwan," Rubio said.
He also urged the Senate Foreign Relations Committee and House Foreign Affairs Committee to "quickly advance this critical arms sale."
In one way or another, China will be part of the daily news cycle for weeks and months to come.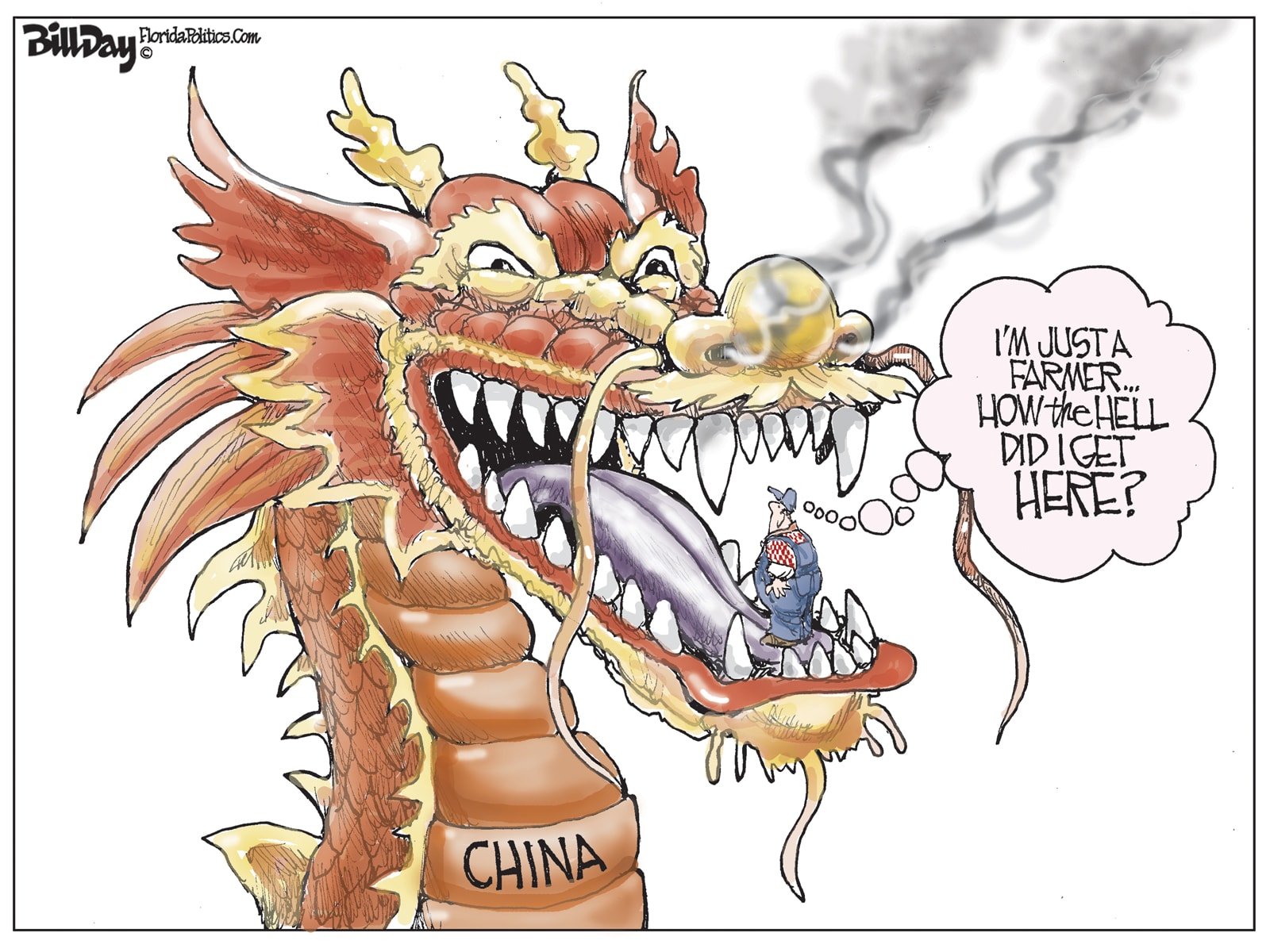 Action on TPS sought
Among the items left unresolved when Congress went on their summer recess was the status of Venezuelans in America seeking Temporary Protected Status (TPS). The House passed a TPS bill sponsored by Soto and Miami Republican Mario Diaz-Balart, but the Senate declined to take it up before the break.
In the meantime, other options are under consideration. Soto and Rubio are both looking at quick action that could solve the immediate concern.
Rubio is pushing the idea with the White House that the President merely "defer" any deportations of Venezuelans until legislation can be agreed upon. A similar strategy was used 12 years ago by the administration of President Barack Obama for Liberians.
Once Congress returns in September, the Senate could develop and pass their own bill, or take up the House bill, where amendments will certainly be attached. Soto is merely seeking action.
"Our preference is for the bill we filed," Soto told the Orlando Sentinel last week. "But like many things, it could go to conference, and we can work things out. But it's incumbent on the Senate to at least pass their version."
Scott has supported Venezuelan TPS, but sought to have it included in border legislation. The border aid bill passed in June did not contain TPS protections, leading him to now publicly call for presidential action.
A Scott spokeswoman said the Senator "called on the administration to immediately extend TPS … and is disappointed that the administration has so far declined to act."
DCCC taps Demings, Crist
Earlier this month, the Democratic Congressional Campaign Committee (DCCC) was in an uproar over the hiring practices of chair Cheri Bustos. The Illinois representative was publicly chastised by minority members for a lack of diversity among leadership, leading to several resignations and a reorganized hiring protocol.
Last week, Bustos announced the appointment of a leadership council which will be in charge of finding a new executive director following the resignation of Allison Jaslow as part of the purge. The leadership council will consist of 12 House members and five technical experts with experience working with the DCCC.
Florida Democrats are well represented on the council with the appointments of Val Demings of Orlando and Charlie Crist of St. Petersburg. Demings is the organization's co-chair of recruitment and Crist is a regional vice-chair.
"We are moving quickly to fill this role, but we will do so in a way that honors the values of the most diverse House Democratic Caucus in U.S. history," Bustos told her colleagues in a letter announcing the leadership council.
NRCC young guns
After losing 40 seats and control of the House of Representatives, Republicans are looking for candidates who have a chance to flip some of those seats back. The Republican National Congressional Committee (RNCC) has come out with an initial list of 43 "Young Guns on the Radar" list.
Among those making the list are three Floridians, including Amanda Makki in Florida's 13th Congressional District, Irina Vilarino in CD 26 and Maria Elvira Salazar in CD 27. To make the list, the NRCC "requires these candidates to hit specific goals throughout the cycle to ensure their campaigns remain competitive, well-funded and communicative within their districts."
Makki, a former aide to Republican Sen. Lisa Murkowski of Alaska, raised $220,000 in the first month of her challenge to Crist, who has hauled in more than $2 million as he seeks a third term. Crist defeated George Buck by 15.4 points in 2018.
Vilarino, who seeks to oust freshman Debbie Mucarsel-Powell, raised $270,000 in the first quarter but lags behind Mucarsel-Powell. She seeks to win back a district flipped by Mucarsel-Powell, who defeated incumbent Republican Carlos Curbelo by 1.8 points.
Salazar seeks a rematch with first-term Rep. Donna Shalala and raised enough to be competitive in 2018. Two gaffes earlier this month set her back, but supporters are confident she can make another strong run after losing by six points in 2018.
President Gaetz?
When the era of Trump ends either in 16 months or four years after that, who will be among the leading voices of the conservative movement? Will those thriving while he is in the White House still be on the stage once Trump is gone?
Some conservatives believe Matt Gaetz of Fort Walton Beach has a bright future. In a recent profile piece in the American Conservative magazine called Matt Gaetz's Washington, Gaetz is mentioned as one of three emerging conservatives who have a shot at one day becoming President.
The writer, Curt Mills, singles out Fox News host Tucker Carlson, Missouri freshman Sen. Josh Hawley and Gaetz. Mills described the second-term lawmaker as "the telephilic trouble maker."
Gaetz said he will not be President, but his friend, former Congressman and current Gov. Ron DeSantis, will. It is no secret that Trump is a big fan of both.
Like the President, Gaetz has his critics within the party, some expressing the opinion he is a showboat. One of those is former speaker Paul Ryan, who often tangled with the conservative House Freedom Caucus, of which Gaetz is a member.
"Matt Gaetz is not a legislator … He's an entertainer," Ryan told POLITICO's Tim Alberta. Trump has often received a similar tag, among many others.
No matter if Trump wins or loses next November, Gaetz will not be going away. He can be seen regularly not only on Fox News, but also takes the conservative message onto CNN or MSNBC, when they will have him.
It is a safe bet Gaetz will not be President in the future and he is unlikely to try. He says he is not interested in "the step-down in power."
Waltz slams Omar, Tlaib
Israel came under criticism from several Democrats, along with some gentle rebukes from a few Republicans such as Rubio, for refusing to allow Democratic Reps. Ilhan Omar and Rashida Tlaib to enter the country. The Israelis took the action shortly after a tweet from Trump saying they would show "weakness" by letting them in.
Republicans that included Michael Waltz of St. Augustine, said the two could have traveled with the 51-person, bipartisan delegation that visited the country the week before but instead tried to go on their own. He was one of those who traveled to the Jewish state.
The Congressional delegation trip was sponsored by a subsidiary of the American-Israel Public Affairs Committee (AIPAC), a critic of Tlaib and Omar, but advocated their entry into Israel despite their support of Boycott, Divestment and Sanctions (BDS) efforts.
"They may have had issues" with AIPAC's sponsorship," Walsh said. It was learned the two lawmakers intended to offer their international support for BDS as a way of showing support for fellow Muslims challenging Israel.
"If this was truly an effort to support Muslims," Waltz wondered, "why they weren't similarly outraged about Chinese oppression of Uighur Muslims and the genocide against the Rohingya in Burma?"
Waltz suggested their position was "anti-Semitic."
Their trip to Israel was to be sponsored by the pro-Palestinian group Miftah. Later, Tlaib was provided clearance to enter the country to visit her grandmother on humanitarian grounds provided she would not engage in protests, but she refused.
More anti-terrorism funding
More federal anti-terrorism funding is on the way to the Orlando, Tampa Bay and the Miami-Fort Lauderdale metropolitan areas. In a joint news release, Reps. Demings, Soto and Stephanie Murphy announced $10.25 million would soon be available through the U.S. Department of Homeland Security's Urban Areas Security Initiative.
Each area will receive $3.75 million, which will be allocated through local law enforcement working groups for hazardous materials response teams, equipment, intelligence-gathering operations and active shooter training. The department also announced additional grants to establish private anti-terrorism protections.
"Residents and visitors alike should know the federal government is providing the support needed to protect (residents and visitors) from terrorist threats," Murphy said in a joint news release.
Demings said: "Security is our top priority, and with these grants, the federal government is doing its part to help ensure we remain ahead of those seeking to do harm."
Soto added: "Security is our top priority, and with these grants, the federal government is doing its part to help ensure we remain ahead of those seeking to do harm."
The three previously fought to have Orlando's eligibility reinstated in the Urban Areas Security Initiative after it was voted out of the program in 2015. Miami, Tampa, and Orlando are among 32 cities receiving the DHS grants.
Crist, Bilirakis discuss veterans
In a bipartisan show of support for veterans, Crist and Palm Harbor Republican Gus Bilirakis hosted a joint meeting of the duo's Veterans Advisory Boards at the Dunedin Public Library Monday.
Crist and Bilirakis met with stakeholders to discuss issues facing local veterans.
The meeting focused on five separate task forces comprised to identify challenges and potential solutions to veterans' issues including suicide prevention, mental health and drug addiction, homelessness, civilian life transition and health care.
The leads of each task force presented suggestions for Crist and Bilirakis to consider when writing legislation concerning veterans. The top issue identified was a lack of clarity on how to access resources.
Lacking resources was surprisingly not among the top issues. Instead, task force leaders reported getting lost in a "sea of goodwill" as the large variety of resources available were unclear.
The two Congressman vowed to continue working together to identify solutions.
Buchanan: punish cop shooters
The recent near-tragedy in Philadelphia that saw six police officers wounded, outraged law enforcement and elected officials around the country. Some on Capitol Hill, including Longboat Key Republican Vern Buchanan, seek to pass pending legislation that would carry harsher penalties on those who target police.
Buchanan is urging his colleagues to move forward on the Thin Blue Line Act, which would make the murder, or attempted murder, of a police officer an "aggravating" factor when considering whether to impose the death penalty.
"Police officers and first responders put their lives on the line every single day to help those in harm's way," Buchanan said in a news release. "They need to know that we have their backs. "And those who target police and first responders need to know that there will be severe consequences."
Buchanan refiled the bill on the first day of the 2019-20 session, but it is yet to receive a hearing in the House Judiciary Committee. He has nine Republican co-sponsors, none of whom are from Florida.
It passed the House last year, when Republicans were in charge, by a vote of 271-143. Buchanan reminds his colleagues that 73 police officers have been killed in the line of duty this year.
More gun bills coming
Gun control will be a focus of House Democrats when Congress returns to Washington September 9. The House Judiciary Committee is set to begin marking up three bills during the first week.
A ban on high-capacity ammunition magazines, sponsored by Boca Raton Democrat Ted Deutch, is included, as well as a "red flag" law that would allow those deemed a threat by a court to have their weapons temporarily confiscated. Trump has indicated he could support such a law.
"We can move quickly to pass this bill and empower more law enforcement agencies with lifesaving tools to intervene when people may pose a threat to themselves or others," said Deutch. "These policies have already saved lives in states across the country. What are we waiting for?"
Congress will also take up measures on banning "assault weapons" and bills that call for more background checks. There is some, but little, support for bans among Republicans, but growing acceptance of broader background checks.
Palm City Republican Brian Mast is one who supports both actions.
"You are plainly seeing it. It's clear" that public sentiment is moving toward more gun control, Mast told a group of Palm Beach County Republicans recently. "I am more optimistic now."
Student loan transparency proposed
Two Floridians from opposite ends of the political spectrum and opposite ends of the state have joined forces to look out for the best interests of those receiving student loans. Shalala and Gaetz joined with four other bipartisan colleagues to introduce the Student Loan Disclosure Transparency Act of 2019.
The legislation provides protections for student borrowers who apply for and accept federal student loans. If enacted, borrowers must receive a separate monthly loan disclosure statement with information on projected payments, accrued interest, the total cost of attendance, and other personalized details in easy and understandable terms.
"The standards of disclosure that apply to other consumer loans should also apply to the very first consumer loan most people take — the student loan," said Shalala, the bill's lead sponsor, in a joint news release.
"Americans now owe over $1.6 trillion in student debt with the average borrower owing more than $38,000," she added. "We ought to encourage financially responsible practices among young people early on as they embark on their lives."
The Higher Education Act (HEA) currently requires disclosures at three points: disbursement, at or before repayment, and during repayment. The Student Loan Disclosure Transparency Act would improve transparency across the entire life of the loan while a borrower attends college and during any period of repayment, deferment, forbearance or delinquency.
"Excessive student loan debt has harmed generations of young Americans," said Gaetz. "More transparency in the student loan process is crucial: it will improve financial literacy and will also help borrowers understand the financial commitments they are making."
Also joining as original co-sponsors are Democrats Ben McAdams of Utah and Abigail Spanberger of Virginia, joined by Republicans Chris Stewart of Utah and Jaime Herrera Beutler of Washington.
The bill also encourages borrowers to pay interest fees and other costs before graduation.
Hall of Famer
Every August, professional football and baseball induct the best of their sport into their respective hall of fame. Another hall of fame announced their inductees this month and it includes a member of the Florida delegation.
Government Executive announced the very first class of the Government Hall of Fame and one of the initial honorees is Shalala. She joins a group that includes Theodore Roosevelt, Colin Powell, Clara Barton and the Apollo 11 astronauts.
"I am very humbled to be listed among this illustrious group of public servants," Shalala said in a news release. "Public service is both a challenge and a privilege. It has been the honor of my life to be able to serve the country that I love."
Shalala's long career includes the high-profile job she now holds, as well as her stint as the President of the University of Miami and as Secretary of the Department of Health and Human Services in the cabinet of President Bill Clinton, serving for Clinton's entire two terms.
She also enters the Government Hall of Fame along with Frances Perkins, the first woman to ever serve in a cabinet when she was appointed by President Franklin D. Roosevelt as Secretary of Labor from 1933-45.
Government Executive created the Hall of Fame this year in connection with its 50th anniversary. It is intended to honor those who have "demonstrated sustained achievement and unparalleled dedication to public service."
On this day
August 20, 2008 — Then-Gov. Crist will speak on the final night of the Republican National Convention in St. Paul, Minnesota, officials announced. The slot was noteworthy among pundits, who believe it provides confirmation presumptive nominee Sen. John McCain has decided Crist will not be his running mate. The nominee for Vice President addresses the convention the night before.
Crist did not indicate what he would say but said through his spokeswoman that he was "focused on the storm and the health, safety and welfare of Floridians." The theme for the final night is "peace."
(NOTE: In the end, Crist did not attend the convention, remaining in Florida to monitor approaching Hurricane Gustav.)
August 20, 2012 — Republican officials announced Gov. Scott will address the Republican National Convention, which begins next week at the Tampa Bay Times Forum in Tampa. He will speak after Speaker John Boehner and before Republican National Committee Chairman Reince Priebus in primetime on the convention's first day.
Scott and presumptive nominee Mitt Romney have not had a close relationship. The Governor continues to hold negative approval ratings 19 months since his inauguration.
Happy Birthday to Rep. Kathy Castor from Tampa (August 20)
The post Delegation for 8.20.19: China — Venezuela TPS — young guns — Gaetz — anti-terrorism appeared first on Florida Politics – Campaigns & Elections. Lobbying & Government..