Equal pay demanded
The nation came together Sunday to celebrate the U.S. Women's National Team's 2-0 win over the Netherlands and claim their second consecutive soccer World Cup and fourth overall. Before that galvanizing moment, off-the-field events took center stage.
When a weeks-old statement from co-captain Megan Rapinoe surfaced saying she would not visit the "f*****g White House" if the U.S. won, President Donald Trump weighed in by saying, the team should "win first" and criticized the American star for "disrespecting our Country, the White House, our flag …"
After the USA victory, Trump joined with others offering congratulations. With the victory in hand, attention turned to the issue of compensation for the American players.
Members of the U.S. team filed a lawsuit a few weeks ago demanding equal pay to that of members of the U.S. men's team. Two Florida Democrats joined with several colleagues in the House to demand action on behalf of those players.
Reps. Kathy Castor of Tampa and Lois Frankel of West Palm Beach were among those writing to U.S. Soccer Federation President Carlos Cordeiro asking him to help address the inequity.
Castor, the co-chair of the Congressional Soccer Caucus, pointed to the lawsuit that revealed the men's team players received more than $5 million for making it to the round of 16 in 2014, while the women earned $1.725 million for winning the entire tournament in 2015. That case awaits mediation.
"The facts are overwhelmingly clear, and financial reports show that the women's team has generated more revenue for U.S. Soccer than the men over the last three years," Castor wrote. "I urge you and U.S. Soccer to not only act to rectify the pay inequity for the USWNT, but to urge FIFA to do more to raise the status of women in international soccer."
Castor did not mention that the men's team, who lost to Mexico in the finals of the Gold Cup on the same day the U.S. women won the World Cup, failed to qualify for the 2018 Men's World Cup.
The House Democratic Women's Caucus, co-chaired by Frankel, also wrote to Cordeiro seeking equal pay.
"The U.S. Soccer Federation should work to correct course and close the wage gap so that the only thing women athletes are fighting for is the world title or a gold medal," the caucus letter read. "Instead, the message sent to women and girls is that their skills and accomplishments are of lesser value."
Among those signing the letter included Castor and Democratic colleagues Debbie Wasserman Schultz and Debbie Mucarsel-Powell.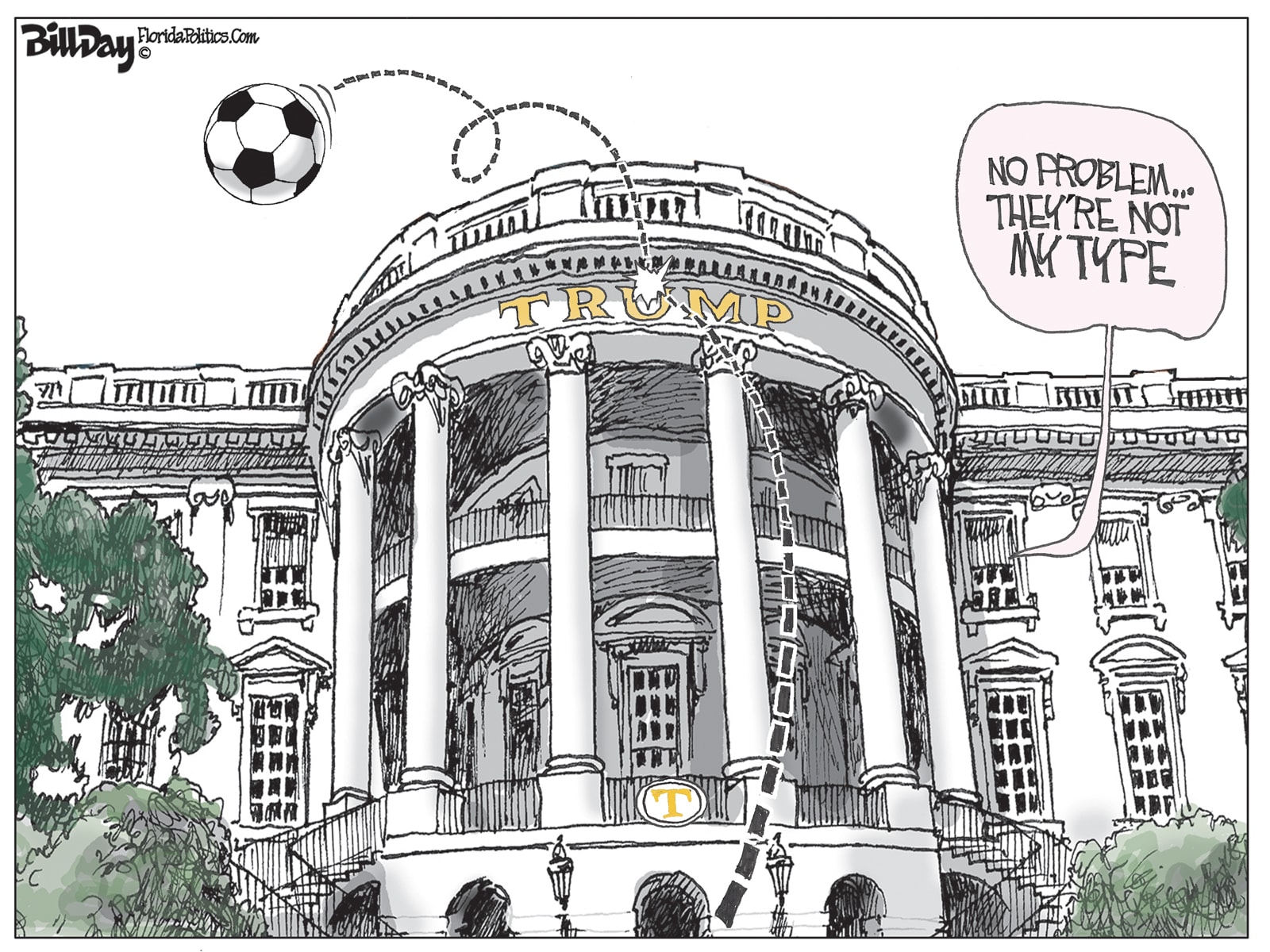 Floridians, Trump tout clean water
On Monday, Trump touted his administration's environmental accomplishments of cleaner air and cleaner water. "These successes are the result of helping communities across the Nation reduce air pollution and meet our air quality standards," the White House said in a statement, "modernizing outdated infrastructure, and improving water quality, all while growing a stronger economy for all Americans."
Two Floridians joined the President in the East Room announcement: Florida Department of Environmental Protection Secretary Noah Valenstein and Bruce Hrobak, owner of Billy Bones Bait & Tackle of Port St. Lucie.
Senators: Squeeze Iran harder
Iran remained under the careful watch of the U.S., and much of the world as the nation's leadership revealed the rogue nation was ready to resume making weapons-grade uranium. Relief from U.S. sanctions, imposed when Trump removed the U.S. from the Iran nuclear deal, could get them to change their mind.
Some Republican Senators, including Marco Rubio, are urging Trump to take diplomatic countermeasures to curb the Iranian threat. Rubio and Sens. Ted Cruz of Texas and Tom Cotton of Arkansas wrote to Trump urging him to increase pressure on the Iranian nuclear program.
Wait, being a "hawk" is no longer just about military force? Even tough economic sanctions make you a "hawk"?

And yes, I support any policy that makes it harder for #Iran to get money they will spend on terrorism & missiles. https://t.co/k8UFSDiRFu

— Marco Rubio (@marcorubio) June 27, 2019
"Last year you correctly reimposed economic pressure on the regime to begin reversing the catastrophic effects of the deal and pressure them into negotiating a better one," they wrote. "We urge you to respond to Iran's nuclear violations this week by increasing pressure on their nuclear program as well."
The Senators called for an end to waivers granted into the old deal that could now facilitate Iran's ability to create nuclear weapons. In addition, they urged Trump to invoke a "snapback" provision in a U.N. Security Council Resolution that would restore international restrictions against Iranian nuclear enrichment and missile development.
Cotton and Rubio serve on the Senate Intelligence Committee, while Rubio joins Cruz on the Foreign Relations Committee.
China trade deal unlikely
The recent G-20 Summit ended with the news that the U.S. and China had agreed to reopen stalled trade talks. Trump postponed levying new tariffs on Chinese goods in the hope the talks will bear fruit, but Republican Sen. Rick Scott is not optimistic.
His pessimism centers around the Chinese communications giant, Huawei, whom the Chinese insist must be part of a final deal. Trump reportedly offered to let Huawei, whom many U.S. officials claim is a security risk, do some business with the U.S.
Scott believes there are plenty of reasons to hang tough with China, but Huawei is the bottom line.
"They're stealing technology, they won't open up their market, they're militarizing the South China Sea, they're involved in Venezuela where [President Nicolás] Maduro is killing his own citizens — he just killed a Navy captain — so I don't believe there will be a deal, but clearly there is no way we are going to allow Huawei to sell into the American market from a national security standpoint," Scott said in a CNBC interview.
Even if no deal emerges, Scott believes China will be the ultimate loser because the U.S. can sell its products elsewhere to make up for losing the Chinese market.
"I think we'd all rather have a deal, but China's got to stop and decide they're going to be fair, and they haven't been willing to do that yet," he said.
Just before the July 4 recess, Rubio introduced legislation to reimpose any restrictions on the company Trump may lift. The second-term Republican predicted the legislation would pass with solid veto-proof majorities.
Fallout from Epstein case
This week, Palm Beach financier Jeffery Epstein was indicted by the Justice Department for behavior that "shocks the conscience." Epstein was either an acquaintance or friend of Trump, former President Bill Clinton, actor Kevin Spacey and Prince Andrew, but a Floridian is coming under increased scrutiny for his legal role in the matter.
It is well-known in Florida that current Secretary of Labor Alex Acosta was the U.S. Attorney in Miami who handled Epstein's original case and arranged a plea deal where Epstein served minimal time for the same charges. Acosta is now coming under increased calls to resign.
Delegation Democrats, including Frankel and Debbie Wasserman Schultz of Weston, have previously called for reopening the Acosta-Epstein deal. Wasserman Schultz led a letter in March asking Attorney General William Barr to take another look at the "non-prosecution agreement."
The unsealed indictments were announced Monday by Geoffrey Berman, the U.S. Attorney for the Southern District of New York. Frankel tweeted her pleasure at the indictment, and intimated Acosta is in the hot seat.
"For too long, Epstein has walked free & avoided the consequences of his crime. There are still many questions to be answered," she said. "With that said, this indictment is a positive step toward putting this sexual predator away & giving justice to the survivors."
Polls carry different messages
If a recent 50-state survey is accurate, Trump would appear to have little chance for reelection. According to a Morning Consult survey, the President's approval rating is down by at least double digits in every state since taking office.
According to the survey, Trump stands at 47 percent approval in Florida and 50 percent disapproval, a decrease of 25 percent since his inauguration. Other swing states, especially the three that brought surprising Trump victories in 2016, show the same trend.
Michigan has the President at 40 approval and 55 percent disapproval, a drop of 23 percent while Pennsylvania shows 44 percent disapproval and 53 percent disapproval reflecting a 19 percent decline.
In Wisconsin, Trump has lost 20 percentage points since inauguration, leading to a 42 percent approval and 56 percent disapproval split. Nationally, Morning Consult shows a 43-53 gap, and the Real Clear Politics average of polls reveals a gap of slightly more than 7 percent for the President.
On the bright side for Trump and his supporters, his presidential campaign announced it had raised $105 million during the second quarter. They will also tout the most recent ABC News/Washington Post poll that gives Trump the highest numbers of his presidency.
While the poll analysis touted the findings that Trump had a 44 percent job approval rating among adults, the survey's registered voters gave the President his highest rating ever at 47 percent approval and 50 percent disapproval.
Murphy fights 'deepfakes'
Doctored and edited audio, video or even internet memes called "deepfakes" look to incite political anger. There are those that wonder when fake news such as this will actually cause national security issues.
Winter Park Democrat Stephanie Murphy is one of three original co-sponsors of the Deepfakes Report Act of 2019. This bipartisan bill would instruct the U.S. Department of Homeland Security to assess threats from the new phenomenon.
The bill also calls for Homeland Security to publish annual reports on digital information forgeries and the effects on national security and democracy. Last year Murphy wrote an amendment to have the Director of National Intelligence report to Congress on "deepfake technologies."
"Deepfake technology has the potential to be used by bad actors to sow chaos in our society and undermine our democratic process," Murphy stated in a news release announcing the bill. "That's why Congress needs to be properly informed about the national security threats posed by this emerging technology, and the best way to stop them. We cannot allow our enemies to use these tools to threaten our nation's security and democracy."
The reference to enemies comes from concerns that Murphy has expressed that Russia, in particular, has used deepfake technologies via the internet to cause political conflicts in the United States.
Demings lauds NATO
Trump has been a critic of NATO both during the 2016 campaign and his first few months in office. He has previously blasted the organization for "not paying their fair share" of the costs associated with the common defense of the members, but has eased off as several nations have increased their contributions.
Rep. Val Demings recently returned from a trip to Europe as part of a Congressional delegation supporting America's NATO alliance and democratic values. The tour consisted of visiting Denmark, Hungary and Luxembourg.
"When the United States makes a promise, we have an obligation to keep our word," Demings said in a release upon her return. "NATO is one of the most successful defensive alliances in history, forming a shield against Russian aggression and helping to safeguard the freedoms which keep us safe. It is vital to our national security to maintain bonds of trust and mutual self-defense with our European allies."
The members attended the Copenhagen Democracy Summit on threats and challenges that face democracies in current times. There was also a panel discussion with other members of Congress on the importance of defending democratic values while also meeting with key leaders.
"It is our responsibility to learn from the past and the present, to reforge our alliances, protect our values, and to avoid the dangers of nationalism and hatred," Demings added. "Any denial of basic human rights and dignity in any part of the world is wrong, and we should never overlook or tolerate such action."
Between all of the destinations, the members covered a cocktail of issues including security, economic issues, gender issues, human rights and countering terrorism. Demings was part of a bipartisan group of five representatives that included House Majority Leader Steny Hoyer of Maryland.
Flood coalition membership grows
With flooding becoming an increasing concern, especially in coastal communities, a bipartisan pair from the Florida delegation is seeking more answers and action.
St. Petersburg Democrat Charlie Crist and Palm Harbor Republican Gus Bilirakis have joined the American Flood Coalition, a nonpartisan alliance to address the growing threat of flooding and sea level rise. Both represent portions of Florida's Gulf Coast in the Tampa Bay metropolitan area, including all of Pinellas County.
"I'm proud to join the American Flood Coalition, an effort to bridge party lines and levels of government to promote and enact practical solutions to this common, growing threat," said Crist in a news release. "I look forward to teaming up with this new coalition to do everything in our power to build stronger, smarter, flood-proof communities."
According to the U.S. Army Corps of Engineers, coastal communities in the greater Tampa Bay area are projected to experience roughly 4-5 inches of sea level rise over the next 15 years. Flood-prone properties in St. Petersburg lost an estimated $244 million in value due to flooding and rising sea levels since 2005, and are projected to lose an additional $280 million over the next 15 years.
"Flooding greatly impacts the lives of many of my constituents," said Bilirakis. "As their voice in Washington, I am committed to ensuring access to affordable flood insurance and continued investment in the infrastructure improvements needed to prevent future flooding."
Both are part of the coalition's membership noted as "Federal Champions." Also achieving that status is Republican Reps. John Rutherford of Jacksonville, Michael Waltz of St. Augustine, Brian Mast of Palm City, and Francis Rooney of Naples. Joining Crist as a Democratic member is Al Lawson of Tallahassee.
MoveOn protests detention centers
Last week, coordinated protests stood outside the district offices of some House and Senate members. They demanded the closure of all detention centers housing detained immigrants here illegally and the thousands crossing the border seeking asylum.
Among those targeted were Rubio and Mast of Palm City. About 100 individuals, organized by the liberal group MoveOn, chanted, held signs and displayed the slogan #CloseTheCamps in front of Mast's office.
One protester said: "It's just inhumane, there's just no reason whatsoever to do this." Many were reacting to claims by New York Democrat Alexandria Ocasio-Cortez, who said those in the facilities were in situations resembling "concentration camps."
Mast's office responded through a spokesman, slamming the idea of closing the camps and urging protesters to get involved and become part of the solution to the growing crisis of the immigrant surge at the border.
"Maybe they just want to get themselves on TV, but it's disappointing that this group has chosen to put partisan politics ahead of actually helping solve the crisis on the border," read a statement from Mast's office to WPTV TV, "which is exactly what Congress did just last week when it passed a huge bill to provide $4.59 billion in emergency funding to address these issues, including funding for processing facilities, food, medical services, safe transportation, clothing, baby formula, hygiene products, and judges to help alleviate the massive backlog of migrants awaiting adjudication."
Peru in default
Two months ago, Delray Beach Democrat Alcee Hastings led a bipartisan group of delegation members to urge the State Department to take action against the government of Peru for defaulting on agrarian bond payments. Last week, the Trump administration said it is pressing for a "swift and fair resolution."
In the May 2 letter to Secretary of State Mike Pompeo, Hastings and his colleagues pointed to the potential harm to Florida's pension fund, which holds more than $20 million in the Peruvian bonds. Other states face similar issues.
"Nationwide, nearly $2 billion in debt is held across 30 states," they wrote. "The government of Peru's refusal to pay its obligations threatens the hard-earned benefits that these Americans have earned."
A State Department spokesman said the U.S. entered into the U.S.-Peru Trade Promotion Agreement in 2009. Through that deal, Peru consented to arbitration for certain investment disputes with U.S. nationals.
Reportedly, any arbitration would not occur before next year.
Those pressing the issue and joining Hastings in signing the May 2 letter included Democrats Murphy, Demings, Wasserman Schultz, Darren Soto and Crist. Republicans included Mast, Vern Buchanan, Bill Posey, Ross Spano, Matt Gaetz and Neal Dunn.
Promoting Middle East security
A bipartisan group of delegation members spent part of the July 4 recess in the Middle East meeting with both Israeli and Palestinian leaders. Democratic Reps. Ted Deutch of Boca Raton and Soto joined with Bilirakis on the trip.
A common theme among the group, which totaled 10 representatives, was the long-term security of Israel. Deutch, chairman of the subcommittee that oversees the Middle East, North Africa and terrorism, delivered a speech to the IDC Herzliya Conference outlining the bipartisan strength of the U.S.-Israeli relationship.
"Our delegation delivered a strong message of bipartisan support for our strategic ally Israel," Deutch said in a news release. "Amid complex challenges in the region — from Iran's dangerous and destabilizing activities to instability in Syria to Hezbollah's growing strength in Lebanon — we offered a bipartisan commitment to Israel's security."
The delegation met with both Israel Prime Minister Benjamin Netanyahu and Palestinian Authority Prime Minister Mohammad Shtayyeh. While the delegation pledged to guarantee Israeli security, they also expressed a continuing commitment to a Palestinian state.
"We also discussed the prospects for a two-state solution and my continued belief that two states, a secure Jewish State of Israel and a demilitarized Palestinian state, achieved through direct negotiations between Israel and the Palestinians must remain the goal of Americans, Israelis and Palestinians," Deutch stated.
Economic issues were also on the agenda. Both Soto and Bilirakis were representing the House Committee on Energy and Commerce.
The group moved on to Qatar, Cyprus, and Greece where they met with leaders from each nation. They spent July 4 with U.S. forces stationed in Qatar.
"Our delegation was honored to visit U.S. troops at al-Udeid Air Base in Qatar to celebrate July 4," Deutch said. "Our service members were away from their families and friends on Independence Day, and we thanked them for their sacrifice that keeps all Americans safe."
Deutch and Bilirakis are the founders and co-chairs of the Congressional Hellenic-Israel Alliance. In May, they introduced the bicameral Eastern Mediterranean Security and Energy Partnership Act of 2019 to support the growing relationships between Israel, Greece and Cyprus.
Wilson slams detention centers
Last week, Miami Gardens Democrat Frederica Wilson led a group of colleagues, including Rep. Donna Shalala of Coral Gables, into the Homestead Youth Detention Center to check on the conditions of those held inside. Following the tour, the group said the teenagers are being kept too long, and they have little to no opportunities for education.
"This administration has shown a blatant disregard for the mental and physical health of children in custody," Wilson said. "They're spending weeks, and even months, in detention conditions that are tantamount to living under house arrest. We are upset about it."
Joining Wilson on tour were Reps. Bennie Thompson of Mississippi, Brenda Lawrence of Michigan, Yvette Clark of New York, Katherine Clark of Massachusetts, John Lewis of Georgia, and Madeleine Dean of Pennsylvania.
Wilson also wondered about the location of the young females housed at the facility. "Where are the girls?" she asked.
After seeing only the 17-year-olds held there, Wilson said she would not stop until she has the chance to see and talk to the younger ones. She took it a step further by offering a suspicion that human trafficking may be going on, whether by guards or those operating the facility.
"I do not trust them with adolescent girls," she told CNN's Alisyn Camerata. "I do not trust them with girls going through puberty. I do not trust them."
Wilson also addressed the revelation of a secret Facebook page for border agents that contained some inappropriate posts involving detainees and others allegedly threatening members of Congress. The Congresswoman wants some accountability.
"Those people who are online making fun of members of Congress are a disgrace, and there is no need for anyone to think that is (acceptable)," she said outside the Homestead facility. "We're gonna shut them down and work with whoever it is to shut them down, and they should be prosecuted."
"You cannot intimidate members of Congress, frighten members of Congress," she continued. "It is against the law, and it's a shame in this United States of America."
News of a second Facebook site surfaced over the weekend.
A Great Immigrant
Mucarsel-Powell was the first South American-born naturalized citizen to be elected to Congress. Last week, the native of Ecuador was honored as a Great Immigrant by the Carnegie Corporation of New York.
Each Fourth of July since 2006, the philanthropic foundation has sponsored the public awareness initiative to commemorate the legacy of its founder, Scottish immigrant Andrew Carnegie, who believed strongly in both immigration and citizenship. The 38 naturalized citizens honored this year represent 35 countries of origin, a range of personal immigration experiences, and high-level leadership in diverse fields, all united through their shared experience of becoming Americans.
"I am honored to be named a Great Immigrant, and I hope that it will help share my story to inspire more immigrants to stand up for what they believe in and achieve even greater lengths," she said in a news release. "Now, I'm proud to be the first South American-born immigrant to serve in Congress and fight for South Florida's priorities every day.
"I hope that the young immigrants in South Florida and across the country hear my story, and know that they, too, have a chance at achieving the American dream."
Mucarsel-Powell was honored along with poets, artists, writers and an archbishop. Two of the more familiar names were CNN anchor Wolf Blitzer, a native of Germany, and Hall of Fame Pitcher and philanthropist Mariano Rivera, who was born in Panama.
On this day
July 9, 2004 — The Senate Intelligence Committee issued a detailed report that heavily criticized the CIA for flawed intelligence when it assured President George W. Bush and Congress that Iraq and Saddam Hussein held weapons of mass destruction. Kansas Republican Sen. Pat Roberts, the committee chairman said, "what the President and the Congress used to send the country to war was information provided by the intelligence community, and that information was badly flawed."
The report said there was "no evidence" either Bush or Vice President Dick Cheney coerced the CIA into claiming the weapons existed. He said despite not finding weapons, "the world is better off without Saddam Hussein in power. Bush's opponent, Massachusetts Democratic Sen. John Kerry, did not directly blame the CIA; instead, he said: "When it comes to national security, the buck stops at the White House, not anywhere else."
July 9, 2014 — Tens of thousands of children streaming in from Central America have overwhelmed the government's ability to respond, said senior officials from the federal government. President Barack Obama said he was open to dispatching National Guard troops to the border but warned that action would only yield temporary solutions.
"The children continue to come across the border. It's a very fluid situation," said FEMA Director Craig Fugate. "Although we have made progress, that progress is oftentimes disrupted when we see sudden influxes of kids coming in faster than we can discharge them, and we back up."
Republicans were balking at the President's $3.7 billion funding request to alleviate the crisis, while members of both parties were calling on Obama to visit the border to see the situation for himself.
Happy birthday (July 10) to Republican Rep. Brian Mast of Palm City.
The post Delegation for 7.9.19: Equal pay — squeezing Iran — China deal — Epstein fallout — deepfakes appeared first on Florida Politics – Campaigns & Elections. Lobbying & Government..