Race consumes political discourse
Race relations have taken a significant step backward in the summer of 2019 up and down Pennsylvania Avenue and in social media postings. Beginning with the comments of President Donald Trump following the Charlottesville hate rally two years ago, discourse among elected leaders has reached historic lows.
Since Charlottesville, Democrats have regularly blasted Trump using race as a background for his signature issue of building a border wall. As that has continued, the four Democrats known as The Squad played the race card against Speaker Nancy Pelosi. That was followed by a racial back-and-forth with Trump stemming from the infamous "go back to where they came from" Twitter war.
But the Trump tweets over the weekend blasting Maryland Democrat Elijah Cummings set off yet another war of words delivered in cyber sound bites of heavy artillery. Trump condemned Cummings for his treatment of Acting Secretary of Homeland Security Kevin McAleenan, who appeared before Cummings' House Oversight Committee, but went on to describe Cummings' district as "rodent-infested," among other things.
Weston Democrat Debbie Wasserman Schultz, a member of the committee, blasted Trump:
Orlando Democrat Val Demings tweeted:
"The President is, as he usually is, or often is, disgusting and racist," said House Judiciary Committee Chairman Jerry Nadler.
Trump's defenders pointed to the President's original comments blasting Cummings for his criticism of the Department of Homeland Security and Customs and Border Patrol.
Sen. Rick Scott was asked about the Trump tweets on Meet the Press. He responded, "I didn't do the tweets, Chuck (Todd), I can't talk about why he did what he did, but I am disappointed in people like Congressman Cummings, who are attacking Border Patrol agents."
Appearing on Fox News Sunday, Acting White House Chief of Staff Mick Mulvaney said that if he "had poverty in my district" and "I spent all of my time in Washington, D.C., chasing down this Mueller investigation, this bizarre impeachment crusade, I'd get fired."
The rhetoric has already heated up as the week began, with Trump taking the next step of using the term "racist Elijah Cummings."
With that as a backdrop, Democratic Congressional Campaign Committee chair Cheri Bustos was on her way back to Washington from her Illinois district to put out a personnel fire. Black and Hispanic lawmakers are furious with Bustos' leadership of the DCCC.
They are unhappy that top leadership lacks diversity. Two members described the DCCC as being "in complete chaos." Before Monday ended, Chief of Staff Allison Jaslow had resigned.
With the next round of Democratic presidential debates approaching, the candidates' agenda may not get as much attention from CNN moderators as many of them may have hoped. The issue of race is set to play a more significant role in the 2020 campaign than perhaps at any time other than 1968.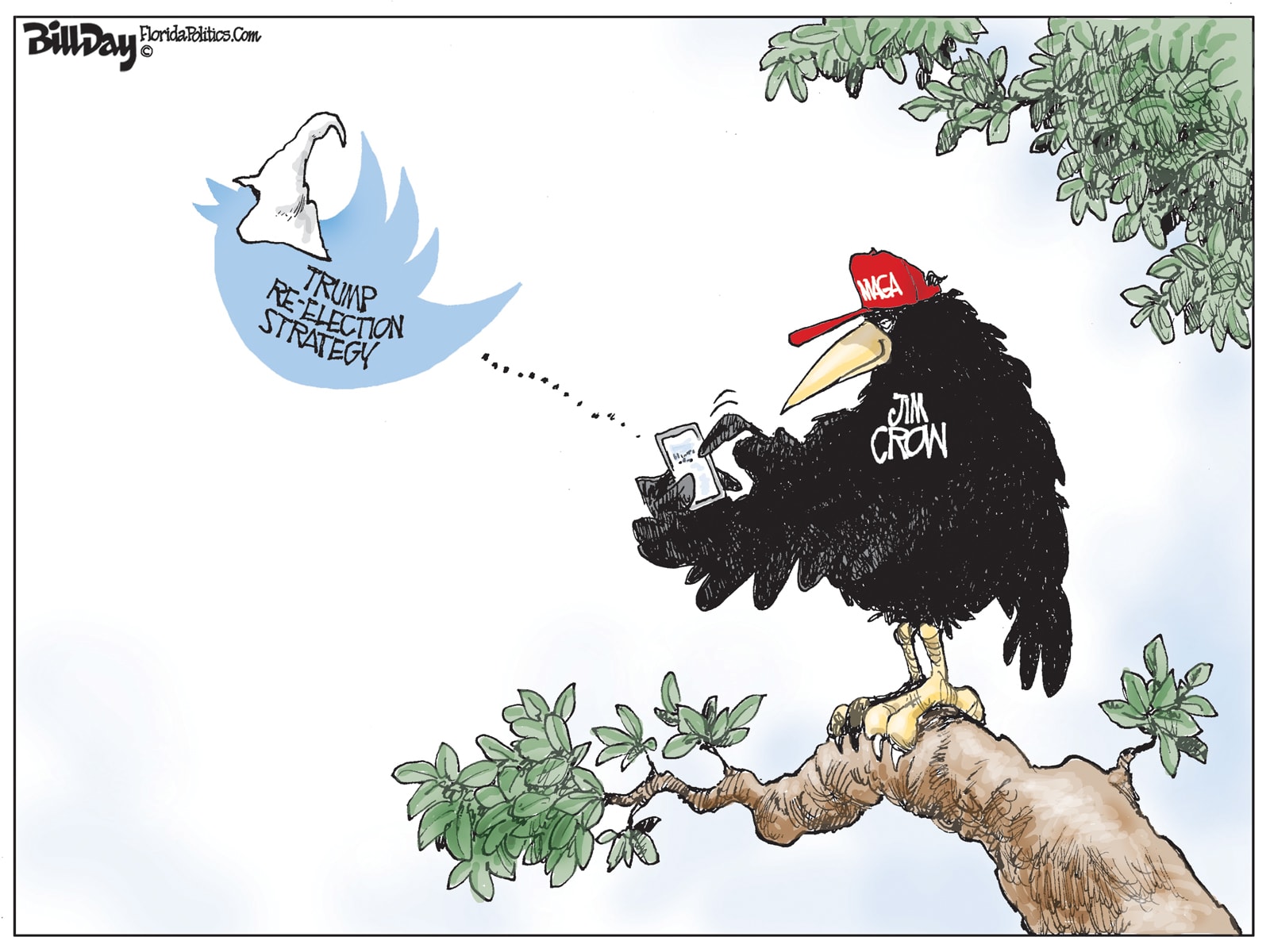 Rubio touts intelligence report
Late last week, the Senate Intelligence Committee released the first volume of its report on Russian interference in the 2016 elections. The bipartisan report, Russian Efforts Against Election Infrastructure, described that interference as "extensive."
The committee investigation found the Russians targeted all 50 states began as early as 2014, exploited gaps in U.S. capabilities, and said the Department of Homeland Security and FBI warnings to the states in 2016 did not provide sufficient information or go to the right people.
"The first installment of the Senate Intelligence Committee's report, which focuses on election security, illustrates the threat that we face, the tactics used by Russia, and makes strong recommendations about what states and local governments need to be doing to prepare against future attacks," said Sen. Marco Rubio, a member of the committee.
"I hope people will take the time to read it, and I look forward to working with officials in Florida to implement some of these policies as well as continuing my work in Washington to make sure that our elections are as secure as possible against foreign interference."
Included are eight pages of recommendations to shore up infrastructure and prevent future occurrences.
No state was named explicitly in the case histories presented in the report, leading some to express confusion.
"There was a lot that would hint that this would be Florida, but there's no way for us to know for sure," said Jonathan Uriarte, a spokesperson for Miami Park Democrat Stephanie Murphy told the Miami Herald. "Senate Intel was very careful in not sharing for the same reason that we were bound not to share the names of the counties. We think it's ridiculous."
Murphy and St. Augustine Republican Michael Waltz have filed legislation in the House targeting FBI secrecy in election hacking cases.
In a tweet directed toward the authors of the Herald story, Rubio tweeted:
Scott trashes budget bill
Last week's budget deal easily passed the House of Representatives by a vote of 284-149. The Senate delayed their August recess long enough to vote on the bill early this week.
Before the matter came to the floor, Scott's intention was well-known. Despite the budget's support from the President, the first-term Republican said he would be voting "no."
Scott praised the Republicans who worked on the deal and Democrats for not inserting "poison pills" into the final product but expressed his concern for increasing the debt.
"Unfortunately, this bill allows for trillions of dollars to be added to our national debt, includes huge increases in nondefense discretionary spending, and doesn't even try to pay for it by cutting wasteful spending," he said in a statement.
"I can't support that. As Governor of Florida, I turned a $4 billion deficit into $3 billion annual surpluses and was the first Governor in 20 years to pay down state debt."
Scott joins most of the delegation Republicans in voting against the measure. Only Reps. Neal Dunn of Panama City, John Rutherford of Jacksonville, Gus Bilirakis of Palm Harbor and Mario Diaz-Balart of Miami voted in favor.
Murphy, the co-chair of the moderate Blue Dog Coalition, was the only delegation Democrat to vote against it. Like Scott, she expressed concern over the debt.
"The future of our nation depends on Members of Congress finding the political courage to work together and make the tough decisions to get our nation's fiscal house back in order," Murphy said in a statement. "It's clear that the bipartisan budget deal lacks this courage from both parties by abandoning fiscal discipline altogether and allowing $1 trillion deficits to be signed into law."
Border wall ruling
Late last week, the United States Supreme Court gave Trump a partial victory by allowing the use of Defense Department funds to construct a border barrier. The justices, in a 5-4 decision, lifted the permanent injunction from a federal court in the 9th District that blocked further progress on the wall.
Trump was most pleased with the outcome and was on Twitter within two minutes, taking a victory lap.
While little immediate reaction came from the delegation, Dunn stated support soon after the news broke late Friday afternoon.
"President Trump was elected in part to protect our southern border," he said. "While Democrats have refused to recognize the need to do so, I'm pleased that the Supreme Court has. Today we are one step closer to building the wall."
Senate Majority Leader Chuck Schumer responded, calling "a sad day" when Trump may be allowed "to steal funds from our military to pay for an ineffective and expensive wall for which he promised Mexico would foot the bill,"
Trump must now wait for the appeal in the 9th District Court of Appeals has yet to play out. If the appeals court upholds the trial court ruling, Trump will seek review before the Supreme Court.
According to an opinion offered by Justice Stephen Breyer, the Trump administration needed to convince a majority of the court they would ultimately hear an appeal from him if he loses in the 9th Circuit, "a fair prospect the court will (rule in Trump's favor)," and a likelihood that "irreversible harm will result from the denial of a stay."
By granting the stay, Trump and border wall advocates would seem to have a reason for optimism in the end.
New intel chief coming
In a surprising announcement, Director of National Intelligence Dan Coats announced his resignation. Within hours, Trump indicated he would nominate Texas Republican John Ratcliffe to replace Coats.
Ratcliffe is a former U.S. Attorney, serving in the administration of President George W. Bush. He became much more well-known last week as a member of the House Judiciary Committee questioning former special counsel Robert Mueller.
"I agree with the chairman this morning when he said, 'Donald Trump is not above the law,'" Ratcliffe said, citing Nadler. "He's not. But he damn sure shouldn't be below the law, which is where Volume 2 of this report puts him."
Fort Walton Beach Republican Matt Gaetz, Ratcliffe's colleague on the Judiciary Committee, was delighted by Trump's appointment.
Some Senate Democrats are unimpressed.
"I don't know this guy," said Sen. Chris Murphy of Connecticut. "I think he's a television character that the president has watched on TV, and he wants to put somebody in this position who's going to agree with his political take on intelligence."
Yoho, Cummings assist veterans
It may be safe to say that no member of the House has been in the news more recently than Maryland's Cummings. While the firestorm around Trump continues, Cumings is engaging on an issue of importance to a Florida Republican.
Rep. Ted Yoho of Gainesville has joined with Cummings to introduce the Safeguarding Student Veterans Act. The bill looks to protect the interests of student veterans using the Post 9/11 GI bill.
The bipartisan legislation will protect students from troubled schools, such as those operating for profit, by increasing the coordination effort between the Department of Veterans Affairs and the Department of Education. Currently, schools facing compliance problems are only required to notify the department.
The VA would be required to understand better and track the risks that individual schools for veterans and provide the veterans with more power to decide on which schools to attend.
"I'm honored to work alongside Congressman Cummings in introducing the Safeguarding Student Veterans Act," Yoho said in a news release. "This common-sense bill ensures that the VA receives the same information the Department of Education does when a school is facing severe compliance or financial issues- allowing them to protect student veterans utilizing the Post 9/11 GI Bill and update them about these issues.
"This bill will ensure that none of our student veterans are blindsided by a school cloture and that they can take appropriate steps if their school is facing issues," Yoho added.
Specifically, the bill will have heightened cash monitoring, a risk analysis undertaking by the VA, and then reporting results to the veterans
"Our veterans have served our country, and we must honor the sacrifices they made as they transition back into civilian life and seek to better themselves through education," said Cummings.
Congressional military vets unite
One of the iconic memorials in Washington is the tribute to those who gave their lives in Vietnam. Last week a bipartisan group of veteran members of Congress gathered to clean the memorial, which contains the names of more than 58,000 Americans killed in combat.
Waltz led the group of 16, which included Palm City Republican Brian Mast and Fox News anchor Bret Baier. The gesture served as a tribute to those who made the ultimate sacrifice and was a unifying experience for the members as they then headed back to their districts for the August recess.
"There are 58,000 names on the Vietnam Veterans Memorial — but this memorial is much more than just a list of names," Waltz said in a news release. "It is a symbol of honor and gratitude for these men and women's bravery. It is a testament of their sacrifice, and it is a reminder of the cost of freedom."
The members brought out hoses, brushes and buckets to scrub the memorial which opened in 1982. Since then, more than 400 names have been added.
"The brave men and women who selflessly served in Vietnam endured harsh conditions and overcame significant obstacles," said Mast. "Today and every day, we remember them for their service and sacrifice to our nation."
Mast provided a video of the event on his Facebook page. Baier did a three-minute feature on his daily Special Report program.
Injured vets bill passes
Bilirakis received good news last week when the House passed his proposal to expand Fry Scholarships for injured veterans or family members. The bill helps surviving National Guard and Reserve members who died of service-related causes while not on duty.
He was able to roll his bill into the "Ryan Kules Specially Adaptive Housing Improvement Act" which looks to expand the U.S. Department of Veterans Affairs (VA) housing grants to the most severely disabled veterans.
"We must do everything in our power to support the families of fallen service members," Bilirakis said. "This bipartisan bill closes a loophole in statute that prevented the spouses and children of Reservists who die from a service-connected condition but were not on active duty at the time of their death from receiving education benefits.
"These brave men and women have paid the ultimate price in defense of our nation, and this is the least we can do to honor their sacrifice," he added.
Bilirakis is currently the ranking Republican on the U.S. House Subcommittee on Economic Opportunity.
Webster: End Social Security tax
In recent sessions of Congress, Clermont Republican Daniel Webster has joined with Kentucky Republican Thomas Massie to file the Senior Citizens Tax Elimination Act. Webster, Massie and several colleagues have again presented the legislation.
The bill assists middle-class seniors by eliminating the double-tax on Social Security Benefits.
Webster's office cited the Congressional Research Service who noted Social Security benefits were not taxed until 1984. In 1983, the National Commission on Social Security Reform (Greenspan Commission) recommended, and Congress approved, taxing Social Security benefits above a certain income threshold.
"For decades, seniors have paid into Social Security with their tax dollars," Webster said in a news release. "Now, when many seniors are on a fixed income and struggling financially, they are being double-taxed because of income taxes on their Social Security benefits. "This is wrong, and I'm pleased to once again co-sponsor this legislation to repeal this tax."
The bill will amend the Internal Revenue Code of 1986 to terminate the inclusion of Tier I railroad retirement benefits and Social Security benefits in an individual's gross income. Among the bill's co-sponsors are Florida Republicans Gaetz and Greg Steube of Sarasota.
Castor wants hearing
Once leaving office, former Senators and Representatives have frequently left their campaign accounts open to use the donated money for personal or other uses. Tampa Democrat Kathy Castor filed legislation in March that would outlaw these "zombie campaigns" and wants to see it get moving in the House with a hearing before the House Administration Committee.
The Honest Elections and Campaign, No Gain Act would require disbursement of campaign funds following an election. No defeated or retired candidate would be able to maintain funds for indefinite periods, which sometimes are used to pay family members years after leaving office.
An investigation by the Tampa Bay Times and WTSP TV in Tampa/St. Petersburg identified about 50 zombie campaigns from Democratic and Republican former elected officials from around the country. Among those mentioned were former Florida Representatives Mark Foley and Cliff Stearns, who was sanctioned by the Federal Elections Commission following the investigation.
"While I appreciate the FEC's work, it is not moving fast enough," Castor wrote to committee chair, Democrat Zoe Lofgren and ranking member, Republican Danny Davis. "I believe Congress needs to shine a brighter light on this issue. A House Committee on Administration hearing would bring much-needed transparency and publicity to zombie campaigns."
Among the bill's three original co-sponsors is Bilirakis. Recently signing on was New York Democrat Alexandria Ocasio-Cortez.
Charitable tax incentive proposed
Charitable giving fell in 2018 prompting two Congressmen to propose a tax incentive designed to jump-start philanthropy among Americans. Longboat Key Republican Vern Buchanan is joining with New York Democrat Tom Suozzi to launch the Everyday Philanthropist Act that would allow Americans to set aside $2,700 before taxes to give to the charities of their choice.
Buchanan's bill would establish Flexible Giving Accounts administered as an employee benefit. They would be similar to Health Savings Accounts with no minimum contribution required.
"Everyday Americans are the foundation of charitable giving across the country," Buchanan said in a joint release. "This is a common-sense approach to help Americans give to their favorite charities by providing them with an effective tax break.
Last month, Giving USA reported that American households' charitable donations in 2018 were at its lowest levels since the Great Recession. Despite a strong economy in 2018, individual philanthropic donations fell by more than $3.2 billion — a decrease of nearly 3.5 percent when adjusted for inflation.
"Americans across our nation are supporting not-for-profits, religious institutions, and hospitals that are tackling incredibly important issues such as combating the opioid epidemic, fighting hunger, curing cancer and much more," Suozzi said.
Rooney backs carbon tax
Naples Republican Francis Rooney is fortifying his growing reputation as a climate change warrior. Last week, he filed the Stemming Warming and Augmenting Pay Act, which would impose a carbon tax on fossil fuel producers and industrial emitters.
This would include the coal industry, which should come as no surprise. Earlier this year, Rooney, co-chair of the House Climate Solutions Caucus, revealed his antagonism of the use of coal as a fuel.
Rooney's bill would impose a $30 tax per metric ton of carbon. Revenues would fund climate change projects, but also lessen workers' payroll taxes.
"Cut carbon and not wages is what we are looking at," said Rooney's legislative director, Corey Schrodt, during a recent forum.
Castor, the chair of the House Select Committee on the Climate Crisis, praised her fellow Floridian.
"My neighbor @RepRooney is serious about climate solutions," she tweeted. "Glad to see concrete legislation like this from a Republican Member of Congress. And deeply appreciate him joining me in opposition to drilling off our Florida coasts."
The bill, or any other bill involving a carbon tax, has no chance of passing a Republican-led Senate, but introduces a new idea for consideration should that change next fall.
Future elections at risk
With national attention focused on Mueller's conclusions on what Trump did or didn't do, most agree action to prevent future Russian mischief is necessary. The Senate Intelligence Committee's recently released report (see above) provides extensive evidence.
Wasserman Schultz wants the Trump administration, and Trump specifically, to understand the need and take action. She joined with House Homeland Security Committee Chairman Bennie Thompson, a Mississippi Democrat, in a letter urging the President to get serious about the threat.
"Although individual agencies are working to do their part to prevent another attack on our elections — by all accounts — you are not," they wrote. They went on to accuse Trump of having "a total disregard of a proven threat."
Trump has avoided direct public criticism of Russia and President Vladimir Putin for the documented hacks into emails and efforts to sow discord among Americans.
"It is your responsibility, as commander in chief, to address the threat of cyberattacks, influence operations, disinformation campaigns, and other activities that undermine the security and integrity of U.S. democratic institutions," they said. "We implore you to treat this issue with seriousness and with the utmost sense of urgency and concern that it demands."
On this day
July 30, 1974 — The House Judiciary Committee completed its work by approving the third and final article of impeachment against President Richard M. Nixon. He is charged with obstruction of justice and misconduct.
Among the specific charges against the President was thwarting a lawful investigation, ignoring lawful subpoenas, misusing federal agents through wiretapping, tax investigations and other activities. The Senate immediately began making preparations for a trial over which Chief Justice Warren Burger would preside.
July 30, 2014 — the GOP-led House voted to sue President Barack Obama, accusing him of exceeding the bounds of his constitutional authority. The 225-201 vote authorized the suit which accused Obama of a power grab by delaying enforcement of specific provisions of "Obamacare."
It was the final act before Congress headed home for a five-week recess. Democrats called the move nothing more than an election-year gambit. Six Republicans joined with Democrats to vote against the lawsuit; none were from Florida.
The post Delegation for 7.30.19: Race & politics — Rubio intelligence — Scott trashes budget — border wall appeared first on Florida Politics – Campaigns & Elections. Lobbying & Government..