Mueller circus coming
This week, the long-anticipated appearance of former Special Counsel Robert Mueller will finally take place. He will take questioning, and listen to plenty of political posturing, from members of the House Judiciary Committee and the House Intelligence Committee.
What will the committee, and the rest of the country, learn from Mueller's testimony? His report of 448 pages provides plenty of detail, and he pledged not to go beyond what he already said within those pages and during his nine-minute news conference in late May.
While Judiciary Committee Chairman Jerry Nadler feels there ample evidence of high crimes and misdemeanors committed by President Donald Trump and expects Mueller to lay out those facts. The report contains 10 instances of instances where the President possibly attempted to obstruct justice.
Sarasota Republican Greg Steube, who will be among those on Nadler's committee asking questions, does not expect much.
"I don't know what it is we are going to learn as a member of the Judiciary Committee that isn't contained within the Mueller report that has been released," he told Fox Business Network earlier this month.
Steube and other Republicans want to ask Mueller about how the investigation began. The GOP maintains there was never any collusion; they believe the probe was illegitimate, based mostly on what is known as the "Steele Dossier."
"Very clear the Trump investigation was not predicated on the so-called dossier, there was nothing wrong with the FISA application, all the things that they're talking about have been gone through," Nadler said on "Fox News Sunday."
"If they want to debate or discuss this irrelevancy, let them waste their time. What's before the American people is the conduct of this president."
In addition to Steube, four other Floridians will have their five minutes to ask questions or make a point. Committee Democrats are Ted Deutch from Boca Raton, Debbie Mucarsel-Powell of Miami and Val Demings of Orlando, with Demings getting another chance later in the day as a member of the Intelligence Committee.
The other Republican on the Judiciary Committee is Matt Gaetz of Fort Walton Beach. While Democrats try to make a case for impeachment, Gaetz believes Trump can reap many benefits in the end.
"We are going to reelect the President," Gaetz said late last week. The two-term Republican has been among the most outspoken about the impropriety of the launch and conduct of the investigation.
One thing is for certain; at least for the morning of July 24, nothing will be done on the growing problems with Iran, the Southern Border, the trade wars with China and a host of other issues.
But with the next round of Democratic debates set for next week, there will be plenty for the moderators to draw upon for questions.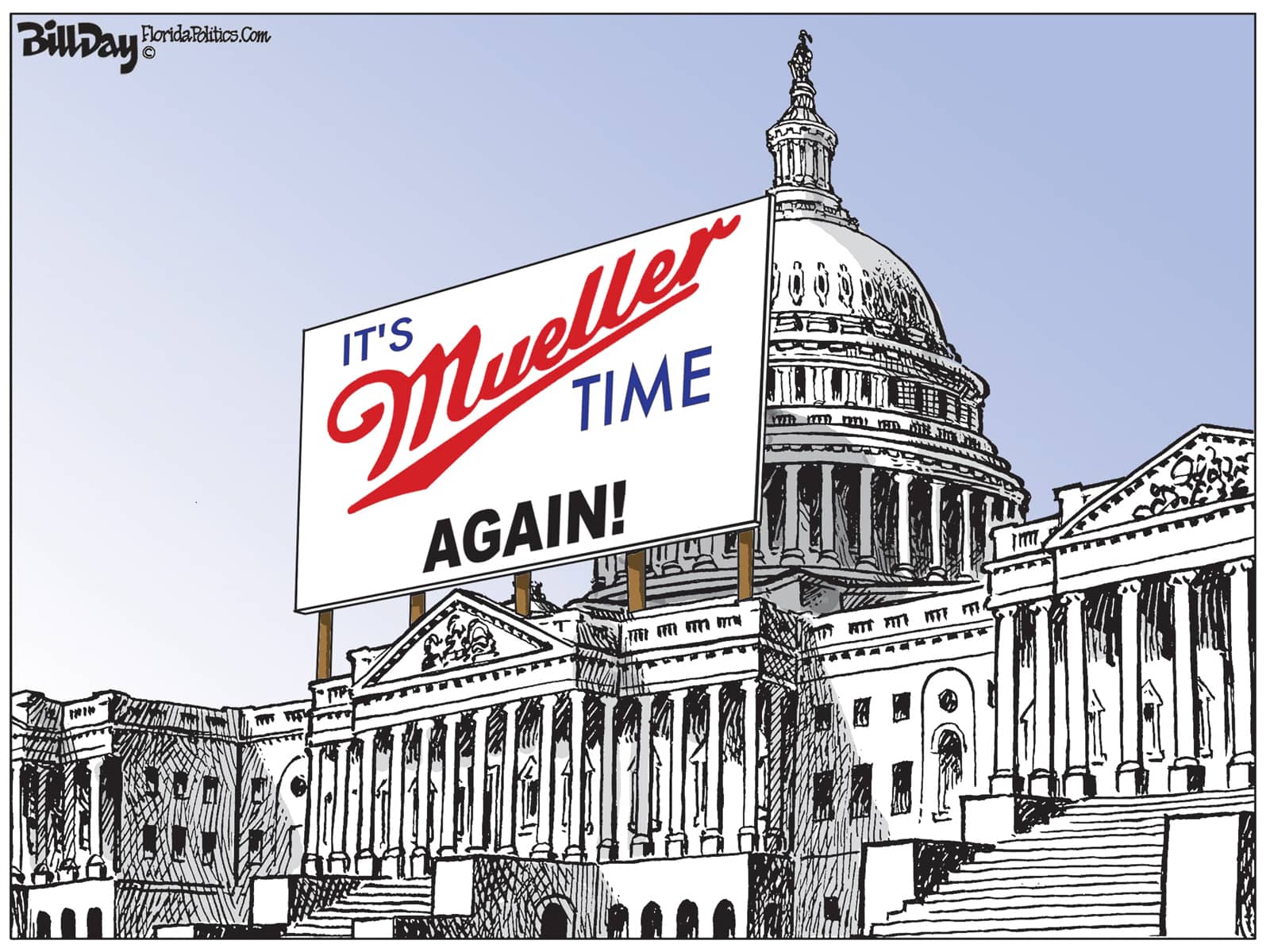 Protecting Haitian TPS
Last week the issue of Temporary Protected Status (TPS) for Venezuelans fleeing the chaos of their home country was argued. Another group of temporary residents is those from Haiti, prompting Sen. Marco Rubio to file legislation that would extend TPS status for Haitians for another 18 months.
Rubio's bill would provide some temporary certainty for Haitians. Supporters claim the earthquake-ravaged Caribbean nation is not ready to absorb thousands of returning economic refugees.
"I am working with the administration and my colleagues in the Senate to extend TPS for eligible Haitians by 18 months," Rubio said. "Ultimately, I would like to see a permanent solution, but we have received some positive feedback from the administration on a temporary solution."
Haitians have dealt with uncertainty since the Jan. 12, 2010 quake rocked the country and its infrastructure. Previous extensions were granted, but in 2018, the Trump administration sought to end the TPS program that would have affected 300,000 migrants from El Salvador, Honduras, Sudan and Haiti.
U.S. District Judge Edward Chen blocked the executive branch from carrying out the plan.
Scott: Sanction Turkey
With Turkey taking delivery of Russian S-400 missile systems, the U.S. has canceled plans to sell F-35 fighter jets to them. Trump is considering sanctions on its erstwhile ally, a move that has the support of a group of several bipartisan Senators.
Add Sen. Rick Scott to the list, who joined with Indiana Republican Sen. Todd Young introduced a resolution to condemn Turkey's continued dealings with Russia. The resolution calls for sanctions against Turkey for purchasing the missile defense system from the Russian Federation and questions Turkey's membership in the North Atlantic Treaty Organization (NATO).
 "Turkey's purchase of military systems from Russia threatens our national security and the stability of NATO," Scott said in a news release. "We cannot allow Russia — which tries to interfere in elections across the globe, supports Maduro's genocide in Venezuela, and threatens the peace and security of democratic nations — to interfere in Turkey."
The resolution expresses concern over the missile purchase, shows the need for sanctions, and calls on fellow NATO members to discuss Turkey's future in NATO. The organization was founded in 1949 to act as a deterrent to the aggressive actions of the former Soviet Union.
NATO admitted Turkey in 1952.
"It is our responsibility to protect the safety of American families and our allies, and we must call upon members of NATO to determine if Turkey presents a danger to the alliance," Scott added.
Historic landing remembered
On July 20, the U.S. celebrated the 50th anniversary of the first mission to land on the moon. NASA celebrated the moment in history with an event at Cape Canaveral that included Apollo 11 astronaut Buzz Aldrin, Vice President Mike Pence, some members of the delegation and NASA officials.
Pence pointed to the future, predicting a return to the moon within five years. He also recalled that Sunday evening half a century ago when after the crew overcame last-minute problems, Neil Armstrong set foot on the moon, followed by Aldrin.
"And yet, how calm they were," Pence said. "Working with the team back here on Earth, they quickly resolved the problem without betraying the slightest anxiety.
"That, my friends, is what they used to call the right stuff."
The family of Armstrong was also in attendance, while astronaut Michael Collins joined Aldrin to visit the White House the day before. Among those attending the NASA festivities included Republican Reps. Michael Waltz of St. Augustine and Brian Mast of Palm City.
While not in attendance, Delray Beach Democrat Alcee Hastings marked the occasion.
"50 years ago, Americans walked on the #Moon for the first time," he said in a tweet. "An est. 400,000 people worked together on the #Apollo missions to achieve that extraordinary moment in history. This week, we celebrate the insights & inspiration the #Apollo11 crew brought back to Earth. #Apollo50th"
GOP doctors visit border
While there is agreement that a humanitarian crisis exists at the Southern border, there is little consensus on how to solve it. Senate Minority Leader Chuck Schumer visited the area and described the conditions as "inhumane," prompting Trump to propose they talk about it.
Also heading south was a group of doctors that included Republican Rep. Neal Dunn of Panama City. Dr. Dunn and five his House colleagues from the GOP Doctors Caucus got a firsthand look at the humanitarian crisis at the southern border, which they say has reached a critical point.
On Friday I traveled down to our southern border to evaluate how we are responding to the medical issues faced by those crossing into the US. As you can see, resources are stretched thin and they are doing the best they can with what they have. 1/2 pic.twitter.com/VlHWgpED8T

— Dr. Neal Dunn (@DrNealDunnFL2) July 1, 2019
The group chronicled their findings in an opinion piece for FoxNews.com, pointing to the tripling of the number of migrants coming to the border within one year.
"The recent surge of illegal immigration is overwhelming our resources, overcrowding facilities designed for short-term processing," they wrote. "With limited space available in Immigration and Customs Enforcement (ICE) and Health and Human Services (HHS) facilities operating near or over capacity, migrants are waiting longer in Customs and Border Protection processing centers before moving to facilities designed for longer-term stays while waiting for their cases to be adjudicated."
The doctors also pointed to the need for a legislative fix to reform the asylum system and protect those who arrive at the border. They blame Democrats for the extended retention of migrants in crowded conditions.
"There's an easy solution," they added. "We could pass legislation tomorrow to expand the number of ICE and HHS beds available, immediately reducing the number of migrants waiting in processing facilities and ending catch and release; however, Democrats still refuse to take this action."
The group praised the supplemental funding bill passed recently but added nothing would matter if immigration laws are not enforced.
Castor laments court decision
Last week, Trump won a legal victory when a federal judge ruled the administration's expansion of lower-cost alternative health plans were permissible. D.C. District Judge Richard Leon ruled that expanding the life of the plans from three months to one year is not detrimental to the Affordable Care Act (ACA).
"Not only is any potential negative impact from the 2018 rule minimal, but its benefits are undeniable," Leon wrote.
The plans are not required to cover conditions and expenses, such as maternity care and prescription drugs. With the lower cost, they are also not required to cover those with preexisting conditions, leading Democrats to describe them as "junk" plans.
"Junk plans are no substitute for meaningful health insurance but are instead cynical attempts to lure families and individuals into cheap and insufficient coverage," responded Tampa Democrat Kathy Castor. "Junk plans do not protect you if you get sick, can discriminate against people with preexisting conditions and leave you on the hook for costly medical bills."
The Association for Community Affiliated Plans (ACAP), the plaintiffs in the lawsuit, still maintain expanding the use of lower-cost plans violates the ACA. Margaret Murray, CEO of the ACAP, said: "We are confident that the appellate court will see this differently."
"By promoting junk plans, the Trump administration is sanctioning higher health care costs for American families," Castor added.
Monitoring opioid addiction programs
As the opioid crisis continues to damage individuals and communities, a host of programs and proposals are regularly proposed as possible solutions. A new bill would seek to establish a mechanism for evaluating what works among these programs.
Palm Harbor Republican Gus Bilirakis is co-sponsoring Effective Drug Control Strategy Act, which would charge the Office of National Drug Control Policy (ONDCP) with evaluating "the efficacy of federal-funded initiatives aimed at reducing demand for illicit substances."
Information would be placed online to allow the public and media to hold the government accountable for the success, or lack of, federal efforts. The ultimate goal is to improve the effectiveness of federal statutes.
"I am proud of the ongoing work we are doing to combat the addiction crisis that has impacted millions of families across our nation, and many within my local community," Bilirakis said in a news release. "In addition to passing landmark, comprehensive legislation to tackle this complex problem, we allocated record levels of funding to help communities meet the needs of those who are struggling."
In little more than one year, the federal government has allocated $10.7 billion to address opioid addiction. Democratic Rep. Harley Rouda of California sponsors the bill.
No pensions for pedophiles
A former Indian Health Service pediatrician convicted of molesting two boys is still in line to collect his government pension. The Governor of Montana, Steve Daines, is attempting to revoke the pension, while Republican Rep. Ross Spano of Dover has filed legislation to remove any future doubt.
Last week, Spano filed the No Pensions for Pedophiles Act in the House. The bill would amend the Hiss Act to now prohibit those convicted of federal child molestation crimes from receiving federal pensions.
"I do not believe taxpayers should be forced to fund the pensions of federal employees who have been convicted of crimes related to the sexual abuse of innocent children who will carry the trauma and scars of his harmful behavior for the rest of their lives," Spano said.
Spano's bill gained 16 Republican co-sponsors, including Gaetz and Rep. Bill Posey of Rockledge.
Buchanan gets opponent
It was a poorly kept secret, but now it is official: State Rep. Margaret Good is challenging Longboat Key Republican Vern Buchanan for Buchanan's District 16 seat. Speculation began when someone registered the domain name MargaretGoodForCongress.com.
"I have realized it's not just my state house district that needs better representation," Good told Florida Politics. "It's this entire region. There are so many things we should be expecting out of our representative. We are not getting real results out of Washington."
Buchanan, who will seek a seventh term in Congress, will not be easy to beat. He has raised more than $954,000 so far and reported more than $516 cash on hand as of June 30.
"Next year's election is going to be pivotal to determine the direction of the country," Buchanan said. "I look forward to being part of that discussion. I welcome Margaret to the race and anyone else who wants to get in. A thoughtful discussion of the issues is always important for democracy."
Good has a history of running against Buchanans. She defeated James Buchanan, Vern's son, in a special election to claim her seat in the Florida House.
Deutch, Omar and Israel
Last week, two separate actions in the House clearly demonstrated the divide between most of the Democratic caucus and the four members known as The Squad. Both involved relations with Israel.
First, the House Foreign Affairs Committee sent the United States-Israel Cooperation Enhancement and Regional Security Act to the House floor for a final vote. The bill is sponsored Deutch with 279 co-sponsors, including 22 of the delegation's 27 House members.
As the Deutch resolution was moving forward, a prominent member of The Squad, Minnesota Democrat Ilhan Omar, introduced another resolution advocating the use of a tactic known as Boycott, Divestment, Sanctions (BDS) as a matter of free speech. While her resolution did not specifically mention Israel, the Jewish nation has been a frequent target of the practice.
During recent remarks in a committee hearing, Deutch spoke forcefully against the concept. He said BDS "undermines the prospects for a two-state solution" and ultimately "a safe and secure Israel and demilitarized, prosperous Palestinian state."
This issue points to the fact that while Republicans are quietly wary of Trump tweets and bombastic statements, Democrats are quietly expressing their frustration with the spotlight often shining on The Squad.
Wilson threatened again
In May, Miami Gardens Democrat Frederica Wilson introduced the Vaccinate All Children Act. The bill was intended to promote vaccinations in public schools, but a government contractor quickly took such offense to the legislation, he threatened to kill Wilson.
Last week, a Maryland grand jury indicted Darryl Varnum, a private contractor working at the U.S. Defense Information Systems Agency, on one felony count of threatening a member of Congress. Varnum was incensed by the bill which would require vaccinations, with limited exceptions, for school children.
"I'm gonna f—ing kill your ass if you do that bill. I swear. I will f—ing come down and kill your f—ing ass," reads a transcript of the voicemail available through court records.
It is not the first time there were threats to Wilson's life. Following her public back-and-forth with former White House Chief of Staff John Kelly in 2017, death threats came in sufficient amounts, Wilson was prevented from traveling to Washington to cast votes.
Diaz-Balart: Reconsider asylum rules
The Trump administration recently issued new rules that make it more difficult for migrants to seek asylum in the U.S. by requiring them to file in the first country they enter on their journey. The move brought complaints from Democrats, but a few Republicans, including Mario Diaz-Balart of Miami, joined the chorus asking the President to reconsider.
In a letter to James McHenry, head of the Office of Immigration Review, and Ken Cuccinelli, Acting Director of Citizenship and Immigration Services, Diaz-Balart acknowledged the dire circumstances at the border, but the new policy is not the answer.
"As hundreds of thousands of migrants seeking U.S. entry this year has shown, the asylum process is in dire need of reform, with some abusing the system which has led to long waiting lists," he wrote. "I am concerned that the final interim rule … will impose an overly burdensome obstacle on those with bona fide asylum claims escaping totalitarian dictatorships. For this reason, I respectfully request reconsideration of this rule."
Diaz-Balart pointed to deteriorating situations in Cuba, Venezuela and Nicaragua, which could potentially cause difficulties for those fleeing persecution.
"We must not inordinately burden the lifeline of asylum for those who seek freedom from brutal dictatorships," he added.
Who supports USMCA?
Ratification of the United States, Mexico and Canada agreement is moving slowly, with Mexico the only country approving it up to this point. Trump recently met with Canadian Prime Minister Justin Trudeau to discuss the status of this agreement, which would replace the North American Free Trade Agreement (NAFTA).
Trump is arguing for the deal as a significant improvement over NAFTA. The U.S. Chamber of Commerce, American Farm Bureau Federation, and free-trade supporters have all called for the ratification.
What is not known is where several members of the Florida delegation stand on the issue. While not having a say in the matter, Florida Commissioner of Agriculture Nikki Fried strongly urged the deal be scuttled, those with a vote are remaining quiet.
Late last week, Florida Business Daily published separate stories on those not responding to their request to comment on the deal. The stories are similar, running under the headline of (Name) Quiet on USMCA.
Those receiving "recognition" were Republican Reps. Gaetz, Posey, Ted Yoho and Daniel Webster, along with Democrats Donna Shalala and Stephanie Murphy.
The publication is pro-USMCA, pointing out the benefits of ratifying the agreement.
"The agreement would require cars to have three-quarters of their components manufactured in either the United States, Canada or Mexico in order to avoid tariffs," the story reads.."U.S. dairy farmers will also gain greater access to Canadian markets."
If ratified by all three nations, USMCA would remain in effect for 16 years under a sunset clause.
On this day
July 23, 1998 — The House voted to override President Bill Clinton's veto of a bill banning partial-birth abortion. The vote to override was 296-132, nearly identical to the vote taken to pass the bill nine months before.
With 67 votes needed to override in the Senate, a two-thirds majority is expected to come up short after the upper chamber initially passed the bill, 64-36. House Judiciary Committee Republican Charles Canady of Lakeland said, "We face an uphill battle there," but "we are not going to give up."
July 23, 2007 — Former New York City Mayor Rudy Giuliani and Sen. Hillary Clinton continue to hold double-digit leads in Florida over their presidential primary foes, a new poll shows. According to a Quinnipiac poll, Clinton is backed by 36 percent of Florida Democrats, while former Vice President Al Gore, who is not in the race, and Illinois Sen. Barack Obama have 14 percent each.
Giuliani leads former Tennessee Sen. Fred Thompson — who has yet to announce his candidacy — 30 to 18 percent with Arizona Sen. John McCain in third with 10 percent. In a general election matchup, Giuliani leads Clinton by two points and Obama by 8 points.
Moon shot
Before celebrating the anniversary of the 1969 moon landing, Aldrin took a stand against the conspiracy theorists who claim to this day it is still a fake. For those fed up with those theories,
Aldrin gave them a reason to smile.
When one of the moon deniers confronted Aldrin, the former astronaut avoided the obnoxious individual for a period, but the in-your-face taunting finally became too much. The resulting moon shot to the pest's jaw went viral, much to the delight of most viewers.
To view the encounter, click on the image below:
Happy birthday (July 24) to Democratic Rep. Charlie Crist of St. Petersburg.
The post Delegation for 7.23.19: Mueller circus — Haitian TPS — Turkey — moon landing — Margaret Good appeared first on Florida Politics – Campaigns & Elections. Lobbying & Government..