Article original posted on bloodhorse.com and can be found here.
Circle 8 Ranch celebrated its first black-type horse Nov. 21 after Florida homebred Yafa finished second in the Juvenile Fillies Turf Stakes at Gulfstream Park West. Bred under the name of Tropical Racing, Yafa marked another milestone for the expanding Circle 8 Ranch, which has called Versailles, Ky., home since the spring of 2019. Troy Levy, the CEO of the racing and breeding operation, started the syndicate Tropical Racing in South Florida in 2017 and now races the horses under Circle 8 Ranch. His wife, Michelle Nihei, a former assistant to Todd Pletcher, trains all the horses.
BloodHorse MarketWatch spoke with Levy about the quick development of Circle 8 Ranch and goals he has moving forward.
MarketWatch: How did you get started in the horse racing industry?
Troy Levy: I used to train racehorses back in the day, Standardbreds. I got my first job when I was about 17 and I think I stayed in the business around seven to nine years.
MW: How did Circle 8 Ranch get started and how has it grown?
TL: When I started Tropical Racing it was basically just a regional syndicate down in South Florida and I decided that I wanted to be much more than just a syndicate. I decided to buy property, to take over a farm in Kentucky, and I just felt that Tropical Racing's name had the persona of just being a local kind of syndicate. We started Circle 8 Ranch, when we took the farm over in Kentucky and we race all of our horses now under Circle 8 Ranch's logo. We took this property over in April of 2019. When we took it over we had two broodmares and now we have 14 broodmares.
MW: What made you want to switch to Thoroughbreds from Standardbreds?
TL: I always loved Thoroughbred racing. What happened was my dad's friend bought a piece of a Standardbred and they took us to the backstretch and that's when I basically just fell in love with the racing industry. That was the only thing that I knew how to have connections with so I migrated and stayed in the Standardbred business. But all my free time and everything else was always spent at the Thoroughbred racing track.
When I took a little bit of a hiatus from the racing industry I followed Thoroughbred racing throughout the time that I got out of the business for a bit. There was no thought process of me doing anything other than getting into the Thoroughbred racing industry at this time. I always loved the Thoroughbred racing industry, I just really never knew anyone so I stayed in the Standardbred business until I changed careers back into the racehorse business.
MW: Growing up in Queens, you were probably around a lot of the racetracks in the area.
TL: I always went to Belmont, Aqueduct consistently, probably even when I wasn't supposed to. I would always go to Monmouth, I would go to Garden State, I would go to Atlantic City when there was no racing, Meadowlands.
MW: Tell me about the Versailles farm you have and the plans for it.
TL: When we took it over in April of 2019 it had a five-eighths mile turf track on it already. It wasn't in the best of shape. We always envisioned training our racehorses here when we had the opportunity weather-wise. What we did is we built a five-eighths mile wood chip gallop track in one of the back fields that's up and down hill. From that point we re-did the turf track, rolled it up, leveled it, put new grass in, and then we got it certified and approved by the state of Kentucky as a training center. We work our horses on the turf track. We have another huge field, again with rolling hills, we put two huge figure eights. We gallop the horses in the mornings there, we'll bring them to the wood chip track, or bring them to the turf track. So we have a really pretty cool setup here during the six or seven months or eight months that we train here.
There was a point that I think we hit the board 12 out of 14 starts off the farm. It's a pretty amazing statistic. The vision is to train during the times that we can train here weather permitting. I'm also thinking and trying to figure out how to put a Tapeta track and the turf track together so we can try to train year round here. At the same time, we're building up our breeding operation as you can imagine going from two to 14 mares in a pretty short time.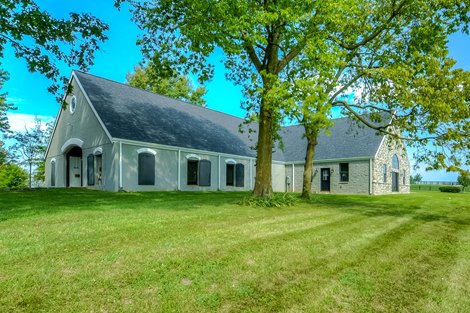 MW: Is the goal to breed to race?
TL: Our goal is always breed to race. We also have that syndicate mentality so we'll breed horses to syndicate, to bring in partners into the racing industry, and to race.
MW: What made you choose to go the syndicate route?
TL: In the beginning with Tropical Racing that was a way for me to basically change careers and to get into the racing industry, figuring that's just a great avenue to be able to diversify to more horses. What the thought process is still is that the Thoroughbred industry right now, as well as it's doing, even through COVID, that there is just so much more to do, and bring in as many people as possible. We always thought that was just a great avenue just to make the industry better.
There's a persona that you can't afford a racehorse, that it's an expensive hobby, but if we can make it reasonable and give as many people the thrill and excitement of getting to the winner's circle, that's pretty much our goal. That's why we're expanding as fast as we are, is because, knock on wood, we're bringing in some pretty good syndicate partners.
MW: Talking about expanding, you just had your first black-type success for Circle 8. What's it mean to reach that milestone?
TL: I'll tell you what, it was a pretty good feeling. That mare (Yafa's dam), Red Baroness, was one of the original two mares that we had. Her first two foals never made the races, but we always felt that they had all the talent in the world. Yafa, who finished second, she's not the biggest, she's not the most precocious filly in the world, but we always knew she was fast and she had the biggest heart, so it was a pretty cool ride just seeing her get to that race, getting to the black type.
We've only been in two other stake races. The first was a Florida-bred race we tried which was in 2017, I believe we lost by like 38 lengths. We didn't breed those horses. Then the next one we were in the (2019 Florida Oaks, G3T) in Tampa, Fla., with a mare. She lost by four (lengths) to Concrete Rose so that was a great race with Margaret's Joy.
It just solidifies that we're heading in the right direction, that the foundation that we're building here is working, the business model is working. That's what it really did, it just took that next little step of saying all the hard work, all the dedication, that we're moving in the right direction and that's what that really meant.
MW: Does Michelle train all your horses?
TL: Yes, she trains all of our horses. She doesn't break any of the babies. I have Joe Pickerrell from Pick View Farm in Ocala. He breaks all of our babies right now and Michelle's training all the racehorses right now.
MW: You have the Kentucky farm now but are you still involved in the Florida Horsemen's Benevolent and Protective Association and the Florida Thoroughbred Retirement and Adoptive Care boards?
TL: I'm still on the board of both. I was just made the secretary of the Florida Horsemen's. We race there consistently and we still have some Florida-breds, we have one more year of Florida-breds, but that's where we started and we'll always have a string in Florida.
MW: While building your broodmare band, have you been involved in the sales lately?
TL: We just bought four broodmares at the last sale (the Keeneland November Breeding Stock Sale).
MW: How are you all finding the market this year in the midst COVID-19?
TL: The broodmares, I thought the market was pretty consistent. Right now with the unfortunate part of the lack of inventory, or the shortfall of inventory, the one constant item that supplies it is broodmares, so I just feel that's really a true asset in this industry. I feel that the broodmares that deserve the money got the money. The middle was pretty strong, and I think it held pretty well.
We also bought our first share in a stallion this year, Global Campaign .
MW: With Global Campaign being a new stallion, what do you like about him?
TL: I bought two mares just for him at the sale. I saw him train at Palm Meadows last year when Stanley Hough had him when he was younger. Stanley was always really, really excited about this horse. I remember at one time he said, "This is why I came out of retirement, was for this horse. I'm seeing this one through." I remember watching him train all the way through, Stanley was really always high on the horse, saw the horse race, he looked great. He's a half brother to Bolt d'Oro who also was a great horse and his babies look amazing. I just thought it was a pretty safe investment right off the bat with huge upside. I really wanted to become a stallion owner, to own a share. The opportunity came and we were pretty excited it was with him.
The ultimate goal is to expand from here. This isn't where we want to be. It's a great spot where we are today. But ultimately we are looking to grow from this point. We truly want to get to 25 to 50 broodmares, we're looking to buy more land, and maybe down the road to house a stallion.
Even though we are here today and we got here pretty quick this is not where we're staying. We're truly looking to be a major competitor or a major part of this industry.