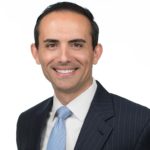 I've had the opportunity to travel to many states on my American journey and meet many Americans from all walks of life and it's been a privilege to hear their American journey stories.
The consistent and overwhelming message? Americans have endless joy and optimism about the future!
I came to America as a young immigrant with nothing but a wealth of optimism and the core belief that America is a land of second chances. I couldn't wait to get started and didn't waste a single day in my pursuits.
Even being slowed at times with adversity and some failure, America's culture of endless opportunity and optimism allowed me to get back up on my feet and continue the march forward.
I rested on America's future and used my own optimistic outlook and unwavering belief that tomorrow will be a better day because this is America!
Twenty years ago, I had a great privilege to work at McDonald's; today, as a proud American, I'm serving in the Florida House of Representatives.
American optimism is a unique phenomenon in the history of humankind and very contagious around the world. The high degree of optimism is derived directly from our Founding Fathers, that Life, Liberty and the Pursuit of Happiness is given by God and embedded throughout their early writings. The fundamental belief that tomorrow will be better than today is the underlying force that drives us as Americans to give our best today. Overcoming adversity and challenges with the unapologetic attitude of optimism is unique to American society.
In the age of technology where information is fed to us 24 hours a day be mindful to guard your mind against information that America is falling apart. Be wary of sources that want to undermine American optimism and our belief in a better future.
We must preserve and defend unapologetically individual liberties which are at the core of American optimism.
The idea that each person is free to pursue their dream is unique to the American experience. Let's continue to live daily with optimism that best days are ahead of us and reject this notion that our future is not bright. We are the land of second chances — where the failures of yesterday will not prevent the successes of tomorrow.
Together, "We The People" can preserve freedom, build a better future and keep reaching for the stars. I'm very bullish about our future.
America is and will continue to be an exceptional nation. The greatest nation in the history of humankind. A place of big dreams and unique achievements, where your place of beginning doesn't determine your place of becoming.
Let's look forward America to what we can be, what we can accomplish together, One Nation, Under God, Indivisible with Liberty and Justice for All.
We are just getting started and some of the finest American chapters are yet to be written.
___
Ardian Zika represents House District 37. A native of Kosovo, Zika emigrated to the United States in 1997.
The post Ardian Zika: American optimism appeared first on Florida Politics – Campaigns & Elections. Lobbying & Government..